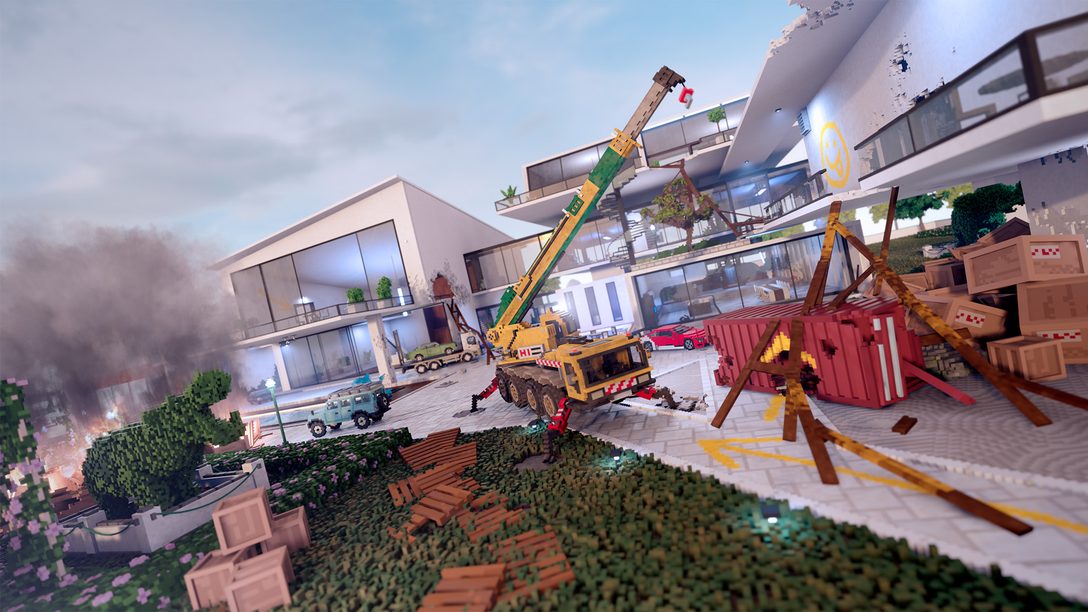 Tuxedo Labs and Saber Interactive want everyone to experience sandbox destruction with full raytracing.
Hey everyone – I'm Marcus Dawson, CEO of Tuxedo Labs. We are excited to surprise everyone today with the news that Teardown will be coming to PlayStation 5 before the end of 2023!
For those unfamiliar with Teardown, it's a voxel-based heist game where you literally tear down walls and obstacles in the environment to create shortcuts and complete objectives. We have spent years building and perfecting our custom voxel engine, which allows us to support typically complex things like raytracing and physics-based destruction. With our custom engine comes extensive input data for the DualSense wireless controller, enabling unique haptics throughout the game. For instance, smashing your sledgehammer into glass, wood, concrete or metal will all feel distinctly different.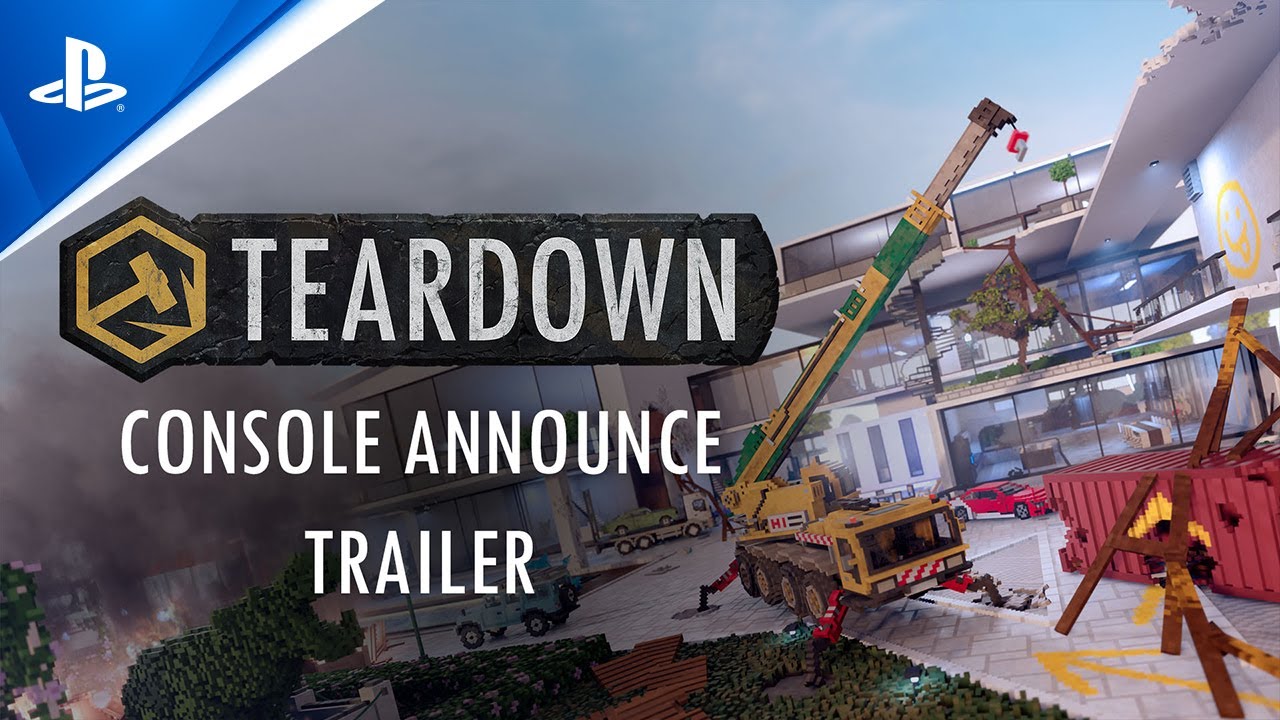 Teardown starts with a 40-mission main campaign, split into two parts, where you play as the owner of Löckelle Teardown Services. Things haven't been going too well for your business, so you have started to accept work from some people that may be best described as "shady." Before you know it, you'll find yourself demolishing buildings, stealing safes, and committing insurance fraud.
As your business ventures escalate, you'll unlock a vast arsenal of tools to help plan around, react to, and destroy whatever you experience in each level. Some of these tools are great for destruction – from your basic Sledgehammer, which helps you knock down simple walls and doors, to a set of firearms, which break through tougher materials in cases requiring more precision demolition, all the way to a suite of explosives, which enable you to level entire buildings.
But half of running a successful business is planning and reacting – for which you'll find several items in your tool set. A simple Spraycan might be the most useful tool in your arsenal as you paint an optimal path to each objective. You can lay down Planks to cross gaps or reach new heights. And in the event your demolition gets out of hand and everything starts burning down around you, the Extinguisher might save your life – or at least let you finish out your work before the police take notice.
A huge part of the world that we have built in Teardown revolves around vehicles. While there are a bunch of cars scattered about that can help you traverse each level, there are also vehicles that further enable you to move and demolish the environment in creative ways, including Excavators, Front Loaders, Snow Ploughs, Mobile Cranes, and even some military-grade combat vehicles. You will also find some tools in your kit that add further interactions with these vehicles, like Rocket Boosters and Vehicle Thrusters.
Teardown's campaign isn't the only way to play with this suite of tools and vehicles. There is a full Sandbox mode where you can revisit any level, spawn in objects, and destroy things to your heart's content. There are also Challenges for each level, where you will be tasked with collecting or destroying as much as you can within a time limit.
We are also including an additional five-mission bonus campaign called "Art Vandals", where you play as a character tangential to the main campaign. And finally – we are extremely lucky to have a strong modding community active with us on the game. We intend to make the best mods that our community has created easily playable by all PlayStation users right in Teardown's main menu. We hope to see some creative destruction from everyone later this year!
---
PlayStation Showcase 2023
---
PlayStation Studios & third-party publisher announcements
PS VR2 announcements
Indies announcements