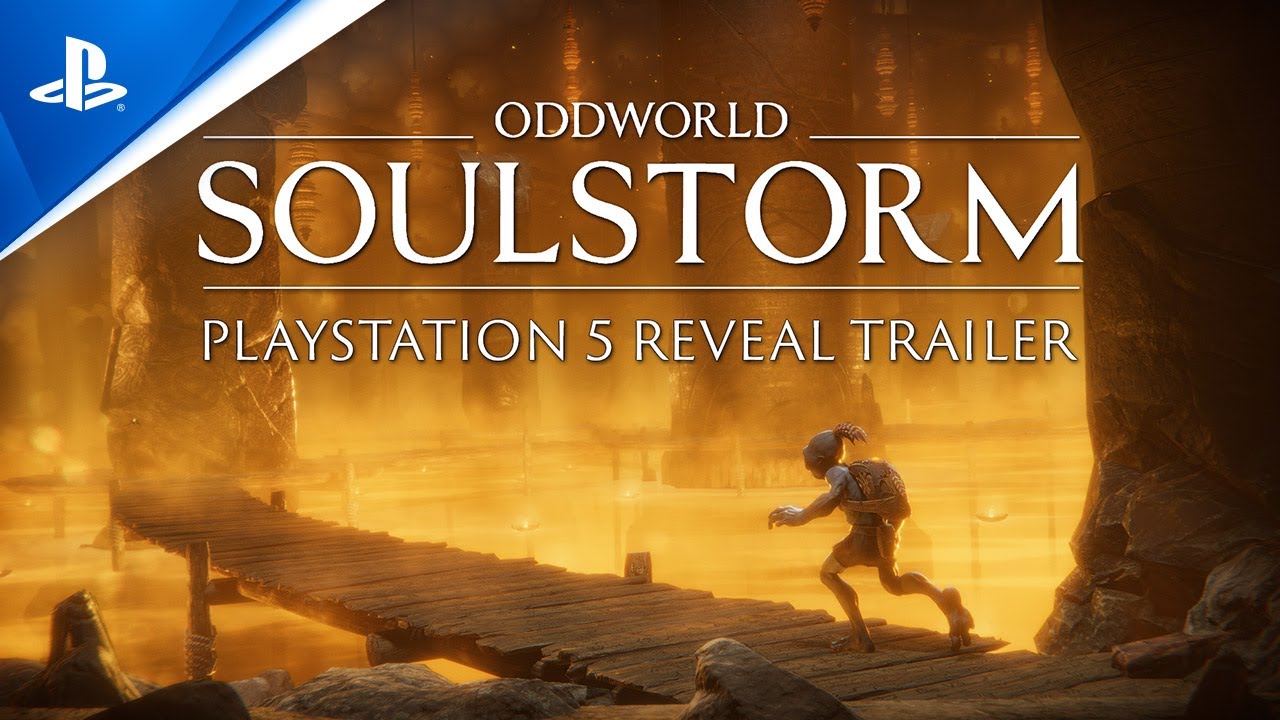 Oddworld is brewing up a new storm for Abe on PS5 and PS4.
The power of PlayStation 5 allows us to push Oddworld: Soulstorm toward a cinematic visual and storytelling leap over our previous titles. Soulstorm's scope and scale are larger than we have tackled before. We plan to use PS5's stunning graphic fidelity, mind-blowing 3D audio, and the DualSense Controller, to enhance our storytelling and artistic abilities to bring you closer to the game and create to create an even deeper emotional Oddworld experience for you to enjoy.
Oddworld is known for fun and challenging action adventure platform games with rich storylines that possess a dark sense of humor while shining a bright light on the ironies that exist in the human condition. Most importantly, Oddworld games use HOPE as an overriding philosophy that propels the game and the gameplay forward.
In Oddworld: Soulstorm, you pick-up where New 'N' Tasty left off. Abe has undergone an unwanted transformation from being a clueless Mudokon cog, literally about to be chewed up by the Glukkons' big business machine, into an unlikely hero, a beacon of hope.
Abe is a true representation of every person, regardless of age, color, gender or sexual or political preference. Abe was someone who went about his life, blind to what was happening around him, and then woke to a deeper uncomfortable reality and had no choice but to make a change. Abe may not have wanted to be a hero, but there was, and remains, some greatness in Abe. A greater purpose. A greater good. All of which got him into enormous amounts of trouble and continues to do so.
If someone like Abe, who has to overcome nearly impossible odds can be a symbol of hope and potentially change the world around him, maybe you can as well.
Revolutions start small and build from unexpected places. You and Abe are the beginning. In Oddworld: Soulstorm, you will begin to understand the power of many will be needed to solve problems that the individual alone cannot. And, in typical Oddworld games, this will lead to more hilariously devastating moments, which has always been a cornerstone of the Abe games.
Based on the concept of Scavenger's Economy, you will loot from trash cans, pickpocket, and search through lockers for items to craft into weapons and tools to use to help save your fellow Mudokons while you try to unlock the dark secrets behind Brew.
Whether you prefer the classic Abe playstyle of sneaking and problem solving or using scavenge for what you need to create an arsenal that you can hand off to your followers that you have saved along the way, Oddworld: Soulstorm gives you more choices to replay with different approaches.
Add in light RPG elements, leader boards, trophies for completionists, and a progression system and Soulstorm sets a new standard for next-generation action adventure platformers.
Going from blissful ignorance to revolutionary takes time, and for us at Oddworld, it takes a quintology. Oddworld: Soulstorm is the second installment in the quintology, and we look forward to sharing more news with you.
---
PlayStation 5 – The Future of Gaming
---