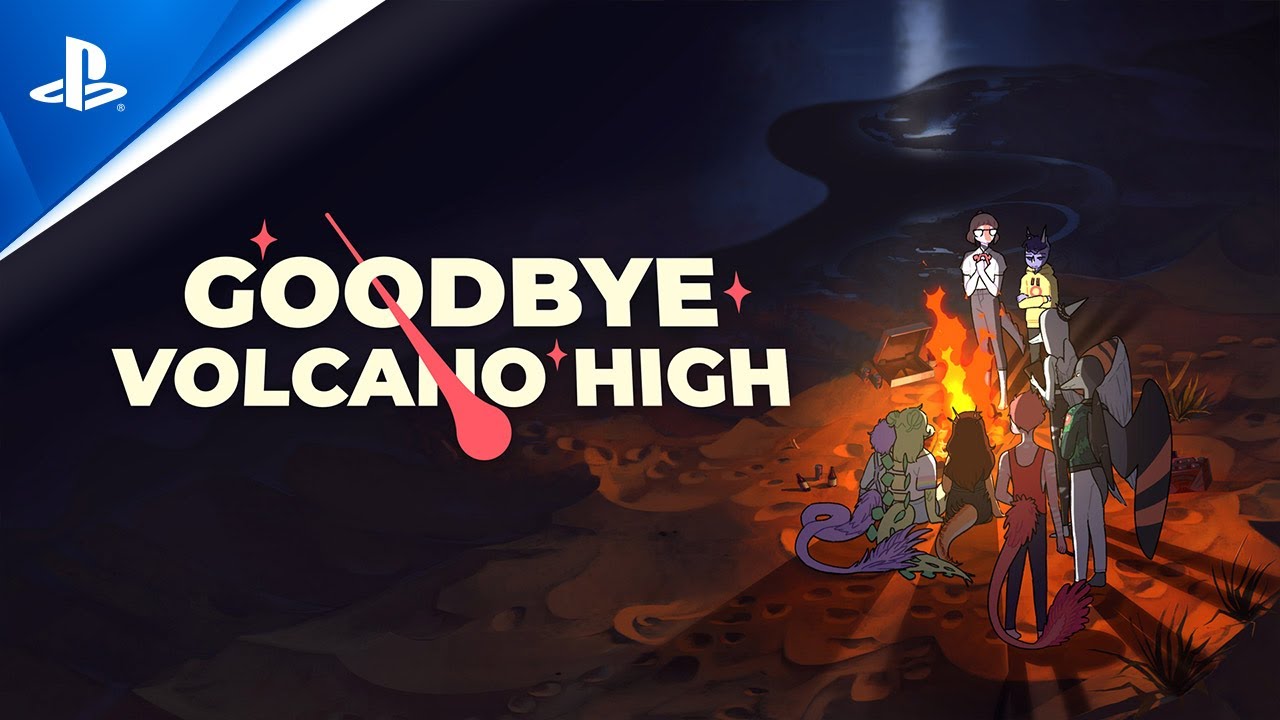 In times of change, what do we owe each other?
Greetings, PlayStation community! I'm Marcela Huerta, KO_OP's Community Manager and resident hypebeast for our upcoming narrative adventure game, Goodbye Volcano High.
KO_OP is a Montreal-based studio, making games with the kind of art you'd hang on your walls, and the kind of music you'd listen to on Spotify. You might recognize our name from our 2017 release GNOG — a musical puzzle game that came to PS4 and PS VR — or even from our 2020 mobile release, Winding Worlds.
For the past two years, we've been hard at work making our next project: Goodbye Volcano High, a cinematic, choice-based narrative game set in the final year of school for a bunch of dinosaur teens, on the cusp of graduation and the rest of their lives.
You will follow them as they struggle to make their mark on the world, figure out who they're going to be, and try to find love, all before time runs out and they're thrust into the world of adulthood. But what they don't know yet is that time might be about to run out for real. In a time where we're all feeling a little lost and scared, and not sure what happens next, we're hoping that the story resonates with people.
We have a fantastic art team behind the game – it's the most artists we've ever had working on one project in the studio's history! – with lovingly hand-painted backgrounds and bespoke animations in each scene that bring the game to life. You'll be able to appreciate every tiny detail of the art in stunning 4K.
The art is backed up by our fantastic in-house audio and music design, by Boyfriend Dungeon and Winding Worlds audio director, Dabu. We've also enlisted the vocal talent of local Montreal musician, Brigitte Naggar, all in the name of creating a fantastic, sweeping, melancholy soundtrack to the ups and downs of high school life.
We want playing Goodbye Volcano High to bring you the satisfaction of binging your favorite TV shows. But, unlike with TV, you'll have the power and the emotion in your hands as you guide our characters through a branching narrative, with innovative use of the PS5's features. Haptic feedback on the new DualSense controller brings the tension to you—when Fang is making a decision that's difficult for them, you feel that pressure as the player. The power of PS5 allows us to build Goodbye Volcano High with no limits, enacting our vision exactly how we want it.
And just to really drive the point home: in our search to cast a non-binary actor to voice our main character, we found Lachlan Watson from The Chilling Adventures of Sabrina, who is absolutely fantastic. We're really excited for you to hear them — and don't worry, the rest of the game will also be fully voice-acted, too!
Now that I've yapped your ear off about Goodbye Volcano High — dinosaur this, graduation that — you're probably foaming at the mouth to get your claws on this game. So are we! Keep your eyes peeled for more details from us leading up to launch.
---
PlayStation 5 – The Future of Gaming
---