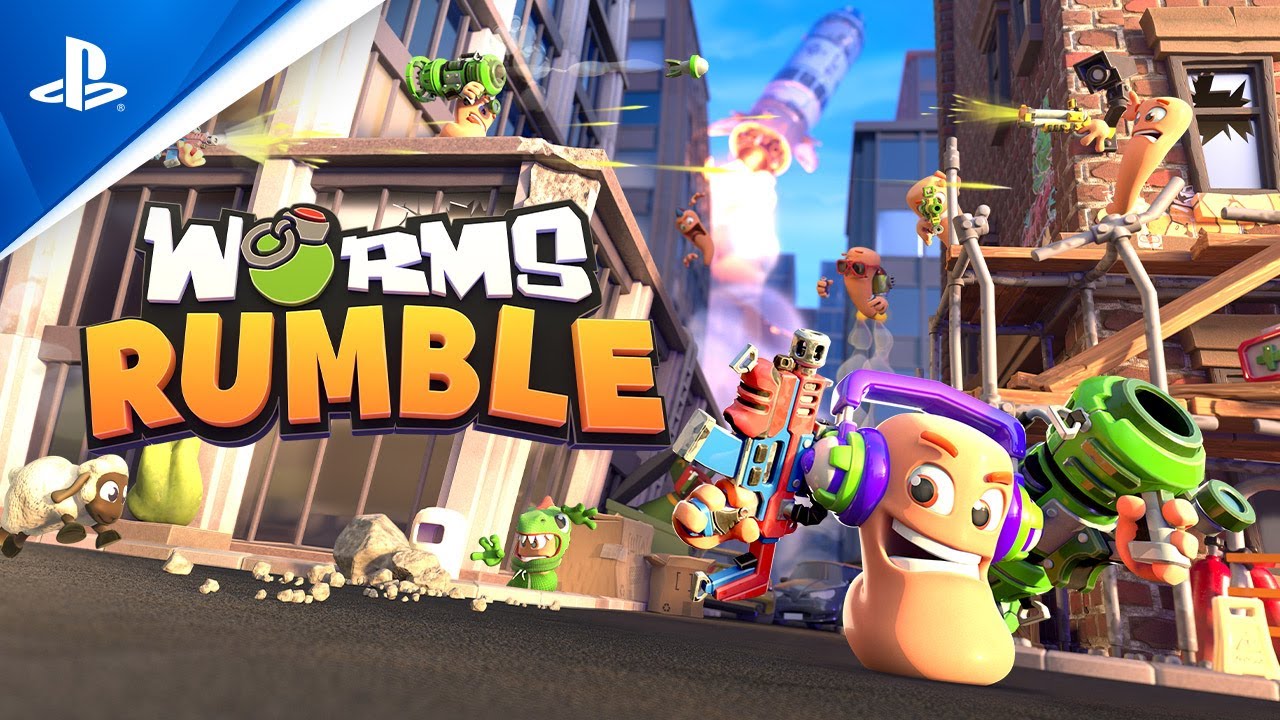 Tuck and roll through three explosive real-time games modes.
Hey everyone! First off, I hope that you are all safe and well in these difficult and testing times.
My name is Danny Martin and I'm the Producer on Worms Rumble, the next exciting entry into the popular Worms franchise which is releasing on both PlayStation 4 and PlayStation 5 later this year!
This year is a special one for us at Team17, as not only is it our 30th anniversary, but it is also the 25th anniversary of Worms. It's been quite a journey so far working on Worms Rumble and one which has been full of a lot of excitement, with a little bit of fear. Fear because, for the next entry in the series, we decided to rip up the rule book to bring you something new by moving away from the traditional turn based action, and for the first time ever, bring you a real-time version of Worms, with even more chaotic action!
Worms in Real-Time
So why real-time? We of course love the turn-based versions of Worms and it's what we've done for so many years. Working on Worms W.M.D was an absolute blast and we're really proud of it. But we've always wanted to push the envelope that little bit further and scratch that "what-if" itch. Sure, we've done spins offs of Worms before, but we wanted to go all out and see if we could pull off a real-time version of Worms.
We started prototyping Worms Rumble a couple of years ago with just a small team, and what they came up with in such a short space of time really piqued our interest and made us pretty excited for what we could do. We then started to hold internal usability sessions to get the feeling from the whole studio on how the game felt to play. Did it still feel like Worms? Was the fun factor there? Are we crazy to even try this? The results we got from the team were very encouraging, and straight away we saw that it had that "one more game" appeal. The feedback during the prototype phase was invaluable, as it then pushed us on to look at where we could take this.
Keep Rolling, Rolling!
Because of the real-time nature of the Worms Rumble, we had to look at how to change the movements of the worm. Normally you'd see the worms crawl along at a slow pace, with the occasional jump to traverse around the landscape, but with Worms Rumble, we've sped things up significantly. Not only will the worm move faster, you'll now be able to roll around the arenas at high speed, perform wall jumps to traverse at pace to get to higher ground and away from danger, and dodge those "incoming" bazooka shells and grenades.
It took a lot of balancing to get this feeling just right whilst making sure it felt fair for all players. You won't be able to continually roll around the level, or hang out on your favourite piece of wall, as our little annelid friends now have stamina which will drain as you roll or wall jump. It's only when you slow down that your stamina bar will recharge and leave you more susceptible to incoming fire! With great power… sorry. Moving on!
Cross-Play
You've been asking for it, and we've finally done it. We can confirm that Worms Rumble will support cross-platform multiplayer! We'll be bringing you a 32-player online experience like you've never seen before in a Worms game. The arenas that have been built by the team will see you battle it out inside some of the worms' favourite places to hang out. Take Missile Mall for example, a shopping mall that sits above an underground rocket silo, there's plenty of open space to cause carnage, and small air vents to sneak around in. A well-placed Sheep or Banana Bomb can spell Game Over!
Worms Rumble will be released with three game modes. Deathmatch, Last Worm Standing, and Last Squad Standing. Deathmatch does exactly what it says on the tin. This is 32 players battling it out to see who can get the most eliminations before time runs out, and will be the best game mode for new players to get to grips with Worms Rumble, learn the weapons and utilities and hone those skills before going toe-to-toe with the more experienced players.
Last Worm Standing
In Last Worm Standing, it will be 32 players going up against each other once again, only this time, once you've been downed, you're out! But don't worry, you'll be able to spectate the action afterwards and you can check out the other players, or, jump straight into another match if you're eager to get back into the action.
Last Squad Standing will see ten teams of three players battle it out to be crowned champions of the arena! You'll be able to play with your friends on other platforms and battle it out with others who dare to challenge you. We have introduced a revive mechanic into the squads mode, so that if you ever get downed by a rival, your team members will be able to bring you back into the game. As with Last Worm Standing, once you're out, you're out. This mode is all about teamwork! Work together, and you'll have a better chance to succeed and be the squad to beat!
In both Last Worm Standing and Last Squad Standing, not only will you have your enemies to fight off, but the restricted zones will play a big part in the outcome of the battle. Linger too long in one of them, and you'll start losing health until you move into another. The restricted zones won't always start or finish in the same location, so you'll need to keep an eye on the warnings when they appear and high tail it out of there to a safe location.
Customisations
Worms games and customisation go hand in hand, so we are of course bringing them back for Worms Rumble. How could we not!? You'll be able to add some really cool items such as headwear and facewear, and we've also added a few extras in this time, including awesome weapon skins, outfits and emotes! Unlock more and more swag as you play and add your own personal flair to your invertebrate avatar!
We've got a lot planned for Worms Rumble, and the release is just the beginning! We can't wait to show you more of what we've been working on, how we're shaking things up and what you can expect from Worms Rumble later this year!
See you all in the arena!
---
July 1 Indie Reveals
---