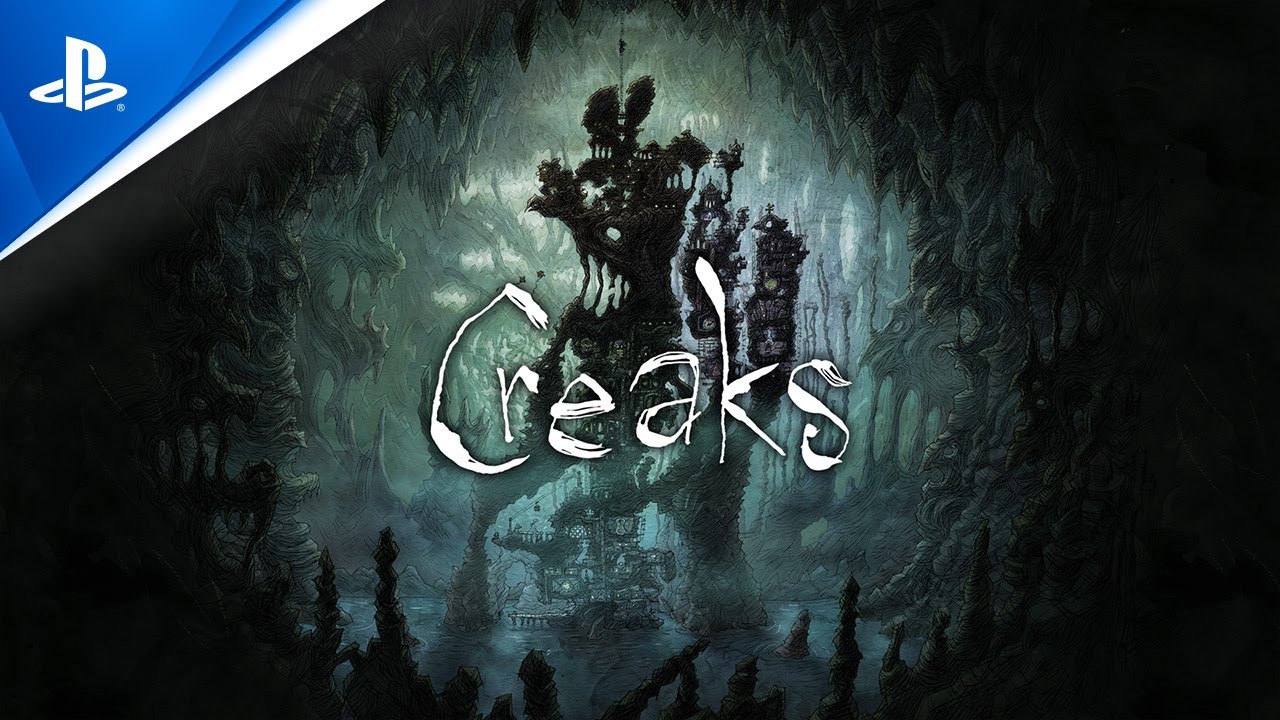 Outwit dark creatures using light in a puzzling, hand-sketched world.
Hello, PlayStation players! My name is Radim, and I and my team have been working on a game called Creaks for a little while. Before it lands on your console in a few weeks, we would like to introduce you to the surreal world it takes place in, and share with you a little insight into how we created it.
When I say "little journey," I'm talking about eight long years of development. I first started working on a prototype for Creaks in Flash with my longtime friend Jan Chlup. Back in the day, we could've hardly imagined that our project, later joined by many more talented collaborators, would eventually grow into a full-fledged title built in Unity. Yet here we are!
What do you see?
Human imagination is a wonderfully ambiguous thing. Very often, when we're looking at an object, our vision fools us into thinking that it's something different. Something scarier, maybe. Sometimes we look up into the sky and see faces among the clouds, and we can barely understand how it is possible for the person standing next to us not to see the same thing.
Science knows a beautiful word for this phenomenon of "seeing things" — pareidolia. That is one of the building blocks of our game. Just a few minutes into Creaks, you will bump into some strange barking creatures in the mansion's dark corridors. But are they as dangerous as they seem? Try to get them trapped under a beam of light and take a closer look. You may find out that what felt dangerous is a simple night table. Turning these creatures into ordinary objects is the key gameplay mechanic, along with pulling levers, stepping on pressure plates, and manipulating the environment to outsmart your enemies.
We call these odd shape-shifting creatures "creaks." Aside from the watchers which resemble angry dogs, you will encounter a few more — each of them with different behavior — for example, the spy who copies the main character's movement. Just remember — don't touch any of these creatures in their animated form, and you'll be safe.
The Mansion
I enjoy looking at buildings in my neighborhood, and I've always been fascinated with the idea that there might be a giant uncharted world, hidden somewhere deep underground. Hence the entire story of Creaks takes place in a strange towering mansion. Its otherworldliness might be scary at first, but once you take your time to explore its corners, you will find out that it's rather magical, diverse, and inhabited by both peaceful avian folk and terrifying creatures.
The creaking house has five different parts, each of them with its vibe and history. The Attic, where you will likely spend the first hour or two, is the most rudimentary of all. Lots of junk is lying around with no intent to be used, and as the entrance to the mansion is guarded by barking watchers. On the other hand, the Towers are all about the deep consciousness and mulling over the universe, and the enemy introduced in this area has a more tranquil vibe.
When I first started working on the layout of this mansion and the individual levels, I decided to use a rather inconvenient style of work. I had drawn the first background assets with ink on several A4 sheets, which I scanned one by one using a small ancient scanner. One background would take up to 10 sheets that I would digitally glue together in software. As you may have guessed, this didn't feel like the most efficient method — so I saved up enough money to buy a much better A3-format scanner. But…
As ridiculous as it sounds, this new scanner was too good. In comparison to the old one, the expensive high-quality scanner's output lacked the imperfections. It eliminated the natural texture of paper, which was something essential to the feel of my drawings. So I went back to the old scanner, dealing with the fact that I'll need to scan twice as many pictures to achieve the desired effect. That wasn't much of a hassle compared to the fact that I needed to draw each picture three times. First digitally sketching it on my computer, then printing it and duplicating it with a pencil through translucent paper, and finally, redrawing it with a pen and watercolor. Then it was all colorized and put together with digital post-production.
The Paintings
While I was responsible for most of the environment art, it was my friend Jan I mentioned above who took care of all the collectible paintings. These are scattered throughout the mansion, some of them hidden in secret rooms, something we hope you trophy hunters will enjoy. These paintings are like windows — objects that, metaphorically put, allow you to look outside of the large cave. They will teach you a little bit about the history of this world, the dreams, desires, and legends of its avian inhabitants.
The first painting drafts Jan created for Creaks were even more surreal than those you can see within the game. Over time, he incorporated more poeticism and history of art, particularly those from the 18th and 19th centuries. Over time, we accumulated many ideas for these paintings, trying to build upon the world's mythology. Our designs come from many places — it could be visual echoes of movies, books, or daily events that get stuck in Jan's head, sometimes inspired by actual historical paintings. In terms of aesthetics, one of the main goals was to maintain a mechanical feeling, even though Jan painted them with oil on canvas and later scanned and animated them in software.
The thing is, we usually expect paintings to be static, which was something we wanted to improve. The first upgrade we made was that we added a little string to these paintings. When you pull that string, the picture comes alive, both with music and animation. That's when ideas for portraits of musicians playing bizarre instruments started coming together, and we're very fortunate to have the Scottish composer and multi-instrumentalist Joe Acheson, aka Hidden Orchestra on our team. His music helps the entire world come to life.
Adding music to these paintings helped a lot, but we were still looking for more interactivity. We wanted players to be able to play with them. So 11 of those became playable minigames, be it little puzzles very closely connected with what's happening in the mansion, or a sword-fighting minigame starring two knights.
Please take a look at the painting called Meadow Song as it appears in the game.
The Secret
As soon as you start playing Creaks, you'll get the feeling that there's something quite unusual happening beneath the hero's tiny room. I can't wait for you to finally get to explore this strange little universe that we created, and I hope you'll enjoy exploring the creaking mansion's dark corners, solving puzzles and unraveling what's causing all the havoc. I'll leave that for you to find out.
---
July 1 Indie Reveals
---