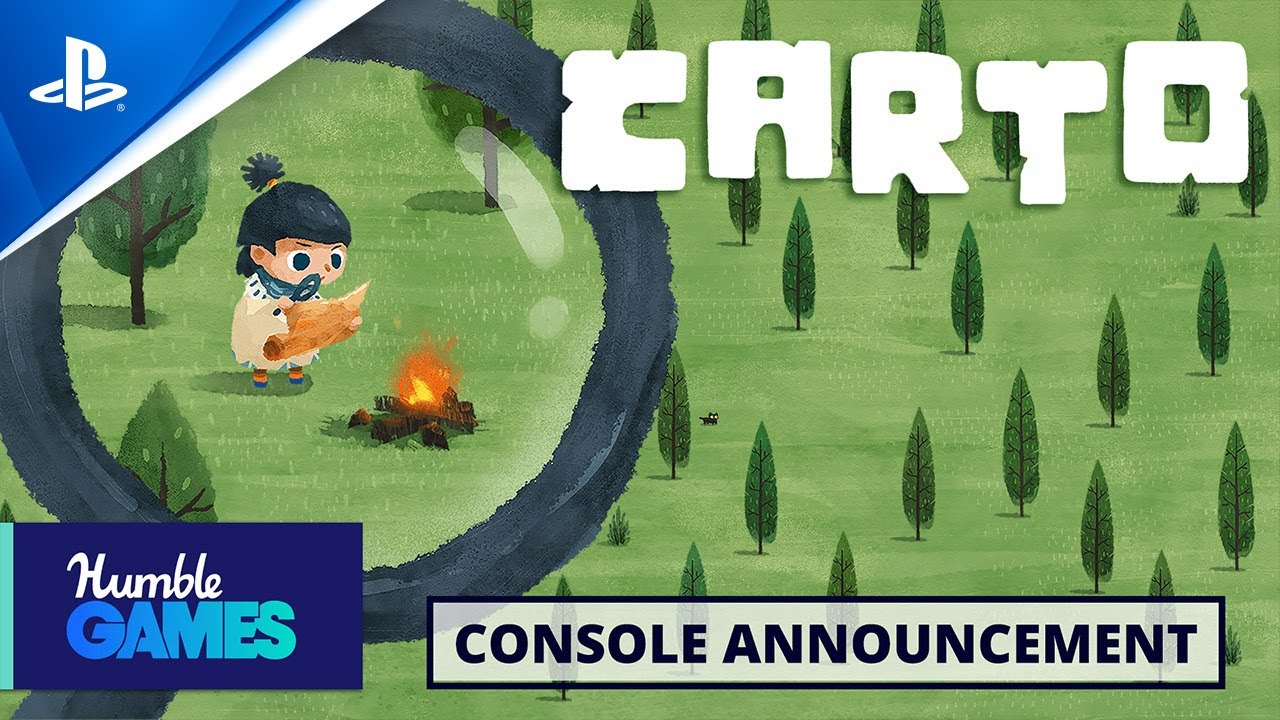 Connect missing pieces of a map to discover mysterious worlds and new friends.
Are you looking for an innovative game with so much charm and wit you just can't put it down? Is an immersive experience with delightful art and music right up your ally? Then we at Humble Games, in partnership with the fantastic team at Sunhead Games, are thrilled to announce Carto.
Carto is set in a beautiful world, painstakingly created by the art-forward studio, Sunhead Games. While Carto marks Sunhead's foray into console games, they are no strangers to carefully crafted games with innovative mechanics (A Ride into the Mountains, The Swords). While the stunning world, charming characters, and beautiful soundtrack are enough to keep any player engaged, the true innovation of Carto is in its creative puzzling.
In this delightful adventure wrapped around a unique world-shifting puzzle mechanic, you'll master your cartography skills. As you rearrange pieces of the map, you'll see the world change around you. Connect missing pieces of the map to discover mysterious lands, uncovering their secrets. As you journey through new pieces of the map, you'll meet quirky characters and make friends along the way, many of which will need a helping hand from their local cartographer.
The spirit of the game lies in the exploration of new places and learning about new cultures. While all lands and people groups within Carto are fictitious, the experience of traveling to new places is very real – the wonder of seeing a sprawling land so different than your own, learning traditions foreign to your own, and ultimately getting to embrace them all as wonderful in their own right. As you journey with Carto you'll be able to uncover these beautiful locations and meet people, learning about them and their culture along the way.
As you mingle with the endearing characters across your travels, you'll uncover witty dialogue written by Nick Suttner. Having worked as a writer on games like Guacamelee! 2, Celeste, and Bloodroots, Nick is no newbie when it comes to creating stories with thoughtful and interesting characters. While the secondary characters are a delight to encounter, Carto's personal story is one of self-discovery and friendship. Thoughtful moments centered around family and the things that are important in life will keep you grounded and waiting to see what happens next.
One critical piece to Carto is the music woven throughout the game. No map-spanning journey would be complete without a beautiful complementary soundtrack. The music for Carto is the debut work of Sun Head's in-house composer, Eddie Yu. This soundtrack, combined with thoughtful sound mixing, allows players to be fully immersed in the journey alongside Carto. To be fair, you can only speak so much about music before people need to listen to it. Here is a small taste of the relaxing, yet engaging music of Carto.
It goes without saying that we at Humble Games and our partners at Sunhead Games cannot wait for you to experience Carto for yourself. Stay tuned for more!
---
July 1 Indie Reveals
---