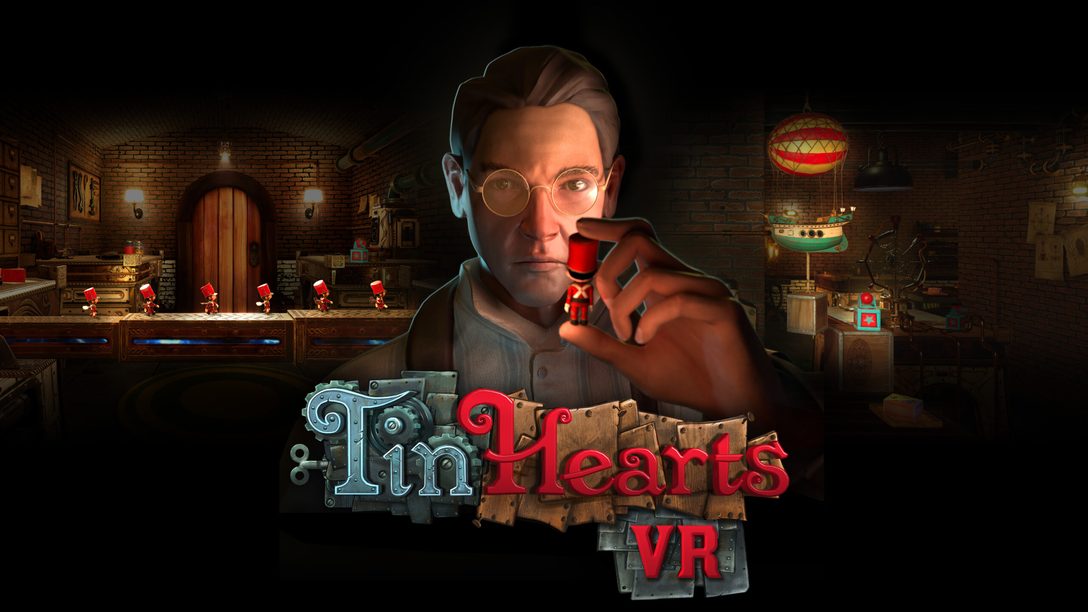 Puzzle out solutions in this immersive narrative adventure, then try yourself in the demo, out November 2.
Hi everyone, I'm Kostas Zarifis, founder of Rogue Sun and Creative Director on Tin Hearts. We've been so grateful for the amazing reception the game has enjoyed since releasing on PlayStation 5 and PlayStation 4 earlier this year! But we've heard the voice of the VR community loud and clear: you want to play Tin Hearts on PS VR2! That's why I'm excited to tell you more about what to expect in the PS VR2 version of the game, and let you know a PS VR2 demo of the game will launch on November 2. We can't wait for you all to check it out!
What is Tin Hearts?
Tin Hearts takes you on an emotional and thought-provoking journey as you peel off layers of the life of Victorian toy maker, Albert Butterworth. To do this you'll have to step in the shoes of the inventor yourself, as you solve the 50+ Lemmings-style puzzles in the game, which are ever increasing in complexity.
Spanning four distinctive acts, each puzzle is masterfully woven into the very fabric of the Butterworths' grand Victorian home. As you progress, you will steadily uncover a variety of whimsical inventions each with a unique set of abilities to help guide your troop of tin soldiers to safety. Treasured memories unlock as you explore new locations, and even some that would rather stay forgotten.
We have designed Tin Hearts from the ground-up for PS VR2, to bring a fully immersive version of our critically acclaimed game to life – now allowing you to directly control, touch and interact with the game's mechanics. Pick up and juggle blocks between your hands, maneuver toy cannons and change the direction of trampoline drums to help your tin soldiers reach their destination, whilst exploring the stunning environments from a whole new perspective.
Key features:
Solve a trail of puzzles: Set out on an adventure through 50+ Lemmings-like puzzles which constantly evolve as you progress. Uncover new routes to your destination each time you play, with multiple ways to solve the intricate puzzles.
Marvel at the mechanical wonders: Unlock the power to control a variety of ground-breaking inventions steadily introduced throughout the game. Maneuver toy cannons, trampoline drums, and balloon inflating machines. Experience ever evolving mechanics as the game keeps throwing new surprises and wonders at you.
Become a master of time: Pause, fast-forward and rewind time to observe and change the outcome of your actions, providing an accessible and relaxing puzzle-solving experience to satisfy both puzzle veterans as well as storytelling enthusiasts.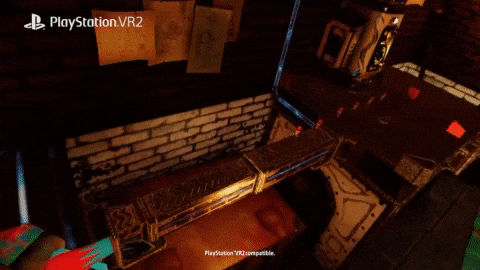 What's included in the PS VR2 Demo?
Filled with marvelous mechanical wonders and intricate puzzles, the demo will guide players through six of the 50+ levels set within the grand Victorian home of the Butterworth family. From the attic, filled with charming toys and inventions, to the inventors' basement which is host to the heights of innovation and technology, the demo shares a glimpse of the gameplay to come from a selection of our favorite levels.
If I had to pick a favorite level in this demo, I'd say be sure to check out the music room, which marks the start of Act II. The music room is filled with various classic instruments, prized possessions of Helen Butterworth. Helen is the wife and kindred spirit of Albert, whose musical talent equates to her husband's toy making abilities. Take your time here working through the relaxing puzzles and enjoy the poignant soundtrack, which merges and complements the gameplay and sound in an sensational way, courtesy of Matthew Chastney, our very own talented musician and composer.
… But I do not want to spoil too much, so I hope you take the time to dive into the demo when it launches on November 2 and get to know Tin Hearts' magical, fairytale world for yourself!
We cannot wait to share more about the full release of Tin hearts VR, including a long-awaited release date.
---
VR Day: All Announcements
---