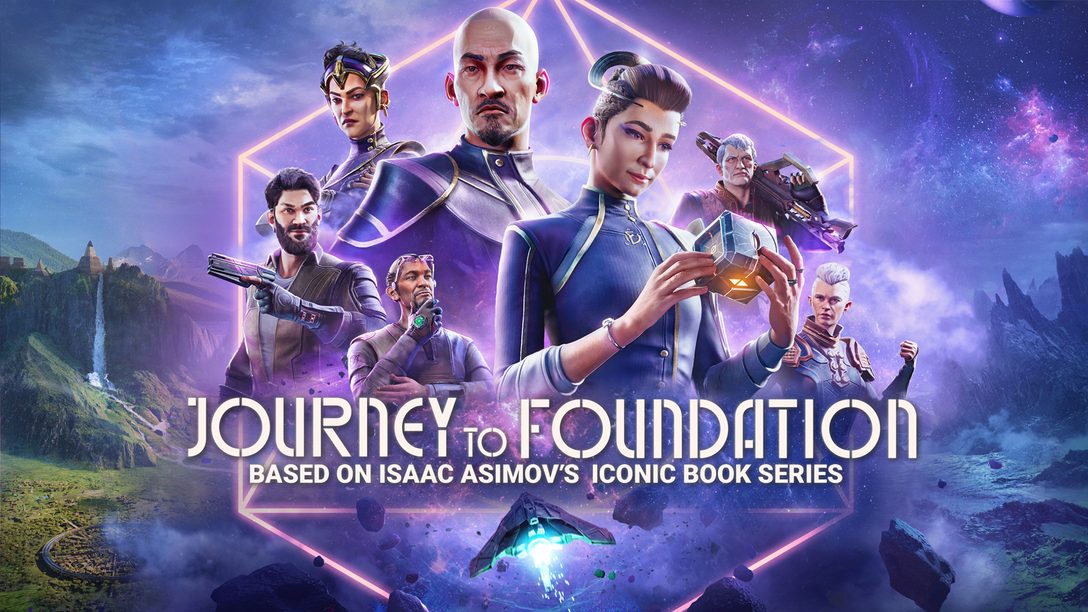 Immerse yourself in the world of Isaac Asimov's Foundation with PS VR2 features.
Anyone who reads Isaac Asimov's Foundation series will know there are a lot of tense, exciting conversations where characters are grappling with the fate of the Empire or are engaged in a fierce battle of wills. In adapting this iconic series to VR, we sought to make these conversational moments as satisfying and immersive as possible, which was possible by leveraging some of the PlayStation VR2's unique features.
When players are dropped into the role of Agent Ward in Journey to Foundation, they will be immersed through:
Haptic feedback
Eye-tracking
Adaptive triggers
Controller tracking
4K HDR
Immersion through headset haptics
Your character, Agent Ward, has unique Mentalic abilities that allow them to sense and manipulate the emotions of others. It's a subtle art: push too hard, and you'll cause damage. We use the PS VR2's head haptics to make you feel like you are reaching out with your mind, and to guide you to success while you play.
Players will also feel like they're right in the action when a star explodes, or a spaceship crashes; haptic feedback on the headset will make it feel like you're there.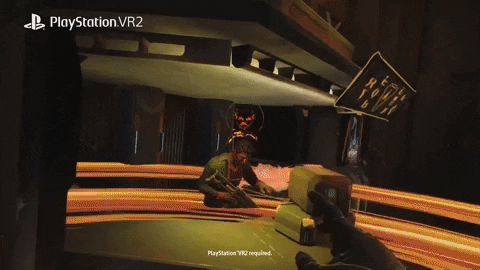 Real-time decision-making
In a typical cutscene, you watch the drama unfold. In Journey to Foundation, we put you inside the drama.
But it's not just a matter of giving you a few dialogue options to keep you engaged. Eye tracking allows you to make your conversational selection by simply glancing at the option and pressing X.
Even when imposing characters like the Viceroy are staring you down, you can engage with your environment by searching for special 'Look At' cues that are hidden around the environment, and items are strewn throughout the game that can unlock unique dialogue and new player paths.
Adaptive triggers with swappable weapon components
We created specialized chips – called ADMs (Atomic Defense Modules) – that can be placed on the back of your base weapon to upgrade and change how it works, giving you access to multiple different blasters.
Swapping the chip will give you a different weapon type, and each one will feel different due to the unique audio, haptics, and force feedback from the PlayStation's adaptive triggers.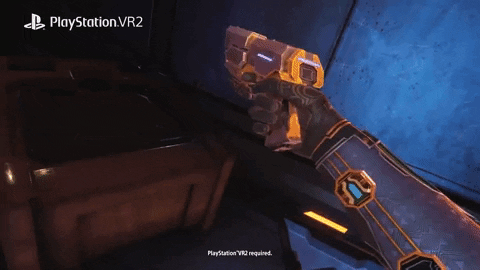 Sensors to track gestural movements
In VR, your body is your controller, which is why we have incorporated gestures into our conversations. When an adversary points a gun at you, you don't press 'X' to surrender; you literally raise your hands (lest the NPCs warn you if you don't follow their orders).
The PlayStation's outward-facing sensors are how we validate these gestural moments, providing yet another layer of immersion.
Stunning 4K space-scapes
The Foundation series is set in a galaxy in crisis. The Galactic Empire, who has kept the peace for 12 thousand years and occupies 25 million planets, is about to collapse. Massive events are occurring and changing the balance of power in the galaxy. We are grateful to take advantage of the headset's 4K resolution and processing power to really sell that spectacle.
A big reason we all play science fiction games is to experience what it's like to be among the stars, and we have tried to make that experience as satisfying and awe-inspiring as possible with the help of PlayStation's powerful hardware.
Journey to Foundation is a passion project for our studio, and we can't wait to share it with you all when it releases on PlayStation VR2 on October 26, 2023.
---
VR Day: All Announcements
---