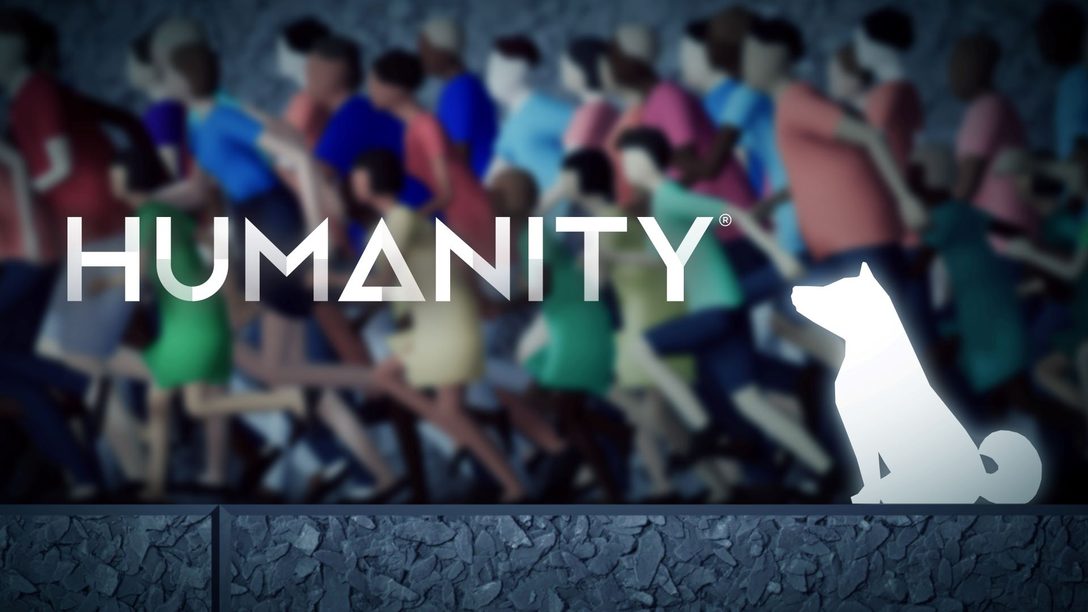 As the game is confirmed to launch in May. 
In a world where humanity is lost – without soul, without intellect, without a will of their own – the fate of all mankind rests upon the wits and determination of a lone savior: you.
…Oh, did I mention you're a Shiba Inu?
"One day, I woke up as a dog…"
Shiba Inus are the most popular small dog breed in Japan. Their innocent appearance and loyal personality have captured the heart of the Japanese nation since time immemorial, and people can be seen walking their Shiba Inu in towns and parks all over Japan.
In this world, however, the relationship between human and dog is turned on its head – this is the world of Humanity.
Gameplay
Stranded at the end of the world, people have lost their sense of purpose. You awake as a dog, and join the people in a series of "Trials" (i.e. stages), attempting to guide them towards pillars of light.
With one simple "woof", you issue commands to your followers – commands they will follow blindly, no matter the sacrifices involved in doing so. You can tell them which direction to walk, make them jump, have them float in midair and more – even have them fight against their enemies.
Each Trial features a variety of tricks, traps, and obstacles, including water and wind, mountains and valleys, switches and moveable objects. Each of these will affect or restrict what the people can do, and they combine together to form a series of fiendish puzzles.
Overcoming Trials and successfully leading the people can require deep thought, or sharp reflexes, or often a combination of both. Plus, things can get very crowded by the time you finally reach the goal, as the stage teems with swarms of people. Dealing with these giant crowds organically, in real-time, is one of the most interesting and satisfying parts of playing Humanity.
Story
What awaits you at the end of the Trials is…out of the ordinary, to say the least. We'd really like you to play the game for yourself to see how the story unfolds, but we'll introduce one element here to whet your appetite.
These are the Others.
While similar to the people in appearance, they live according to entirely different principles.
The Others and the people do have some things in common, though – which is what puts the two groups in competition, and ultimately in conflict, with each other…
Do you try to avoid conflict with the Others, or do you seek to confront them head-on?
In the game's early stages, Humanity appears to be a rather peaceful action puzzler, but as you proceed through the story, it will transform into battles on a massive scale. This evolution in gameplay is just one of the things we hope you enjoy.
Stage Creator / User Stages
Humanity's in-game Stage Creator allows you to create your own original stages and share them with the community, allowing them to be enjoyed by players all over the world.
The Stage Creator is easy to use but provides a great deal of creative freedom – it essentially allows you to have the same experience that we, the development team, had when creating stages!
Be sure to share your unique creations with the world. We're really looking forward to seeing what you come up with, and to being surprised by your skill and creativity!
PlayStation VR2 compatible
Humanity is also compatible with PS VR2. The game really provides a unique sensation when experienced in VR, and simply feels great to play. It's as though you're a giant peering down at a world of tiny people, one where every nook and cranny has been delicately crafted. Indeed, when we experienced Humanity in VR, we realized what an incredible visual experience technology like this could provide. We really hope you all give it a try.
A demo of Humanity is available on PlayStation Store starting today and is open to play for a limited time*. It includes a handful of Story Mode stages for you to try, User Stages for you to play creations from other players around the globe, and our Stage Creator. Hop in, try out some stages or create your own. We hope you'll check it out, and we'll see you in the Trials!
*Note: User Stages profile progress, stages created, favorited, or shared during the demo period will not carry over to the full version of the game.
---
State of Play: All Announcements
---