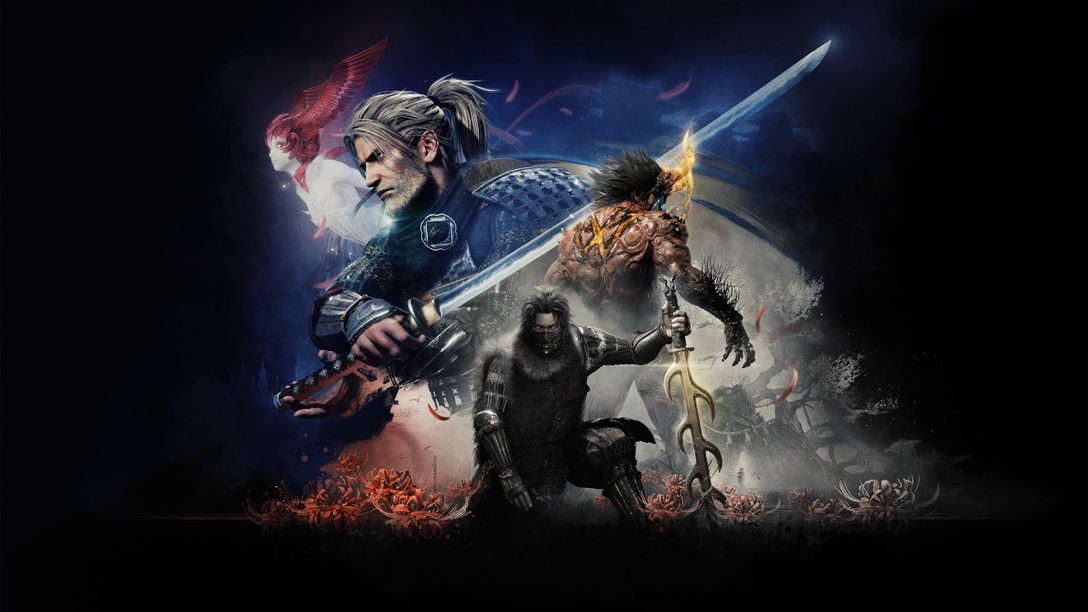 Combat tips for the complete action epic plus a special thanks from Team Ninja to yokai hunters worldwide.
Greetings yokai hunters! I'm excited to finally announce the long awaited Nioh 2 Remastered – The Complete Edition and The Nioh Collection are available tomorrow!
To celebrate this moment, for a limited time we're offering a chance for our samurai and Ninjas to try on some new exclusive armor sets. All of the players that own Nioh 2 Remastered – The Complete Edition or the base game for Nioh 2 can receive the Sohaya Deserter Garb and the Ornate Golden Armor just by playing the game from February 5 to February 26 and going to the "Boons" section of the menu to redeem them*. These Limited Time Bonuses will only be available during this period, so don't miss this opportunity to get your hands on both items!
I wanted to use this opportunity to talk about what you're getting with tomorrow's releases, but also talk about how Nioh has been shaped by its passionate community of players, and offer up some tips for newcomers.
Play Nioh 2 in dynamic 4K and 120 FPS on PS5
The epic adventure of Nioh 2 has truly been an exciting experience. And for all of us at Team Ninja we're thrilled to present to the players a key to venture through the entire journey, including all three of the DLC expansions in dynamic 4K and 120 FPS on PlayStation 5** in Nioh 2 Remastered – The Complete Edition. Even if you have already tackled all there is to experience in the Nioh 2 base game, we hope you can look forward to taking on some of the most fearsome yokai and foes from the Sengoku period, leading up to three action-packed adventures that will take you back to the past!
Through the DLC expansions of The Tengu's Disciple, Darkness in the Capital, and The First Samurai, the protagonist is brought back to Japan's ancient history, to the Heian period, where they will unravel all of the remaining mysteries of the Nioh 2 story and journey to the "land where yokai reside."
In addition to Nioh 2 Remastered – The Complete Edition, The Nioh Collection will give players remastered versions of both Nioh and Nioh 2, including all of the DLC expansions for both titles. You can find the full run down of the different versions here.
A balanced combat system shaped by fan feedback
Looking back, I'm so happy that the battle system for the Nioh series has received a lot of praise from our community.
This system featured a large variety of weapons to choose from, along with spectacular skills to unleash on your yokai foes, all the while gaining new loot drops from enemies and bosses you defeat along the way. The loot drop system was inspired by the hack and slash genre and has become a staple of the franchise.
We have also implemented many updates to both games over the years, which were influenced by fan feedback, to ensure all of our samurai out there have the most balanced experience possible. Interested to know exactly how? Find out here (for the original game) and here (for Nioh 2).
The large number of different builds players can create based on their unique playstyles, gives you the freedom to play your way.
Apart from the battle system, fans were also very receptive to the new character creation system that was introduced in Nioh 2. Players have enjoyed the level of detail that we've put into this feature, and we have personally seen countless numbers of awesome character designs from all around the world being shared by community members with one another! Let's not forget the attractive photo mode feature which also allowed gamers to capture still pictures of their original character in cool poses or during heated battles.
A community of seasoned yokai hunters
The franchise has also benefited from excellent multiplayer options*** that have allowed the community to take on all that Nioh and Nioh 2 have to offer as a badass band of yokai hunters! Our players have enjoyed the fact that people can join in during their adventures to assist with tough bosses, adding even more options for how players wish to tackle each challenge presented to them throughout their journey.
We really feel it helps the community stay active, and continue slaying yokai demons together for hours on end! With that said, we certainly hope that new players can experience all of the memorable aspects of the Nioh series that our fans have enjoyed throughout the years. The Nioh franchise would not be where it is today without our dedicated fans and all of their support.
Combat tips for Nioh and Nioh 2
You may be coming to our series fresh. If today marks your first time joining our yokai hunter ranks, then be sure to check out these essential combat primers to both games:
A final word…
To conclude this blog, my producer and director for Nioh 2, Yasuda-san, would like to send a personal message to all of our samurai and yokai hunters today!
---
"The Nioh series was born when it was first announced in 2005. After many development twists and turns spanning over 10 years, Nioh was finally released in 2017, followed by the sequel Nioh 2 in 2020. Thanks to all of the feedback we have received from fans through the beta demos for each title, all of your input has greatly affected the development of the Nioh franchise, a series which is very near and dear to both KOEI TECMO and Team Ninja. On behalf of myself and everyone on the Nioh 2 development team, we are truly grateful for your support and dedication to the Nioh series. We put in all of our effort to bring both the full Nioh 2 story through Nioh 2 Remastered – The Complete Edition as well as the entire series in The Nioh Collection. I hope you will thoroughly enjoy all that the Nioh franchise has to offer."

– Fumihiko Yasuda
---
*Requires downloadable patch. Internet connection required.
**Requires 4K and 120fps compatible display
***Online multiplayer requires internet & PlayStation Plus subscription. PlayStation Plus fees recur until cancelled. Age restrictions apply. Full terms: play.st/PSPlusTerms
*Requires downloadable patch. Internet connection required.
**Requires 4K and 120fps compatible display
***PlayStation Plus is required for online multiplayer. PlayStation Plus is an ongoing subscription with recurring fees until cancelled. Users must be over 7yrs and users under 18 require parental consent, except that users in Germany must be over 18yrs. Full terms apply, see: www.playstation.com/legal/ps-plus-usage-terms