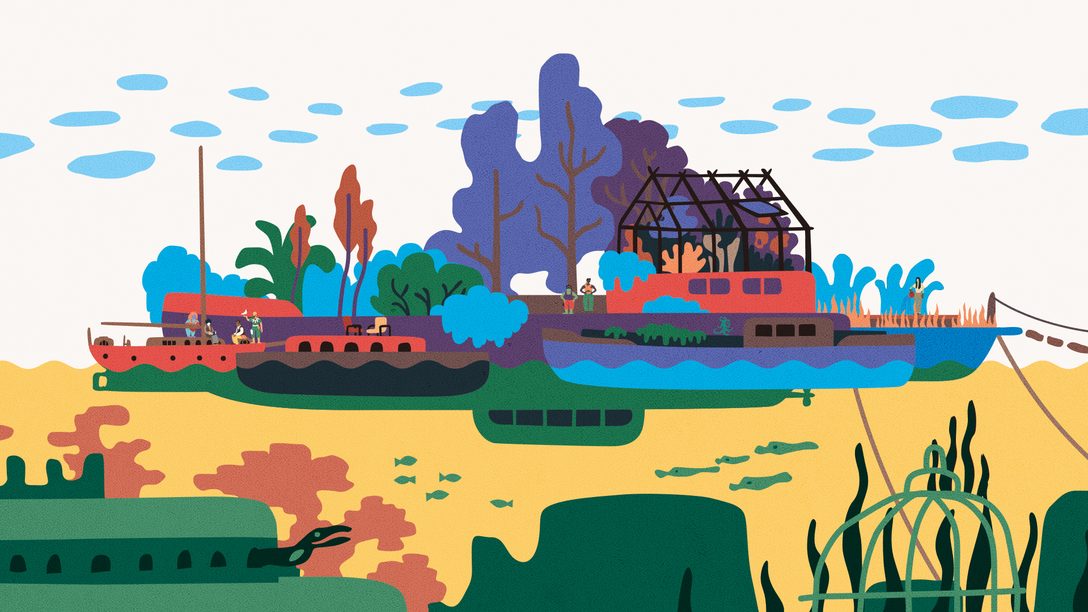 How Die Gute Fabrik made their story-driven adventure game feel true to island life.
Hello! Or, as I'd say when I'm out and about in my island home, hi-aye. I'm Harry Josephine Giles, one of the writers for Saltsea Chronicles, coming out on October 12 on PS5. It is a story-driven adventure game where you guide a crew as they explore a flooded world of strange and surprising islands and meet the many people who call that island world home.
We're excited to share a new look at gameplay in Saltsea Chronicles. Check out the new trailer below.
So, zooming out from the fantastical world of Saltsea, what are islands really like?
A view of the island of Hoy from the West Mainland of Orkney. In the foreground are green fields, fences, and a cluster of farm buildings. In the distance are two high brown hills. Between is a narrow stretch of calm blue sea.
Orkney is an archipelago of 70 islands off the North coast of Scotland. It's low-lying, very green, windswept, and my home. Some islands have a few hundred people, one a few thousand, and others just one resident. We live on farming, inshore fishing, and tourism.
Coming from the islands makes me long for more stories about island life written from our perspective. Working on Saltsea Chronicles, I was eager to write islands that felt like a home to me: places that were full and real, lived in.
Living with land and sea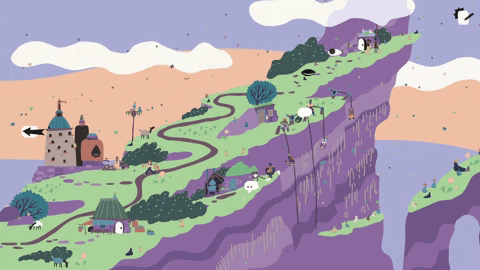 An island needs to support its people. If you rely on food that comes by boat, you're in trouble when the boat cannot come, and there'll always be times when the sea is too risky for boats to cross. That means making what you can grow, gather, and fish central to your life. Different islands have different soils, different ecosystems, and different access to fishing grounds. In Saltsea Chronicles, you'll see a little of how each community has made the best of its island.
In Njarfie Roust, where we begin the story, there's an unusually high cliff, which makes a great home for seabirds. That means that all Njarfie children learn to abseil so that they can harvest a crop of nutritious eggs in spring. The inspiration for this came from St Kilda, where seabirds and their eggs were the main part of the local diet, and they even made lamp oil from what they could get from fulmars. All that made cliff-climbing an important local sport.
Castle o Burrian, Westray, Orkney. Against a background of grey stone cliffs, there's a small group of puffins (tammie-norries, in my language). Their black and white feathers and colorfully striped beaks are bright and clear.
Another island in the game, Los Gatos, is home to an enormous population of cats. Naturally, one of their main exports is catton – a cat fur-based cloth. There can't be waste because there's nowhere but the island itself for the waste to go. So, in Los Gatos, they've managed to find a way to spin cat hair into wool, and I hear it's luxuriously soft. They use it for all their clothes, but there's enough that it's also become an important trading good for them because making connections with other islands is just as crucial to being an island inhabitant as being self-sufficient.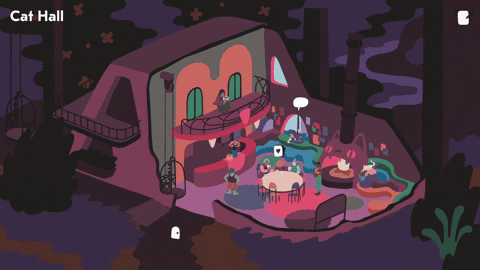 Making Connections
Every island has its own identity, and the things that mark it are often fiercely defended. For people who live there, hours can be spent debating the merits of one island's beaches versus another's moors or whose farms are the tidiest and whose dances the wildest. Beyond these playful battles, though, islands that share a sea have a shared identity, too, built through mutual support and the sharing of resources. We wanted Saltsea to feel interconnected, where each island is distinct but bound to the others.
You'll see this most spectacularly in the game at the Float, the traveling trading hub where people across Saltsea meet to share what they have and take home what they don't. Built of dozens of boats lashed together, some of the ships in the Float have been there for decades, while others come and go with the seasons. The Float itself sails around the archipelago to make the connections that build a culture easier. Gathering together so many different people, the Float has its way of making decisions, inspired by both the St Kilda Street Parliament and Norse Things.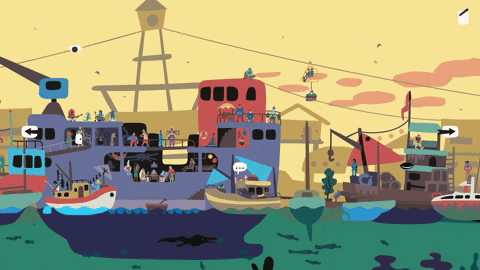 A shared culture also means shared traditions. In the Saltsea Archipelago, Guides are respected community members who provide counsel and comfort, resolve conflicts, and keep important stories. They're trained at the Grace, a sanctuary and center of learning, but they're found throughout the islands. If you look closely, you'll see characters throughout the islands wearing the sash of the Guides, each bringing their island perspective to the beliefs that hold the archipelago together.
Keeping community close
In Saltsea, our communities have survived tough times, strengthening their bonds. Sometimes, though, that can make them more suspicious of outsiders. When you're used to knowing everything about everyone in your home, what happens when someone new arrives?
Youlouca is an island where these conflicts come to the fore. With rich, volcanic soils and a balmy climate, it's become popular with visitors. Still, the folk who've lived in Youlouca for generations are sometimes taken aback by the new ideas and cultures that visitors bring.
How Saltsea islanders deal with conflict is one of the biggest themes of our story. What happens when the traditional ways of dealing with conflict reach their limits? What happens when people are let down by their home island? And what should be done with people who transgress these tight social norms, for good or for ill?
Grappling with change
View of Copinsay from Deerness, Orkney. An island landscape under a dappled blue and white sky, with the evening sun glittering on the sea and the land darkening. You can make out an old lighthouse and new wind turbines on the horizon.
People often think of islands, with their rural communities, as slow-changing places, examples of an older way of life. I think that's wrong: Though held together by a community thread, the islands I know have tried new technologies to generate new ideas for living in the world. Orkney is a laboratory for all kinds of new energy, from hydrogen batteries to tidal generators. These changes, though, bring new challenges to different cultures for islands to adapt to.
Saltsea, too, is constantly changing. Some of those changes are embraced, and others are more of a struggle. Island communities must weigh new ideas when they arrive and work out which to take out and which to leave aside. Considering the costs of things changing and staying the same is a constant challenge.
More than any other place I know, an island is the right place to ask these questions and to find the answers. I hope you find your own solutions in the islands we've built when Saltsea Chronicles comes to PS5 on October 12.
---
Indie Day October 2023: All Announcements
---