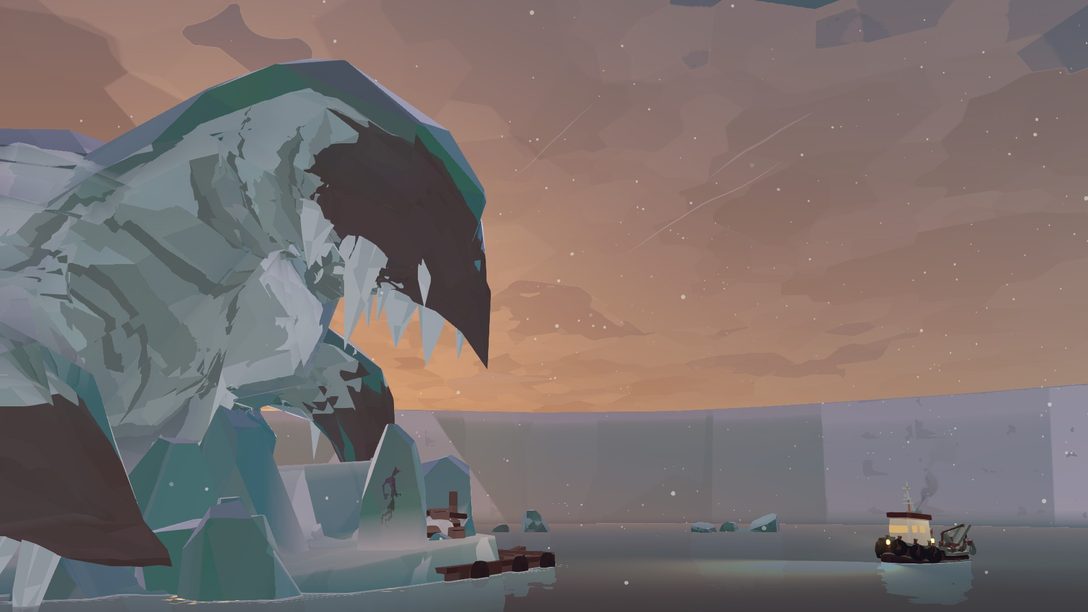 Set sail to uncover the secrets of The Pale Reach.
Today, we're incredibly excited to announce The Pale Reach, the first official expansion for Dredge.
Approximately six months ago, we set sail with the launch of Dredge, and the response has been nothing short of extraordinary. Players have been immersed in our atmospheric world, where eldritch terrors cast shadows over the life of a fisherman in a forgotten town. Throughout these past months, our small team has been dedicated to enhancing the Dredge experience, delivering extended functionality, more monstrous and majestic wonders, and quality-of-life improvements through three free updates.
Dredge: The Pale Reach calls players to a new, frozen frontier—a pristine icy biome awaiting discovery by the most intrepid of explorers. Those who find themselves within this frozen expanse will embark on a journey through icy canyons, retracing the path of a long-forgotten expedition and unveiling the destiny of those who once ventured there. Journeying into the depths of this glacial biome will require players to upgrade their vessel, equipping it with specialized gear capable of smashing through the unforgiving ice.
However, much like the rest of Dredge, an eerie undercurrent of malevolence grips this realm, corrupting and twisting nature itself for its sinister designs. Will those who dare venture into The Pale Reach succeed in laying to rest a historic betrayal? Can they halt an already-encroaching darkness?
Along with new story content, The Pale Reach will introduce 11 new fish and crab species (and their aberrated counterparts) as well as an additional Fish Type. You can also earn access to a new item that extends the freshness of catches no matter where you're fishing.
Doing an icy biome was something we had considered when we were first designing Dredge, but the other biomes felt better for the story we wanted to tell and the time we had to make the game. After launch, it became the most requested new biome from players, with the community wondering what it could be like and even creating fan art inspired by it. We're delighted to be bringing this idea to life for players.
The Pale Reach launches on November 16, and we hope players will enjoy this icy add-on to Dredge's world. We're not stopping here either, as we're hard at work on our next planned expansion–The Iron Rig–and look forward to sharing more with you soon!
Until then, keep your eyes on the glaciers.
---
Indie Day October 2023: All Announcements
---