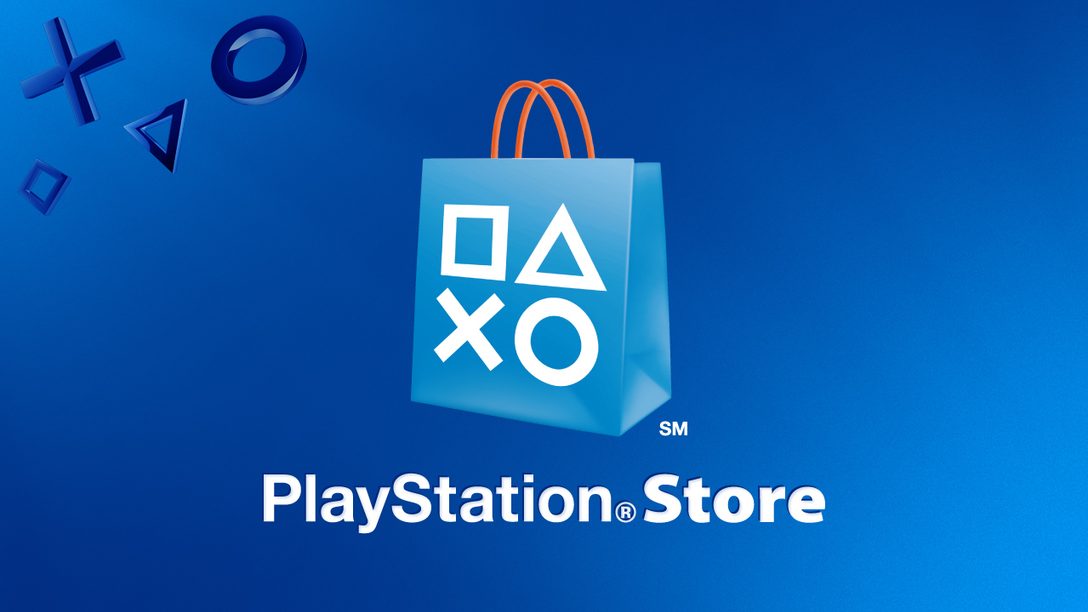 Welcome!
This week we start off with Sega's Binary Domain, which will now be available to download from our store from today! Set in a distant future of the year 2080, Tokyo has been invaded by robots. Take charge in a battle for humanity and give the machines an ending they did not expect! PS Plus members will have a two week period to purchase a 15% discounted rate.
Discover an eerie, intriguing realm in this unique interactive art experience where little is as ever as it seems and mystery and surprise await your every move.
Open the gates to a dreamlike forest, follow the paths between the trees, interact with your surroundings and attempt to answer three questions: why are you here? What are you supposed to do now? And is there a way out?
For the curious – for those willing to face the depths of their own conscience – the answers will be revealed by exploring the world of Datura.
PS Plus members will also have two weeks to purchase Datura at 20% off.
Other titles this week also include demos for Zack Zero and Spec Ops: The Line, as well as Arc Arena and Just Cause being our new PS2 and PSone Classics, respectively.
Andy has also been working on securing some new deals in a new sale with a somewhat retro theme to it. Did you never get round to purchasing Final Fight: Double Impact or *deep breath* Super Street Fighter II Turbo HD Remix? How about some of the PixelJunk games such as PixelJunk Monsters or PixelJunk Eden? If you haven't jumped to the bottom already then you may want to also know that PixelJunk Monsters, PixelJunk Eden, PixelJunk Shooter and PixelJunk Racers 2nd Lap are cheap as chips (cheaper maybe) for PS Plus members at just €0.99! Check out the list of titles in the sale right at the bottom.
As usual, this week's content is below.
PlayStation Network New Content
Content may be added or removed, or move dates – please stay tuned to your weekly Store Update for the most up to date listings. Listed savings are approximate, based on SRP excluding Special Offer pricing and should be considered as a guide only.
PS Plus
Binary Domain – 15% Discount for Two Weeks
Datura – 20% Discount for Two Weeks
PS3 Games
Binary Domain
An immersive squad-based shooter in which you need to work with your squad and regain control.
Prices: £19.99,€24.99,AU$39.95
PEGI: 18
Availability: All
File Size: 11GB
Datura
Experience the haunting world of Datura – part PlayStation Move adventure, part interactive art concept – and embark on a voyage of mystery where little is ever as it seems and every action has a consequence.
Prices: £6.49,€7.99,AU$12.95
PEGI: 16
Availability: All
File Size: 879MB
Dead Space – Super Bundle
This bundle includes a digital license for Dead Space™ and all of the downloadable suit and weapon content for Dead Space. There are no refunds for this item.
Prices: £23.99, €29.99, AU$49.95
PEGI: 18
Availability: All
File Size: 8GB
PS3 Demos (Free)
Spec Ops: The Line Demo
The demo begins with a Delta Force recon team, led by Captain Martin Walker, infiltrating Dubai six months after a cataclysmic sandstorm destroyed the city and left it buried in ruin. Chaos ensues as Delta is pulled into the middle of a civil war. Walker and his team must fight their way through the unpredictable war-torn city to find the man at the heart of its madness – Colonel John Konrad.
PEGI: 18
Availability: Not available in DE, KU, QA, SA, UA
File Size: 1501MB

Zack Zero
Zack Zero takes you on an action-packed platform adventure with incredible 3D graphics and the playability and entertainment of classic 2D games. Help Zack Zero save his beloved Marlene, kidnapped by the evil Zulrog in an effort to obtain the powerful substance that will allow him to travel back in time. More than 30 characters, 5 spectacular bosses and incredible and diverse scenarios!
PEGI: 12
Availability: All
File Size: 279MB
PS2
Just Cause
Compatible with PlayStation®3.
Just Cause offers the freedom to tackle your assignment however you want: play the island`s factions off against one another; incite a rebellion among the masses; or build alliances with rebel forces and drug cartels.
Prices: £7.99,€9.99,AU$15.95
PEGI: 16
Availability: All
File Size: 395MB

PSOne
Arc Arena: Monster Tournament
Compatible with PSP and PlayStation 3.
Use your save data to import monsters captured in Arc the Lad II and fight in tournament matches. Trade items, weapons, and monsters in the Arena!
Requires a 60Hz compatible display. The manual is in English. Help can be found at monkeypawgames.com.
Prices: £3.99,€4.99,AU$8.45
PEGI: 16
Availability: Not available in BE, HU, QA
File Size: 68MB
PSP
Metal Slug 2
Compatible with PSP only.
MARCO and TARMA return to the battlefront accompanied by two new recruits, FIO GERMI and ERI KASAMOTO, to thwart the new coup attempt by General Morden. Fight alone or with a buddy, on foot or aboard a tank, and deliver prisoners to freedom in this masterpiece of run-and-gun from SNK!
Prices: £5.49,€6.99,AU$11.45
PEGI: 12
Availability: All
File Size: 35MB

The King of Fighters '96
Compatible with PSP and PlayStation Vita.
Play with your favorite characters and newcomers, such as the mysterious Leona and the legendary Geese Howard, Wolfgang Krauser and Mr. Big, in this third installment of the popular '3-on-3' versus fighting series from SNK! With its cast of 27 characters KOF '96 promises fights of anthology on NEOGEO Station!
Prices: £5.49,€6.99,AU$11.45
PEGI: 16
Availability: All
File Size: 44MB
PS3 DLC
Asura's Wrath
Lost Episode 1
Prices: £1.59,€1.99,AU$3.45
PEGI: 16
Availability: All
Call Of Duty: Modern Warfare 3 (Thursday 10th Release)
Prices: Free
PEGI: 18
Availability: All (For Elite Members)
Dead Space
DLC Bundle (includes all weapons and suit packs)
Prices: £7.99, €9.99, AU$15.95
PEGI: 18
Availability: All
Disgaea 4
Kingdom Tank (£1.59, €1.99, €3.45)
Makai Map (£0.79, €0.99, AU$1.75)
Nisa (£2.39, €2.99, AU$4.95)
Pram (£2.39, €2.99, AU$4.95)
The Flashback Episode (£3.19, €3.99, AU$6.95)
PEGI: 12
Availability: Not available in DK, FI, NO, PL, SE
Dynasty Warriors 7
New Weapon Pack 7
Prices: £1.59,€1.99,AU$3.45
PEGI: 16
Availability: Not available in NZ
Dynasty Warriors 7 Xtreme Legends
Costume Pack 4 (£0.79, €0.99, AU$1.75)
Wall Papers 8 (£2.39, £2.99, AU$4.95)
Wall Papers 9 (£2.39, £2.99, AU$4.95)
PEGI: 12
Availability: Not available in NZ
Ghost Recon Future Soldier
Ghost Recon Future Soldier – Uplay Passport
Prices: £7.99,€9.99,AU$15.95
PEGI: 18
Availability: All
Max Payne 3
Max Payne 3 DLC 'Season Pass'
If you pre-order the Rockstar Pass before 18 May, you'll receive the exclusive Season Pass Theme.
Prices: £19.99,€29.99,AU$39.95
PEGI: 18
Availability: All
Motorstorm RC (Vita compatible)
Special Buggy: Nord Ram (Free for 7 days only!)
Special Big Rig: Patriot Shellshock (£0.21, €0.25, AU$0.45)
Veteran Supermini: Monarch Vestige-R (£0.40, €0.49, AU$0.90)
PEGI: 3
Availability: All
Prototype 2
Colossal Mayhem Pack
Prices: £3.99,€4.99,AU$8.45
PEGI: 18
Availability: All
Rock Band Network
Gordon Freeman Saved My Life (£0.59,€0.79,AU$1.30)
Good Morning Tucson (£0.99, €1.49, AU$2.45)
Hope & Ruin (£0.59,€0.79,AU$1.30)
Keyhole In The Sky (£0.59,€0.79,AU$1.30)
King Of Everything (£0.59,€0.79,AU$1.30)
Nemeses (£0.99, €1.49, AU$2.45)
Never… Again (£0.99, €1.49, AU$2.45)
Rise And Shine (£0.59,€0.79,AU$1.30)
Rocket Dragon (£0.99, €1.49, AU$2.45)
Say (£0.59,€0.79,AU$1.30)
Scissorlips (£0.59,€0.79,AU$1.30)
Super Villain (£0.99, €1.49, AU$2.45)
Talisman (£0.99, €1.49, AU$2.45)
The Plot To Bomb The Panhandle (£0.99, €1.49, AU$2.45)
The Stache (£0.99, €1.49, AU$2.45)
A Bullet In The Head (£0.99, €1.49, AU$2.45)
Back Through Time (£0.99, €1.49, AU$2.45)
Cheesy Pop Song (£0.59,€0.79,AU$1.30)
Do Your Thing (£0.99, €1.49, AU$2.45)
Für Immer Verloren (£0.59,€0.79,AU$1.30)
Feathergun In The Garden Of The Sun (£0.59,€0.79,AU$1.30)
Firefight (£0.99, €1.49, AU$2.45)
Force Feedback (£0.99, €1.49, AU$2.45)
Time Bomb (£0.99, €1.49, AU$2.45)
Welcome To The Skalocaust (£0.59,€0.79,AU$1.30)
PEGI: 12
Availability: Not available in BL, HR, CZ, GR, HN, IN, IL, KW, LU, PL, QT, RU, SA, SI, ZA, TR, UA, AE
Rock Band 3
Sleep Now In The Fire (£0.99, €1.49, AU$2.45)
Two Tickets To Paradise (£0.99, €1.49, AU$2.45)
Drops Of Jupiter (Tell Me) (£0.99, €1.49, AU$2.45)
Only One (£0.99, €1.49, AU$2.45)
Rage Against The Machine Pack 01 (£2.49, €3.99, AU$6.45)
(Includes the following)

Killing In The Name (£0.99, €1.49, AU$2.45)
Bombtrack (£0.99, €1.49, AU$2.45)
Sleep Now In The Fire (£0.99, €1.49, AU$2.45)

P!Nk Pack 01 (£3.49, €5.29, AU$8.75)
(Includes the following)

Funhouse (£0.99, €1.49, AU$2.45)
Get The Party Started (£0.99, €1.49, AU$2.45)
Please Don'T Leave Me (£0.99, €1.49, AU$2.45)
Sober (£0.99, €1.49, AU$2.45)

Cinderella Pack 01 (£2.49, €3.99, AU$6.45)
(Includes the following)

Don't Know What You Got (Till It's Gone) (£0.99, €1.49, AU$2.45)
Shelter Me (£0.99, €1.49, AU$2.45)
Nobody's Fool (£0.99, €1.49, AU$2.45)

Slayer Pack 01 (£2.49, €3.99, AU$6.45)
(Includes the following)

Raining Blood (£0.99, €1.49, AU$2.45)
South Of Heaven (£0.99, €1.49, AU$2.45)
Seasons In The Abyss (£0.99, €1.49, AU$2.45)
PEGI: 12
Availability: Not available in BL, HR, CZ, GR, HN, IN, IL, KW, LU, PL, QT, RU, SA, SI, ZA, TR, UA, AE
Scarygirl
Additional Level 2 – Enemy Within
Prices: £1.59, €1.99, AU$3.45
PEGI: 7
Availability: All
Soul Calibur V
Boy's Day Festival 1 (£1.59, €1.99, AU$3.45)
Cepheus Compatibility Pack 3 (Free)
Headgears 1 (£1.59, €1.99, AU$3.45)
Miscellaneous Equipment 1 (£0.79, €0.99, AU$1.75)
Modern Costumes 2 (£1.59, €1.99, AU$3.45)
PEGI: 16
Availability: All
Starhawk
Network Pass
Prices: £7.99, €9.99, AU$15.95
PEGI: 16
Availability: All
Two Worlds II
Defense Mode
Prices: £1.99, €2.49, AU$4.25
PEGI: 16
Availability: All
PS Vita DLC
Dynasty Warriors Next
'Diaochan' original officer card
'Guo Huai' original officer card
'Lu Bu' original officer card
'Sima Shi' original officer card
'Sima Yi' original officer card
'Sima Zhao' original officer card
'Wang Yuanji' original officer card
'Xiahou Ba' original officer card
'Zhong Hui' original officer card
'Zhuge Dan' original officer card
Original Officer Card Set (Jin) Bundle (£3.99, €4.99, AU$8.45)
Prices (Each, except where otherwise mentioned): £0.79,€0.99,AU$1.75
PEGI: 12
Availability: Not available in NZ
Motorstorm RC (PS3 compatible)
Special Buggy: Nord Ram (Free for 7 days only!)
Special Big Rig: Patriot Shellshock (£0.21, €0.25, AU$0.45)
Veteran Supermini: Monarch Vestige-R (£0.40, €0.49, AU$0.90)
PEGI: 3
Availability: All
Ridge Racer
Add-On Car 07 'Evolver' (£1.19, €1.49, AU$2.45)
Add-On Car 08 'Wisdom' (£1.19, €1.49, AU$2.45)
Add-On Course 05 'Redstone Thunder Road' (£1.99, €2.49, AU$4.25)
Add-On Course 06 'Silver Mountain Skyway' (£1.99, €2.49, AU$4.25)
PEGI: 3
Availability: All
Reality Fighters
Ghostbusters Pack (£2.39,€2.99,AU$4.95)
Weapons Pack (Free)
PEGI: 12
Availability: All
Shinobido 2
Additional Missions
Price: £2.39, €2.99, AU$4.95
PEGI: 16
Availability: All
Avatars
Studio Avatars
The Studio – Craig & Karl Avatar Bundle (£0.99, €1.19, AU$1.95)
Craig & Karl Avatar 1
Craig & Karl Avatar 2
Craig & Karl Avatar 3
Craig & Karl Avatar 4
Craig & Karl Avatar 5
Craig & Karl Avatar 6
Prices (each): £0.21,€0.25,AU$0.45
Availability: All
Themes
DYNAMIC THEMES
MILITARY
Dynamic 249 SAW Theme (£1.59/€1.99/$3.45)
Marines: The Few. The Proud. (£1.99/€2.49/$4.25)
Dynamic Sniper Theme (£1.59/€1.99/$3.45)
NATURE
Dynamic Gulfoss Waterfall Theme (£1.59/€1.99/$3.45)
PLACES/LANDMARKS
Dynamic NewYork City and Hudson River Theme (£1.59/€1.99/$3.45)
SCI-FI/FANTASY
Dynamic Grunge Blood Theme (£1.59/€1.99/$3.45)
Videos
Access Episode 033 (GB Only)
Darksiders 2
Behind The Mask: "Death Rises'
Behind The Mask: "Death'S World"
Death Eternal
Death Strikes: Part I
Availability: Not available in DE
The Walking Dead (Trial)
Debut Trailer
Playing Dead: Episode 1
Playing Dead: Episode 2
Playing Dead: Episode 3
The Walking Dead – Teaser Trailer
Availability: Not available in AS, DE, NZ
Awesomenauts
Meet The Awesomenauts Trailer
Resident Evil 6
RESIDENT EVIL 6 2ND TRAILER (Not available in DK, FI, DE, NO, PL, SW)
Special Offers
PS3
Final Fight: Double Impact (£3.99, €4.99)
Street Fighter 2 Turbo HD Remix (£6.49, €7.99)
PixelJunk Monsters (£1.99, €2.49) (€0.99 for Plus members)
PixelJunk Eden (£3.19, €3.99) (€0.99 for Plus members)
PixelJunk Shooter (£3.19, €3.99) (€0.99 for Plus members)
PixelJunk Shooter 2 (£3.19, €3.99)
PixelJunk Racers 2nd Lap (£3.19, €3.99) (€0.99 for Plus members)
PixelJunk Side Scroller (£3.19, €3.99)
PSP
Impossible Mission (£2.39, €2.99)
PS2
A train 6 (£6.49, €7.99)
Pacific Warriors 2: Dogfight (£3.19, €3.99)
Steel Dragon EX (£3.19, €3.99)
Ultimate Mind Games (£3.19, €3.99)
Mr Golf (£3.19, €3.99)
Hawk Superbike Racing (£3.19, €3.99)
Golden Age Of Racing (£3.19, €3.99)
Cue Academy (£3.19, €3.99)
Road Trip Adventure (£3.19, €3.99)
Seek & Destroy (£3.19, €3.99)
Cel Damage Overdrive (£3.19, €3.99)
MX World Tour (£3.19, €3.99)
Gungrave Overdose (£3.19, €3.99)
Arcade Classics (£3.19, €3.99)
Chicken Little (£3.99, €4.99)
Narnia: The Lion, The Witch & The Wardrobe (£3.99, €4.99)
Kim Possible: What's The Switch (£3.99, €4.99)
PSOne
Sports Superbike 2 (£1.49, €1.75)
All Star Boxing (£2.99, €3.59)
Constructor (£1.59, €1.99)
Guilty Gear (£1.59, €1.99)
Disney's Action Game Feat. Hercules (£1.99, €2.49)
Disney's Atlantis : The Lost Empire (£1.99, €2.49)
Disney Pixar Toy Story 2 (£1.99, €2.49)
Disney Pixar Toy Story Racer (£1.99, €2.49)
Lilo & Stitch : Trouble in Paradise (£1.99, €2.49)
Monsters Inc : Scare Island (£1.99, €2.49)
Peter Pan : Adventures In Never Land (£1.19, €1.49)
Party Time with Winnie the Pooh (£1.19, €1.49)
The Little Mermaid II (£1.19, €1.49)
A Bug's Life (£1.19, €1.49)
minis
Impossible Mission (£1.99, €2.49)