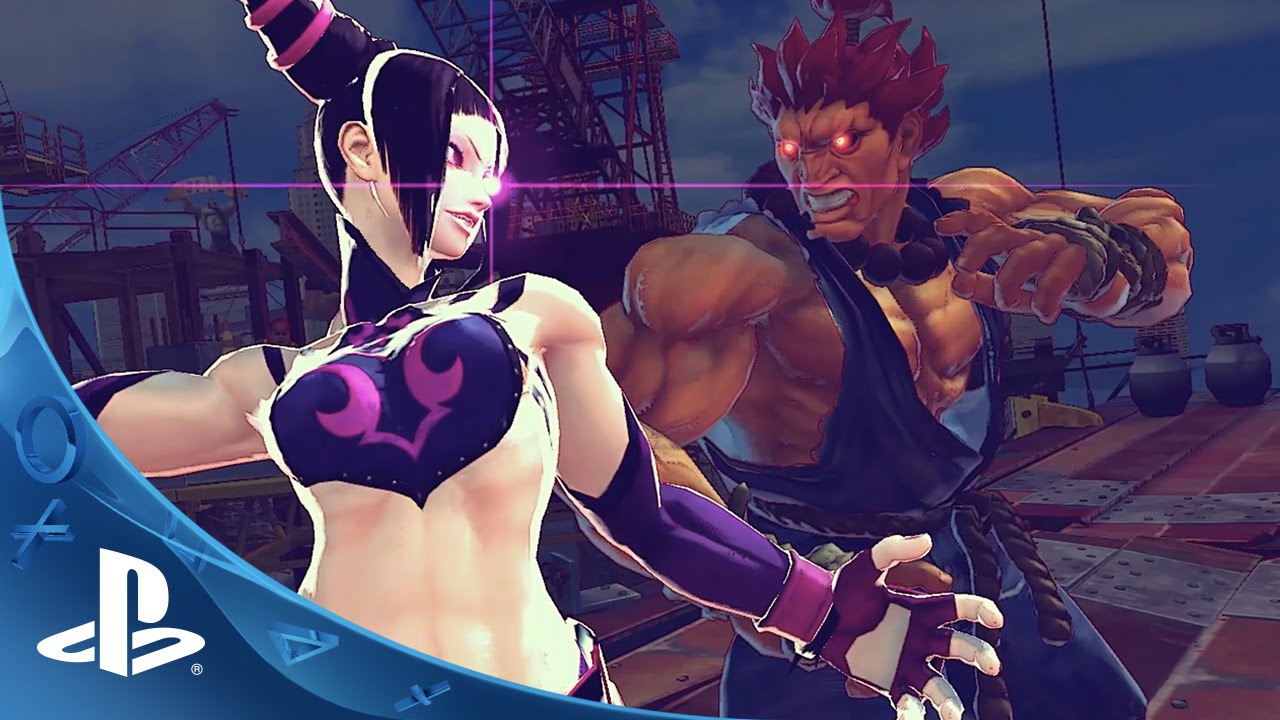 Ultra Street Fighter IV update: we're aware of issues and are working to address, more details: http://t.co/veakEiQuIU

— PlayStation (@PlayStation) May 28, 2015
Update, July 6th: Today, a new update rolled out in North America. See below for the full list of updates.

"Skip" function mapped to Cross button during cinematics
Default character costume colors 11 & 12 are now unlocked
Anisotropic filtering improved on all stages and characters
Antialiasing added on all stages and characters
Reduced pixilation on various UI elements
Multiple audio balancing fixes
Addressed multi-hit audio issues
Increased resolution of visual effects
Sonic Boom graphical fix
Fixed multiple localization and font issues
Improved save functionality performance
"Press Start" replaced with "Press Options"*

* Note that "Press Start" isn't a bug — it was originally left in intentionally as a tribute to Street Fighter IV's arcade roots, but due to players' requests, we have changed it to "Press Options."

Update, June 11th: Today, a new update is rolling out for Ultra Street Fighter IV on PS4 in North America – see below for details.
Reduced input latency
Addressed matching not working correctly within the Replay Channel
Fixed bug where character movement SFX are replaced by ambient stage sounds
Improved online match performance
Fixed localization issue in Spanish for the control customization UI
Fixed bug where grey box appeared around OPTIONS in MY LIST
Fixed resolution "snap" between menu transitions
Fixed crash bug where leaving the game in Trials for extended period
Addressed Juri pinwheel graphical corruption
Added Special Titles (from Prize Codes). Note: There are no more Prize Codes, which is why the input is disabled
Fixed bug where Title/Icon Scroll speeds were sluggish
Adjusted volume of announcer compared to other sound levels
Overall audio balancing to correct volume levels; several corrected audio bugs
Update, June 3rd: Today, an update for Ultra Street Fighter IV on PS4 is rolling out in North America. Today's update addresses the following issues.
Reduce interface lag within menus
Addressed disappearing projectiles
Fixed Decapre's teleport animation
Fixed Rolento's audio glitch (during victory screen)
Fixed missing SFX for Red Focus attack
Fixed Akuma's stomp SFX not playing
Addressed bottom portion of the ON/OFF text being cutoff under the graphics settings in the Options menu
Removed extra character ¦ that was sometimes displayed in Leaderboards at the end of a player's name even if they have not set it to be there
Fixed issue when seeking an Arcade match-up with LAN cabled disconnected and then starting up training results in a message ID being displayed
Addressed Online IDs not appearing correctly
Addresses issue when changing the HP bar's HUD position in Options, the Online ID HUD position does not move with it and is displayed at the default position
Anisotropic Filtering (AF) changes to decrease blur
Fixed appearance of white box after backing out of a command list menu
Addressed Fight Request issue in Arcade Mode
Hey crew! Gio Corsi here, Director of Third Party Production, and I wanted to give you all a quick "great news" update on Ultra Street Fighter IV PS4 with less than a week before its digital launch on May 26th!
The big update: Ultra Street Fighter IV will support PS4 FightSticks, of course. But we've also included Lab Zero's drivers so that USFIV will support licensed PS3 FightSticks as well. For more details on how this will work, please check the Capcom Unity or Lab Zero sites after the game launches on May 26.
Other reminders:
Ultra SFIV on PS4 will be running at 1080p resolution and 60 frames per second for all your fighting glory.
The PS4 version of USFIV will also include all DLC launched up to this point, including the most recent Vacation and Wild costume packs.
A few of you hardcore Street Fighters out there said that there was minor input lag in the controls of Ultra Street Fighter IV for PS3. Well, don't worry: We've eliminated it to make the PS4 edition the ultimate version on any platform!
The price is $24.99.
We'll see you online next week! In the meantime, check out Capcom's brand-spanking-new trailer above celebrating the upcoming launch of Ultra Street Fighter IV on PS4. Enjoy!