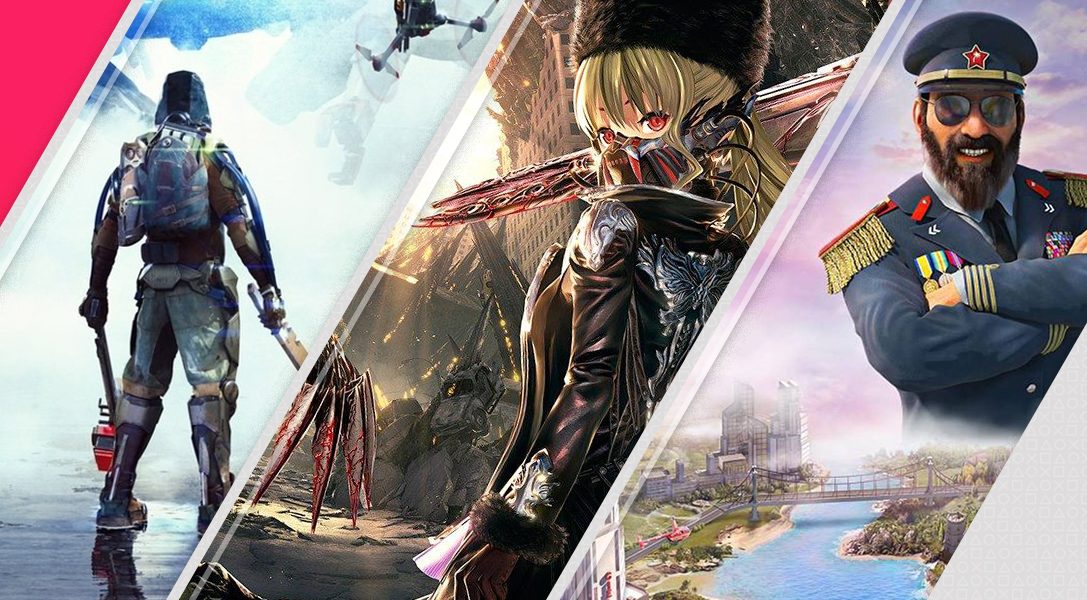 Another huge week kicks off with FIFA 20, The Surge 2, Tropico 6 and Code Vein
Whether you prefer to be a football star, an armour-clad soldier or the world's greatest dictator, this week's new PlayStation Store releases has something for all types of heroes (or villains). Take your club to the UEFA Champions League in FIFA 20, engage in brutal exoskeleton battles in The Surge 2 or build an empire in Tropico 6.
Check out the highlights below and head over to PlayStation Store for more information.
EA SPORTS FIFA 20

Why it should be on your radar:
Get ready for kick-off as FIFA returns for a new season, featuring improved ball mechanics, hundreds of authentic teams and official global football leagues, including the UEFA Champions League. New mode EA SPORTS VOLTA allows you to take the action to the streets, from a neighbourhood cage in London to a Tokyo rooftop.
If you want a head start on the action, make sure to pick up the Champions Edition or Ultimate Edition for three days early access.
The Surge 2

Why it should be on your radar:
Deck 13's brutal action RPG sequel promises challenging combat in badass exoskeletons. Study your enemies' attack patterns and hit weak points using the limb targeting system, or attack armoured sections to loosen weapon and armour parts. How savage…
Code Vein

Why it should be on your radar:
Try not to give in to your bloodlust in Bandai Namco's new vampiric adventure featuring a captivating story, unique combat and monsters that are even more bloodthirsty than you.
You play as a Revenant, a person with blood-based superpowers brought back to life to battle vile creatures known as the Lost. Team up with an AI partner and take on tough dungeons, or send out rescue signals to bring in another player for some online co-op monster slaying.
Tropico 6

Why it should be on your radar:
El Presidente has returned, and it's time for you to shape the fate of your own banana republic as the greatest dictator of all time. Whether your leadership style is peaceful or totalitarian, unleash it all on this hilarious city builder by Limbic Entertainment.
For the first time in the series, you can manage a cluster of islands at the same time. Build infrastructure, send agents to raid foreign lands – and don't forget to make a bunch of promises you can't keep in election speeches!
This week's beta
Tom Clancy's Ghost Recon Breakpoint – open beta

Why it should be on your radar:
Ubisoft finally launches the open beta for its tactical shooter sequel, running from 26th to 29th September. Become a Ghost, an elite US Special Forces soldier, and infiltrate the mysterious island of Auroa. If you don't want to waste a second of game time, remember that you can start pre-loading the beta on 24th September.
Out this week