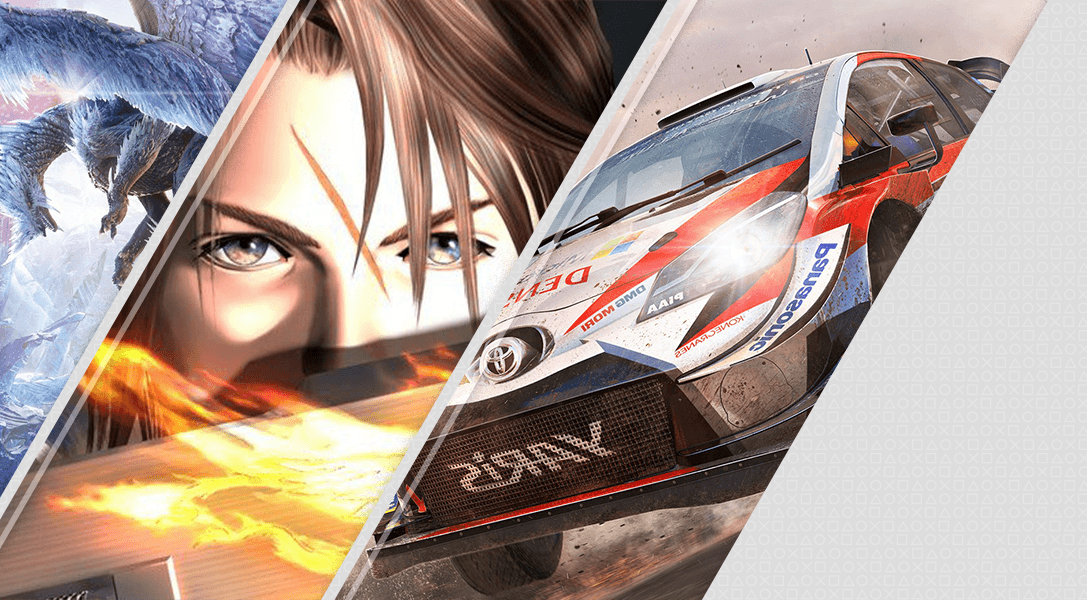 Highlights include Final Fantasy VIII Remastered, NBA 2K20 and Monster Hunter World: Iceborne
We're kicking September into gear with an action-packed slate of new releases this week on PlayStation Store. Enter the world of professional basketball in NBA 2K20, hunt mighty beasts in Monster Hunter World: Iceborne or save the world in Final Fantasy VIII Remastered.
Check out the highlights below and head over to PlayStation Store for more information*.
NBA 2K20

Why it should be on your radar:
The NBA 2K team returns with a new instalment of its basketball franchise. Improve your reputation on and off the court in MyCAREER with a star-studded cast featuring Idris Elba, Rosario Dawson and all past and present NBA all-stars. The MyPLAYER Builder has also been updated allowing you to make decisions on every aspect of your player by mixing and matching over 100 archetypes, 50 new badges and even choosing your own Takeover.
Monster Hunter World: Iceborne

Why it should be on your radar:
Veteran monster hunters should be sure to check out this huge expansion to Monster Hunter: World, adding a huge amount of new content to Capcom's beast-battling adventure. Explore a snow-covered continent featuring new storylines, quests and monsters including a mysterious elder dragon with devastating ice attacks known as Velkhana. You better stock up on warm clothes, resources and weapons…
Final Fantasy VIII Remastered

Why it should be on your radar:
If saving the world from a megalomaniac evil sorceress sounds like your jam, you should pick up this remastered action-RPG by Square Enix. Join Squall and the mercenary force known as SeeD as they fight to put an end to Edea's tyrannical rule. The updated graphics and gameplay are perfect excuses to revisit this classic – or get an introduction if you missed out on the original release.
WRC 8 FIA World Rally Championship

Why it should be on your radar:
Get in the driver's seat and take on KT Racing's rally sim, packed with 50 teams, 14 countries and over 100 stages as you race to be first across the finish line. This edition also has a revamped career mode where strategy and quick wits are key as you recruit a crew, plan your events calendar and become an expert behind the wheel. If you want to get a head start on the racing action, you can pick up the Deluxe Edition and get two days early access.
Torchlight II

Why it should be on your radar:
The world of Torchlight II is full of randomised levels, bloodthirsty monsters and sweet treasures. You can choose from four different classes to fit your playstyle – whether you prefer to cast devastating spells from the back or charge straight into the heart of battle bashing everything in sight. There's also a multiplayer mode for those of you who prefer adventuring with friends – adding another level of complexity as it allows your team to experiment with character synergies.
This week's new pre-orders
Tom Clancy's Ghost Recon Breakpoint

Why it should be on your radar:
If you're up for a military-grade ghost story, you should make sure to keep an eye on Ubisoft's FPS adventure releasing 4th October. Become a Ghost, an elite US Special Operations Forces soldier infiltrating the mysterious island of Aurora. If you pre-order now, you can join the beta running from 5th to 8th September – and there's an additional three days early access at launch if you pick up the Deluxe Edition.
Borderlands 3

Why it should be on your radar:
Gearbox Software's long-awaited FPS sequel is almost here, featuring the series' signatureover-the-top combat, quirky characters and tonnes of precious loot. From 13th September you can return to shooting 'n' looting your way across the lawless wastes of Pandora with four all-new and deeply customisable Vault Hunters. Face a crazed cult known as The Children of the Vault – a perfect excuse to test your arsenal of wacky weapons.
eFootball PES 2020

Why it should be on your radar:
Prepare for kick-off! Konami returns with a new entry in its football franchise on 10th September featuring dynamic dribbling skills, first touch techniques and ball-physics. The Master League experience has been revamped with a new interactive dialogue system, updated menu design and a more realistic transfer market.
Out this week

*All release dates correct at time of publication.