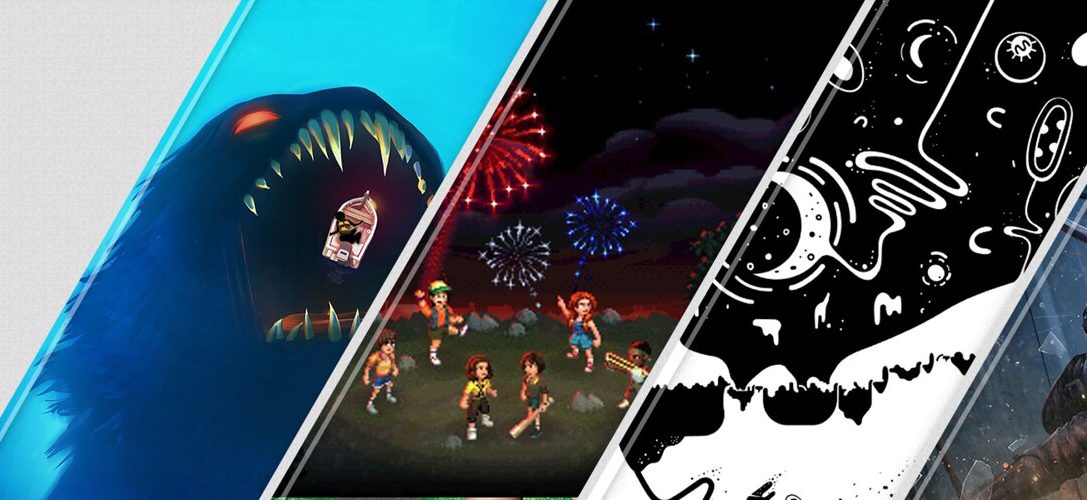 New games include Sea of Solitude, Stranger Things 3: The Game, OVIVO and more
This week's PlayStation Store releases include a double-bill of sci-fi action for PS VR owners, a platformer that doubles as a work of art and a haunting journey through a semi-submerged city. Below are our picks of the week, as well as the rest of this week's full releases.
Scraper: First Strike* | Out: Tuesday 2nd July
Why it should be on your radar:
It's a double-bill of sci-fi-orientated action for PS VR players this week. Pilot a heavily-armed Hover Pod, using its arsenal to tackle a robotic army in Labrodex Inc's debut. You'll need to scavenge for supplies between shootouts, but can use your collectables to upgrade your tank-like ride.
*Not in Austria, Bahrain, Belgium, Denmark, Finland, France, Germany, Italy, Kuwait, Lebanon, Luxembourg, Netherlands, Norway, Oman, Poland, Portugal, Qatar, Russia, Saudi Arabia, Spain, Sweden, Switzerland, Turkey, UAE, Ukraine
Ovivo | Out: Wednesday 3rd July
Why it should be on your radar:
We're mesmerised by this debut from Russian developer Izhard, where incredible pieces of black and white art double as platforming levels. You'll need to use in-built gravity wells along each stage to bob, weave and flow your way to the finish line. Imagine if the genre was reinterpreted through the mind-swirl of an artist who specialises in vector and psychedelic art…while they were playing the board game Operation. Clearer? No? Us neither. But join us in uncovering its secrets from Wednesday.
Stranger Things 3: The Game | Out: Thursday 4th July
Why it should be on your radar:
If you're looking forward to watching the next season of Netflix's '80s-themed horror series, you should also pick up Stranger Things 3: The Game. Play through the events of Season 3 with a roster of 12 unlockable characters, each with their own abilities and combat styles. You can play solo or invite a friend over for some spooky couch co-op as you explore Hawkins, solve tricky puzzles and battle monstrosities from the Upside Down.
Sea of Solitude | Out: Friday 5th July
Why it should be on your radar:
We've been keeping an eye on Sea of Solitude ever since that visually stunning E3 trailer at last year's EA's conference. Similar to Ninja Theory's critically-acclaimed Hellblade, this third-person adventure aims to tackle mental health issues, as art director Cornelia Geppert sought to share her personal struggles with loneliness.
Sairento VR | Out: Friday 5th July
Why it should be on your radar:
If Blood & Truth has you jonesing for more all-out action on PS VR then you shouldn't miss this debut from developer Mixed Realms. Expect the thrill and ferocity of Doom's combat combined with a glorious cyberpunk look as you play a super-fast, wall-running cyber ninja using katana blades and a growing arsenal of guns to despatch foes.
Other new games released this week…
For the complete list of DLC also dropping this week, check out PlayStation Store.