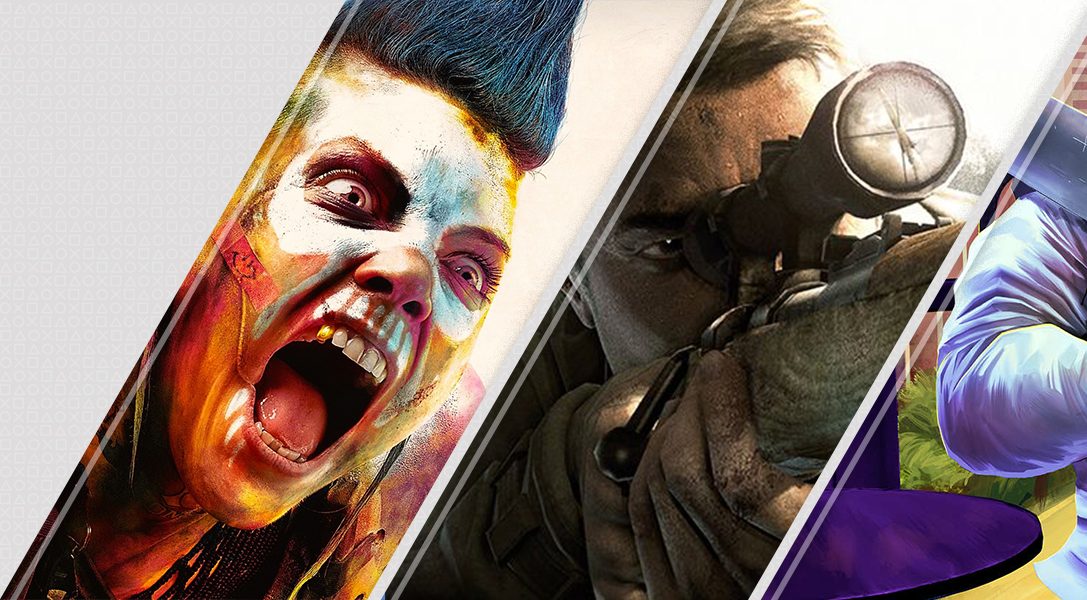 Plus, pre-order MediEvil, Monster Hunter World Iceborne and Everybody's Golf VR
Things are busy on PlayStation Store this week, with guns, cars and rats featuring prominently among the new releases. Fight for freedom with outrageous weaponry in Rage 2, revisit World War II in Sniper Elite V2 Remastered and avoid swarms of deadly rats in A Plague Tale: Innocence.
Check out our full list of highlights below and head over to PlayStation Store to start playing.
1. Rage 2
Explore a dystopian wasteland in id Software and Avalanche Studios' new entry in its wild FPS franchise. Master upgradable weapons, outrageous vehicular combat and superpowers in your fight to defeat the tyrannical organisation known as The Authority.
2. Sniper Elite V2 Remastered
Being a regular sniper isn't badass enough. You're an elite sniper fighting in Rebellion's beautifully remastered WWII shooter. Take down your enemies using authentic weaponry and prevent Nazi V2 rocket technology from falling into the clutches of the Red Army.
3. A Plague Tale: Innocence
Asobo Studio sends you on an atmospheric adventure through 14th-century France ravaged by the plague. Use stealth and your wits to protect a pair of siblings on the run from the Inquisition. If that's not enough of a challenge- there are also massive swarms of infected rats hungry for human flesh.
4. Shakedown: Hawaii

You're a CEO in this new indie adventure from the team behind Retro City Rampage, blending open world action with empire building. Explore your surroundings, complete missions and sabotage competitors as you build your 'legitimate' corporation. No funny business going on here…
This week's pre-orders
1. MediEvil
Reunite with Sir Daniel Fortesque as he's brought back to life in the full remake of this classic PlayStation action adventure. Solve tricky puzzles and fight to defend Gallowmere from the evil sorcerer Zarok and his demon horde.
2. Monster Hunter World: Iceborne
Monster hunters out there are in for a treat as Capcom will release a new expansion for its beastly action RPG. Embark on a treacherous expedition to an unknown frozen land and prowl its snowy terrain as you hunt for ferocious creatures. If you're lucky, maybe you'll spot an ice dragon?
3. Everybody's Golf VR
Those of you who are up for a round of golf but don't want to leave your home should keep an eye on this immersive simulator for PS VR. Partner up with your own customisable caddie that'll offer you some tips and tricks along the way.
Out this week

PS4 DLC
May 14th
May 15th
May 16th
May 17th
*All release dates are correct at time of publication.