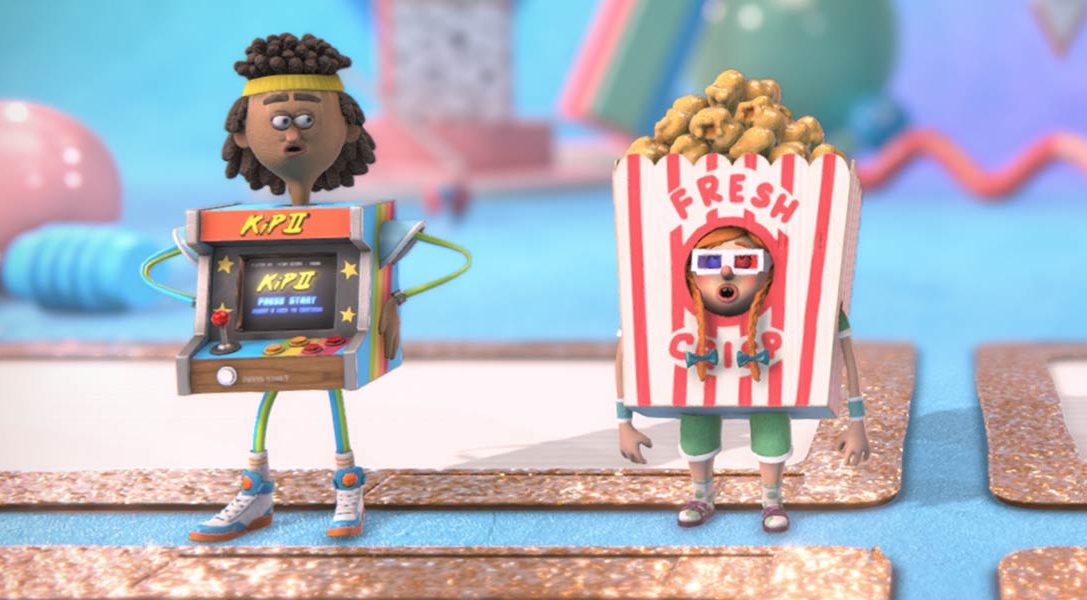 Challenge friends to quick-fire questions on movies, music, pop culture and more
Happy release week! With Knowledge is Power: Decades releasing tomorrow, I'm back again to share some shiny new screenshots of our latest PlayLink game.
While 2017's Knowledge is Power was all about a world's worth of knowledge, this time around we've focused exclusively on entertainment and pop culture specifically from the last 40 years.
In Knowledge is Power: Decades, you'll be travelling through 'Decades of Trivia' testing your knowledge on the '80s, '90s, '00s and the '10s. If you're nostalgic for the '90s, or just aching for the '80s, you can keep the questions to whichever decade takes your fancy, before showing off your knowledge across other categories such as Movies, Music, Pop Culture and more.
Challenges
To keep the quiz fast-paced, in-between questions you'll play six different Challenges including Chain Reaction, Fill the Blanks, Odd One Out and Spin to Win!
With points available at every swipe and tap, each of these touch-controlled challenges gives you a chance to get closer to the winner's spot at the top of the Pyramid of Knowledge.
Upgraded Power Plays
You'll need a strong competitive spirit to make it there, but you'll also need to get acquainted with our Power Play system.
For those familiar with Knowledge is Power, you'll remember Power Plays as sneaky ways to sabotage your foes midgame to unleash against your opponents as they answer trivia questions.
We've kept our favourites, but joining the selection from the first game are brand new Power Plays such as Disco Fever, Zipper and Lockdown… For example if you throw a Zipper Power Play, your opponent has to unzip the answers on their touch screen before they can find the right answer!
Show your love for your favourite era
We've also created a completely new roster of eight marvelous characters for you to play as, complete with era-themed filters for all those beautiful and ridiculous selfies. These are a great ice-breaker to your multiplayer party and let you showcase your love of your favourite era!
Not only have we translated all the questions to work just as well across multiple languages, we've also added in thousands of specifically localised questions for other countries!
Knowledge is Power: Decades is out tomorrow, Wednesday, 14th November – for fans of the original it's bigger and better than ever, and for new players it's the best quiz game show on PlayStation. We hope you love it!
Don't forget about the rest of the PlayLink titles also available November 14th which includes Knowledge is Power: Decades, Just Deal With It, WordHunters, Melbits World and Ticket To Ride!