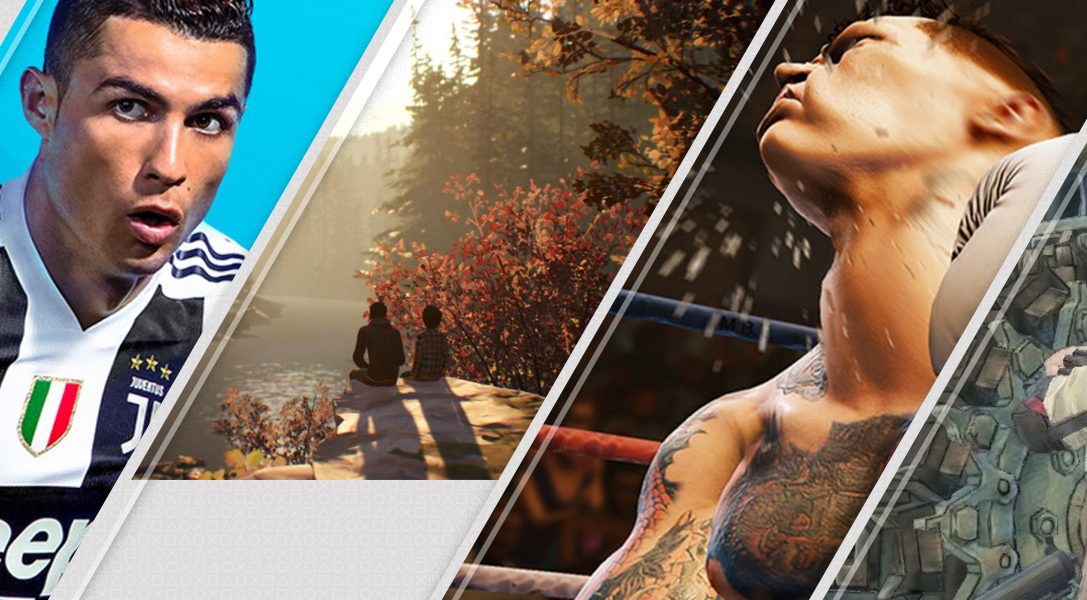 Plus, pre-orders go live for Ace Combat 7: Skies Unknown
This week's PlayStation Store releases include not one but two returning sporting mainstays, a sequel to a critically-acclaimed story-driven adventure, top-notch platforming action and tense strategy. In other words, a release window that'll suit most tastes.
This week's PlayStation Store highlights
1. FIFA 19
EA Sports' footie franchise returns to the digital pitch this week. Those who can't wait to Friday can get three days early access by pre-ordering the Ultimate or Champions Edition – the game will be ready to play from tomorrow!
2. Life is Strange 2
DOTNOD rightly received critical acclaim for the first season of its edgy story-driven adventure. For the follow-up, its focusing on new characters and multiple locales. Join the story from the start as episode 1 launches this Wednesday.
3. Creed: Rise to Glory
Live the inspirational story of Adonis Creed as he's trained by the legendary Rocky Balboa to rise up from boxing amateur to champion, battling increasingly tough competition in the ring. If you tire of the fight against AI, put on your gloves/lift up your PS Move controllers and face off against real-life players.
4. Valkyria Chronicles 4
After taking the portable console road for the first two sequels, Sega's tactical strategy franchise has marched back to home territory for its fourth mainline entry. This time, the development team have eschewed fantastical heroes and instead focused on a group of everyday soldiers trying to survive on a global battlefield.
5. Hollow Knight: Voidheart Edition
A dazzlingly polished action platformer with a labyrinthine map to explore and a hefty amount of unlockable abilities to track down, Hollow Knight should sit in any genre fan's collection. Expect to lose countless hours to uncovering its many secrets.
This week's new pre-orders
Ace Combat 7: Skies Unknown
Namco Bandai's arcade flight sim series is soaring onto PS4. Pre-order the Deluxe Edition to get the Season Pass, aircraft skins and exclusive aircraft. Also, PS Plus members get 10% off the pre-order.
Remember, if you've not got access to your PS4, PS3 or PS Vita then you can also buy through our online store.