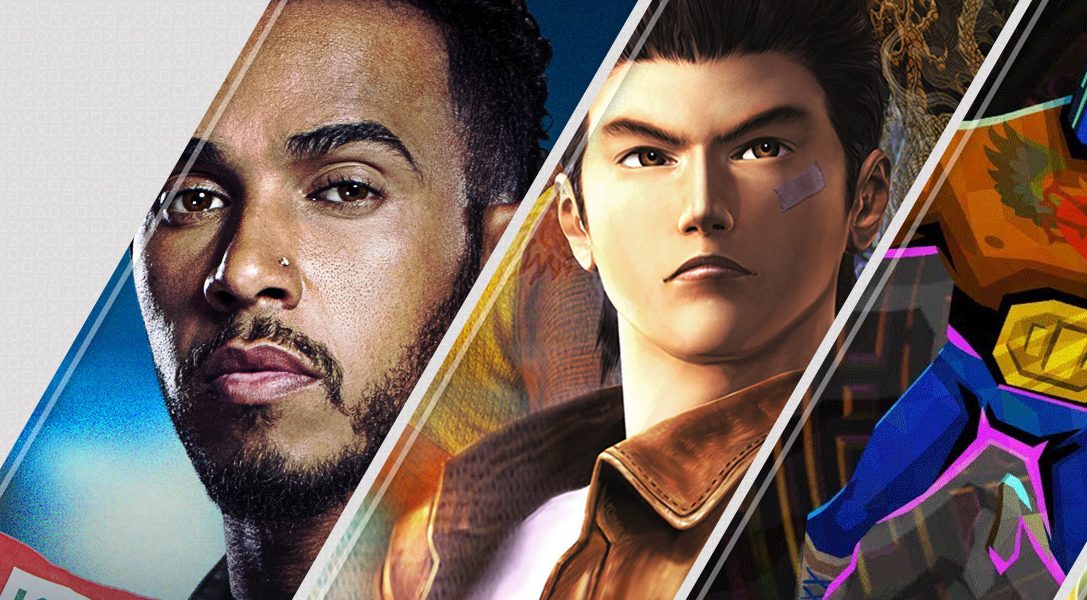 Plus the full list of new releases for the week ahead
A core appreciation we have of videogames is their ability to let us experience the impossible. Race at speeds that would terrify us in real life; take an epic road trip; play a pulse-pounding set as an epic DJ; bulk up and fight evil as an unstoppable luchador (who turns into a chicken).
Any of those resonate with you? Good news: you're in luck with this week's PlayStation Store releases. Browse your options for an alternative life in our highlights reel for the week, or peruse the full release slate below!
1. F1 2018 Headline Edition
Codemasters presents its latest masterclass in racing simulators with a return to the thrilling tracks, iconic drivers and unmissable atmosphere of F1. Sports fans should check out the game's Headline Edition, which includes two classic cars – Jenson Button's championship-winning 2009 Brawn BGP-001 and Ralf Schumacher's 2003 Williams FW25.
2. Shenmue I & II
Sample a unique slice of videogame history as Sega's cult classic series gets an HD update and quality-of-life improvements for its PS4 debut. Shenmue is equal parts life-sim, action brawler and mini-game bonanza whose influence can still be seen today in the likes of Yakuza.
3. Guacamelee! 2
This week marks the return of the beloved Mexican wrestler to PlayStation with an action platformer packing satisfying combat and delightful humour. Transverse colourful locales, train to earn new abilities and transform into a superpowered chicken (seriously).
4. Track Lab
How do you make music track creation fun and accessible? PS VR's Track Lab has the answer. An intuitive UI that's easily navigable with PS Move and a cubed grid to drop and build samples in that feels akin to digital Lego.
5. Brawlout
A colourful cast of combatants face off in this fun and frantic multiplayer brawler. One for fighting fans, especially those that like to keep clashes local for smack-talk purposes. And as bonus, it features cool guest characters such as a certain Guacamelee!-starring luchador.
New demos
Transference
In a surprise launch this week, Ubisoft's compelling psychological thriller Transference received a prequel demo that's now available to play on PlayStation Store. It's one of those titles the less said before playing the better, so take a look now! (Plus, you can play it on PS VR!)
New Pre-Orders
Battlefield V
While pre-orders for EA's return to the frontline are live already, the publisher announced at Gamescom last night that pre-orders will unlock early access to the game's open beta. It means you can join the latest rendition of war two days earlier, starting 4th September.
Out this week


Slime Rancher (Not in Bahrain, Belgium, Denmark, Finland, Italy, Kuwait, Lebanon, Luxembourg, Norway, Oman, Poland, Portugal, Qatar, Russia, Saudi Arabia, Switzerland, Turkey, Ukraine & UAE)
21th August

Socketeer
21th August

MOTHERGUNSHIP + Tower of Guns Bundle
21th August

Out of The Box (Not in Bahrain, Belgium, Denmark, Finland, Italy, Kuwait, Lebanon, Netherlands, Norway, Oman, Poland, Portugal, Qatar, Russia, Suadi Arabia, Sweden, Switzerland, Turkey Ukraine & UAE)
22nd August
PS4 DLC
20th August
22th August
World of Tanks


 

Citadel Tiger I/span>

German King Tiger

VK 65.01 Ultimate

VK 65.01 Primed
23rd August
Warhammer 40 000: Inquisitor – Martyr


 

Digital Deluxe pack

Season pass

Servo-skull

Skulldust emote

Skull trail

Imperial decoration
Remember, if you've not got access to your PS4, PS3 or PS Vita then you can also buy through our online store.