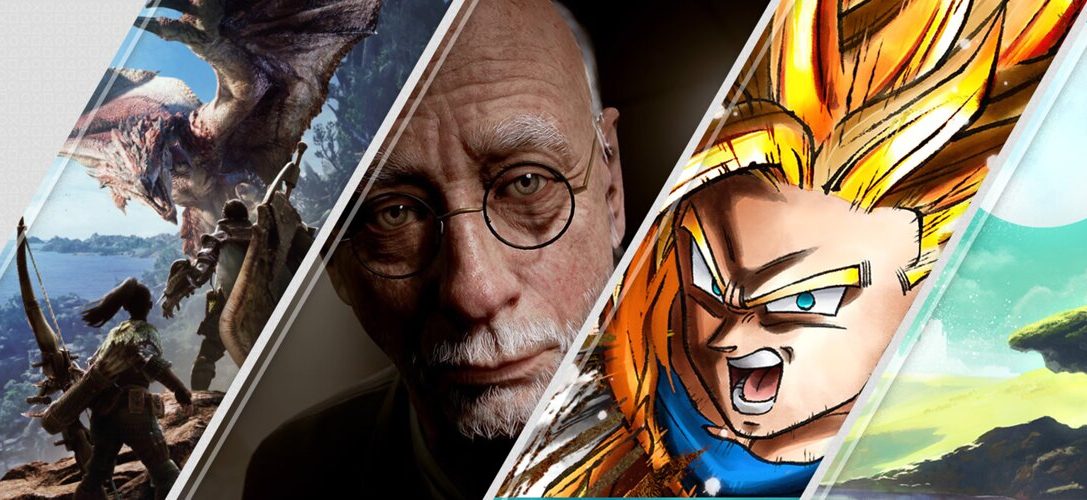 Including The Inpatient, Monster Hunter: World, Dragon Ball FighterZ and more...
New this week on PlayStation Store, The Inpatient promises a terrifying PS VR experience set in a mysterious sanatorium from Until Dawn creator Supermassive Games, while Lost Sphear is a JRPG that's heavy on nostalgia.
Elsewhere, hunt massive beasts in the vibrant open world of Monster Hunter: World and recreate your favourite fights from an iconic anime series with Dragon Ball FighterZ. And if neither are to your taste, how about some fiendish puzzle-solving with stylish and colourful platformer Iconoclasts?
1. The Inpatient
Will you survive Supermassive's latest psychological horror game? Set 60 years before the events of Until Dawn, The Inpatient puts you in the shoes of a convalescent who awakens in the scary Blackwood Pines Sanatorium with no recollection of how they got there. Find out why you're trapped in this horrifying branching narrative experience.
2. Monster Hunter: World
Monster Hunter: World invites you to experience the thrill of the hunt as you fight against massive beasts and explore a lush new world. Create your character and gather your arsenal, it's hunting season!
3. Dragon Ball FighterZ
Unleash your inner Saiyan with the latest instalment in the epic fighting series. Play as some of the most iconic warriors from the Dragon Ball Z universe and unleash devastating aerial combos on your opponents. Pick up to three fighters from the 25-character-strong roster and prove your worth in fast-paced matches.
4. Lost Sphear
As a mysterious phenomenon known as Lost is slowly eating away at the fabric of reality, a young boy named Kanata awakens with the power of Memory. Take on Kanata's mission to save the world in this nostalgic turn-based JRPG and travel the world with your party to restore it to its former glory.
5. Iconoclasts
Iconoclasts is a puzzling action-platformer! Step into the shoes of friendly mechanic Robin as she tries to escape the soldiers of One Concern, a malevolent religious authority. With its colourful cast and fiendish puzzles, Iconoclasts aims to tell a personal story about faith, purpose and the challenge of helping people.
Out this week

New PS Vita Games
PS4 DLC
PS4 DLC
23 January
Assassin's Creed; Origins


 

Assassin's Creed Origins – The Hidden Ones
GUNDAM VERSUS


 

GUNDAM VERSUS – Burning Gundam

GUNDAM VERSUS – Master Gundam

GUNDAM VERSUS – Battle Navigator Set
Batman: The Enemy Within


 

Batman: The Enemy Within – Episode 4
Dead by Daylight


 

Dead by Daylight: The SAW™ Chapter
Skyforge


 

Skyforge: Seasonal Pack – February
Rainbow Six Siege


 

Rainbow Six Siege: Pulse Sky-High Set
24 January
Fishing Planet


 

Fishing Planet – Sport Topwater Night Pack
26 January
DRAGON BALL FIGHTERZ


 

DRAGON BALL FIGHTERZ – FighterZ Pass
Monster Hunter: World


 

Monster Hunter – Deluxe Kit