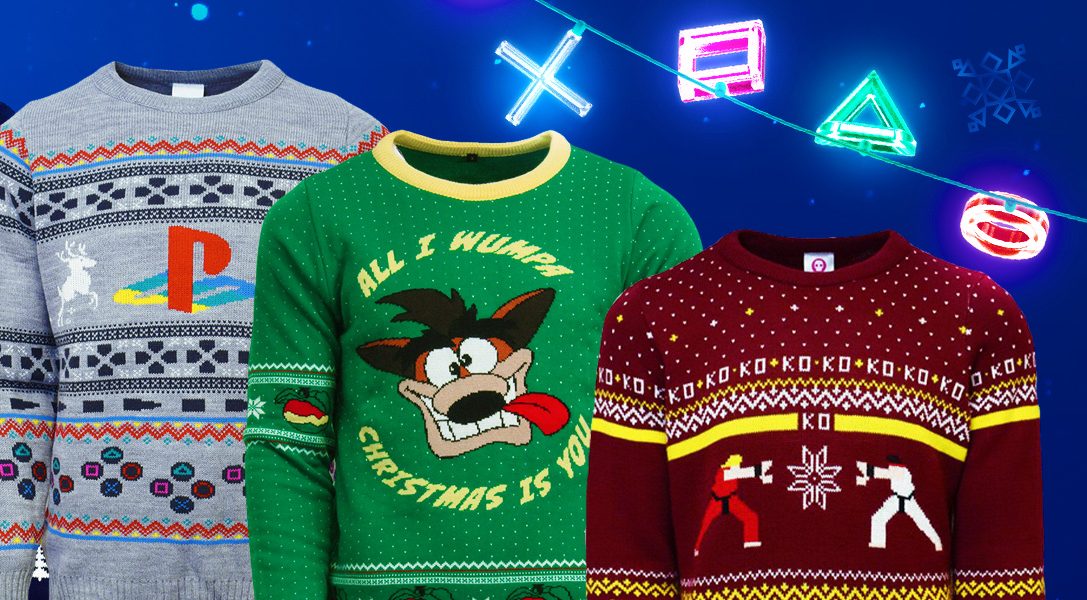 From festive Crash Bandicoot and Star Wars jumpers to retro PlayStation gift boxes and Destiny baubles - Christmas has officially arrived on PlayStation Gear
A whole host of festive gaming merchandise is now available on PlayStation Gear, and with the store's new dedicated Christmas hub, it's easy to find the perfect holiday party attire, gift and even tree decoration.
By popular demand we are excited to be expanding our range of Christmas Jumpers. In addition to the classic retro -inspired PlayStation design, you'll find a full line-up of new additions:
Show your love for Crash Bandicoot with his official Christmas jumper, sporting a design and festive message inspired by the mad marsupial's favourite fruit!
Celebrate the launch of Star Wars Battlefront 2 and keep warm in the trenches of Hoth with a whole range of Star Wars Christmas jumpers.
This Street Fighter jumper is sure to be a knock-out at any Christmas party, showing a festive fallout between Ken and Ryu, and even boasts an embroidered KO pattern.
Wish your friends and family a very merry Christmas from Vault Tec with this official Fallout jumper, complete with Vault Boy looking full of festive cheer.
Show your love for Destiny with this Christmas jumper, which will be available soon on PS Gear and sports a quirky combination of festive imagery and in-game insignia – including Ghost pattern and a large embroidered image of the iconic Traveler.
Whether you're looking for the perfect present for the player in your life, or hunting down some great value gear to kit out your own gaming room, we now have an awesome range of gift boxes.
Each features a 10oz ceramic mug, drinking glass and two coasters packed into a premium collectors box. The PlayStation set is decorated with the stylish shapes and PS symbol in its classic colours, while the Call of Duty and Fallout boxes sport the iconic skull and Nuka Cola branding respectively.
Lastly for those looking to add a stylish gaming twist to their Christmas tree, look no further than these Destiny 2 baubles. The collection of six includes one for each of the game's three classes, plus the Ghost, Traveler and Skull icon.
Visit playstation-gear.com now to check out our full range of Christmas clothing, great gifts and stylish decorations.