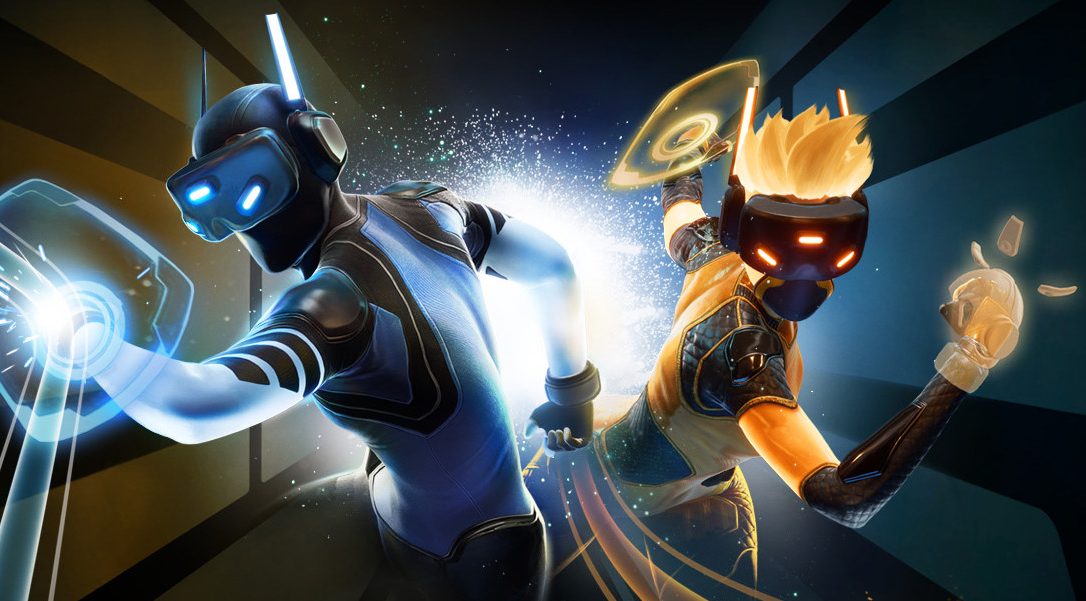 Dodge projectiles while trying to strike your opponent in a virtual arena
Here at CCP Games' Atlanta studio, it gives us great pleasure to announce that Sparc – our energetic, competitive virtual reality game – will be coming to PlayStation VR on Tuesday 29 August.
With the release coming up, we wanted to share some recent developments.
Background to Sparc
Sparc is a virtual sport – a unique full-body experience only possible in virtual reality, where your VR equipment is your sports gear. Gameplay is fast-paced and physical. Players use their two PlayStation Move motion controllers to throw projectiles across the court at their opponent*, while also dodging, blocking or deflecting incoming shots.
*Always wear your wrist straps**.
**Seriously, put them on. Your television will thank you.
Sparc impresses at E3 2017
We had a fantastic time showing Sparc at E3 at the PlayStation booth. We released a new trailer and Thomas, our Community Lead, had a great live interview on the PlayStation stage. We're always excited to see how players and press respond to Sparc's gameplay and we've been given a lot of positive feedback, which is a continuing inspiration for us as we wrap up development.
Developing Sparc for PlayStation VR
Working on a multiplayer competitive VR game has been an inspiring challenge for us and we've been busy developing the experience for PS VR. We've been focused on delivering solid throw and deflect mechanics to enable physical gameplay that is intuitive up front while allowing for some compelling exhibitions of skill and personality.
Each mechanic on its own needs to be fairly simple and "just work" because once a match gets rolling, things can quickly get intense: tracking both projectiles in the court, timing your deflections and throws to put pressure on your opponent, all the while making split second dodges as your last line of defence.
We can't wait to see what tactics the players come up with during their matches.
Gamescom and launch
We're looking forward to showing off some more features at Gamescom in August just before launch.
With character customization, players will have a range of options available to design the look of their avatar. From the cut of their compression suit to the headgear they wear, the look of their "gloves", and the colours of pretty much everything, we think players will be able to achieve some very interesting styles.
We'll also be demoing Sparc's single-player challenges, a series of timed events that test throwing and deflection accuracy in an environment designed to improve skills and help prepare players for human opponents.
Learning how best to ricochet a ball off multiple walls while maintaining accuracy is a valuable skill in competitive play and our challenges have been designed to help teach those fundamentals.
Virtual sport, real competition
We're excited to see how PS VR players develop and refine their skills once they get their hands on (and head in) our vSport. Grab your gear and we'll see you courtside!
For more details about our game, please visit www.playSparc.com. You can also find Sparc on Facebook, or follow the game on Twitter.