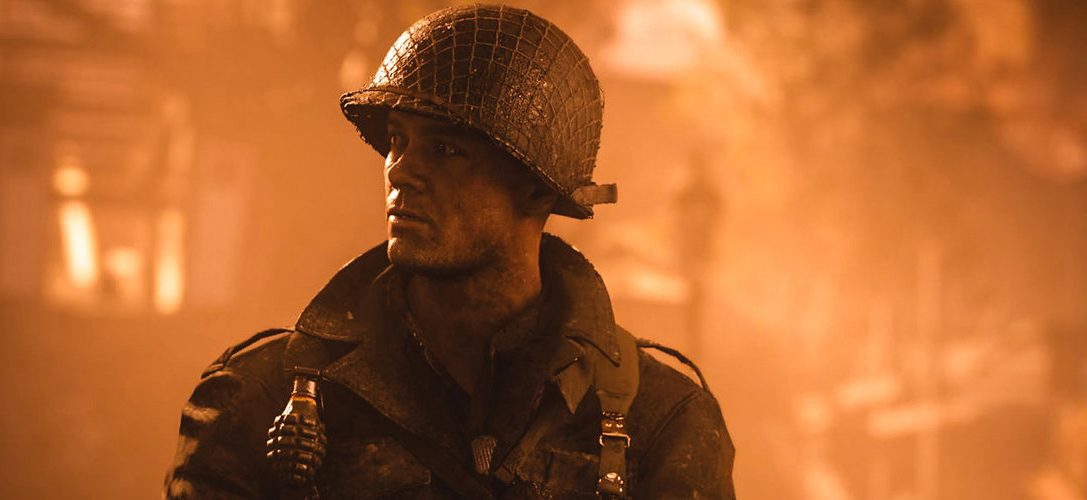 Get Sledgehammer Games' debrief on how the single player campaign and multiplayer skirmishes will develop
After an explosive trailer that rocked PlayStation E3 stage, we caught up with Aaron Halon, Senior Director of Product Development and the main man for Call of Duty's all-important multiplayer modes, and Bret Robbins, Senior Creative Director on Campaign at Sledgehammer Games to talk all things Call of Duty: World War II.
New multiplayer modes, a new squad ability system for the campaign, social spaces and ways to develop your soldier are all set to change the game yet again for the unstoppable shooter franchise – so read on to get the full intel from the guys who are leading the charge into battle…
1. Train your soldier, test our weapons and get social in Headquarters
Aaron: "With headquarters we wanted to give players an area in-between multiplayer matches to hang out and prepare for battle. It's always been in Sledgehammer Games' DNA to focus on social aspects of multiplayer, and 1st person games don't often give opportunities to see who you really are.
You'll find 48 players or groups of your friends to interact with socially, challenge them to 1-on-1 games, pick up daily challenges or head to the firing range to try a new loadout before you jump into a match. And now you can do that alongside your buddies and discuss what you think will work best for specific missions".
2. Join a Division, get trained up and put boots on the ground
Aaron: "You'll be recruited early in your career to one of five classic, iconic military divisions – mountain, infantry, airborne, armoured and expeditions divisions – and that's going to change and define how your career as a soldier develops.
Each division has training that is unique to them; one example would be infantry. They're all about their rifles, so a key training element for infantrymen will be different ways to use their weapons with different attachments. And then further to that, each weapon has a unique skill class – for example adding bayonets to your rifle.
You earn the chance to take this training back at Headquarters, so you'll go there to learn about your division specialities and level up your soldier.
Of course, it's important that players still have freedom of choice, so you absolutely can change between divisions to find your speciality."
3. War Mode brings a new set of objectives to multiplayer
Aaron: "As soon as we decided on World War II as the setting, it was important to us to be able to do asymmetrical attack and defence missions, axis vs allies skirmishes and scenarios that are a lot more narrative driven and true to life.
We looked a lot at real, historical missions – demolition of bridges, cutting off supply lines, taking out air defences. So it's a lot different to just capturing a point. We wanted to make these missions real, tangible things that link you to World War II.
At E3 we showed off a mission that has players either attack or defend a manor house, and then build a bridge to move heavy vehicles across. It's really interesting seeing the multi-layered map dynamically change, there are actually people building the bridge as the fight develops.
You then escort a tank through the map, using it for cover just as infantry would have done, hiding from gunfire behind this moving metal beast.
Call of Duty traditionally has appealed to a lone wolf mentality that's all about getting your kill/death ratio up, and of course that still features and is important, but in War Mode, cooperative strategy and planning is a lot more in focus".
4. It's a band of brothers story that makes teamwork essential
Bret: "Our protagonist is Red Daniels, a 19 year old recruit seeing action for the first time and we follow his story and his division the Fighting First infantry as they make their way across Europe, fight to liberate France, pushing into Belgium and across Germany.
Throughout the campaign you'll start to rely on those guys a lot and learn who they are – and what their specialities are in combat. The campaign uses a squad ability system – something traditionally associated with multiplayer – so putting in a good performance earns boosts to your squad morale, allowing key squad members to use special abilities like deploying first aid kits or ammo packs, or providing covering fire".
5. The single player campaign is rooted in history
Bret: "We've done a lot of research and worked closely with a great military historian who lives and breathes this stuff to ensure that we're telling a story that is accurate and respectful. But there's so many stories to tell that we had to cherry pick the parts that we could do justice to.
Our story is intertwined with real historical events like the landings at Normandy, the Battle of the Bulge, and the liberation of Paris. Historically speaking, the Fighting First was involved in a lot of these conflicts. And in between those big historical moments we have our own missions and objectives that are based on books we've read and movies we've seen.
It's a big cinematic adventure, but there's also a very serious undertone that we didn't want to shy away from. And one of the overall themes of this game is that this kind of thing can never be allowed to happen again".
So, are you ready for battle, soldier? You can put this intel into action first on PS4 by joining the Private Beta when you pre-order the game – ahead of its release on 3rd November.