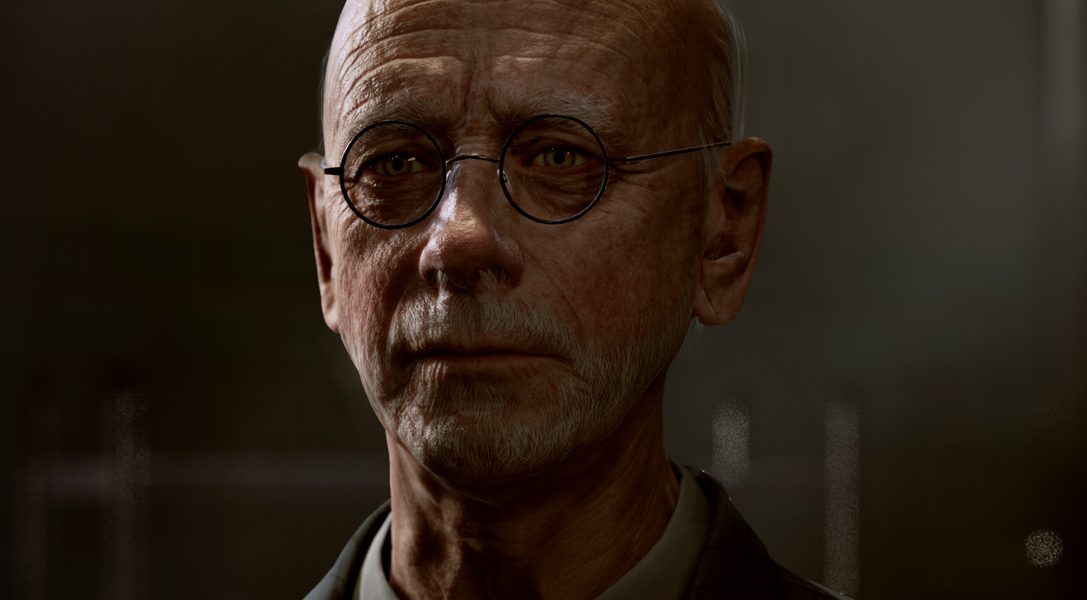 We venture in to the Blackwood Sanatorium for a taste of fear from Supermassive Games
Unveiled at E3 2017, Supermassive Games' PS VR exclusive title The Inpatient took us back to a chillingly familiar setting. Set 60 years prior to the events of 2015's Until Dawn, we pushed open the doors of the Blackwood Sanatorium to see the haunting location in its prime.
Keen (but slightly scared) to get hands-on, I donned a PS VR headset and steeled myself for a mysterious journey into this sinister facility – and spoke to game director Nik Bowen to find out more about how Supermassive Games are creating a sense of creeping dread and using the full capabilities of PS VR to fully immerse players in their latest nightmare.
Personal space is important
The demo begins with a seemingly friendly, yet somewhat unsettling doctor asking me questions about the apparent psychiatric episode that's seen me committed to Blackwood's ward. With no idea what happened, fragments of dreams and memories are recalled to help begin unpicking the mystery – I was hiding, panicked, and eventually discovered by a torch-wielding orderly shining a bright light into my eyes to add to my confusion.
But it's when the doctor questions me further that things become seriously unsettling. He leans closer to my face, resting his hands on my virtual knees – and the sense of personal space being invaded becomes all-too real and claustrophobic.
As the memories become more intense, the possibly-not-so-good doctor decides medication is called for and plunges a syringe into my thigh. Once again, the immersion that Supermassive have conjured here makes it feels like a real invasion of space, causing me to pull back away from the virtual needle… to no avail.
Memories haunt you
The medication obviously works, as the next thing I know, I'm waking up in a ward, even more disorientated and piecing together what I know of the situation. It's an important tool in the storytelling, as Nik tells me:
"We're really playing with themes of tension, fear and isolation to tell our story and bring the player into our world. And as we're showing in this demo, fragments of dreams come to you bit by bit to shed more light on what's going on, and they get more and more intense and messed-up as you move through the story."
You choices will guide you
As in Until Dawn, the branching, decision-guided narrative can go in many ways. As characters quiz me, I'm presented with on-screen options that I can select, or simply speak the line of text to make that choice.
"Various options are presented on-screen, so you just have to say the line and the game will move in that way and make that choice" says Nik.
"We use the same butterfly effect system that was shown in Until Dawn – the animated butterflies on-screen will tell you that the choice you've made is going to have a significant impact in what happens later on".
This happens when I'm being quizzed by the doctor towards the end of his sinister consultation. Getting frustrated by his questions, my reply is surly – and I see the butterflies.
You never know who to trust
Later, I'm shuffling my way down the sanatorium corridor following an orderly that had sat with me in my ward, shooting the breeze and generally being professional but friendly. I thought we'd struck up a rapport – but suddenly, his mood changes.
Darkness envelops my surroundings, and the jump-scare that he gives me is the first real shock of the game and reminds me not to be so trusting.
From then on, the tension and drama of my surroundings become increasingly intense as I move through the halls, glancing into rooms around me and seeing shadows move in my peripheral vision, culminating in a sinister creature moving through the darkness.
Of course, this is only a taster of how the story will progress, as Nik explains;
"You'll meet a lot of characters as you move through the sanatorium , and you're not forced to take any particular path – it's down to you to explore Blackwood, and while it's a massive part of the game, the choices and butterfly effect aren't the only way the story progresses. We can't reveal everything now, but there are other things you'll need to do to explore and interact with the VR space."
If you like spine tingling drama and breathless scares, then it's an experience you're going to love when The Inpatient comes to PS VR later this year.