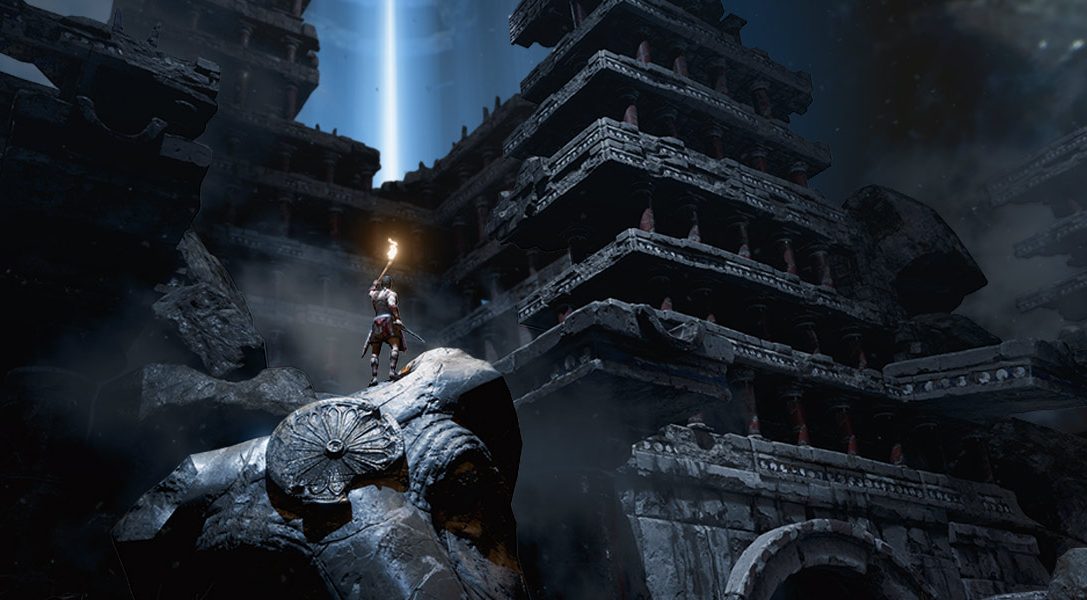 The greek legend is reimagined as a horrifying and fraught third-person adventure
Hello there! This is Forge Reply, calling out to all Virtual Reality enthusiasts. We are here to talk with you about our upcoming game, Theseus.
As a studio we have already brought two games of ours to PlayStation: the gamebook/RPG Joe Dever's Lone Wolf and In Space We Brawl, a couch multiplayer shooter. This time, however, we are going for a completely different flavor. Theseus will be released this summer on PlayStation Store, for PlayStation VR!
It has been a step into the unknown for us. However, the virtual reality scene is so filled with opportunities to try new things, that we wanted to have our say.
But who or what is Theseus? Do not be tricked by what you may know of the original myth. Our take on this tale is dark and twisted. It begins as something familiar, but what happens as you delve deep inside the labyrinth… It is for you to discover.
If you want to have a taste of what awaits for you in the darkness, take a look at our brand-new trailer:
All video footage was captured from the game. And you have surely noticed something that is not very usual in Virtual Reality games: Theseus is a third person experience. Why is that, when most VR games rely on first person to achieve the ultimate immersion?
The answers lies in the relationship between our main character and the Minotaur. Theseus is not an ordinary hero; in our game he is the prey, not the hunter. He is "only human" while his enemy, besides being 33 feet tall, has otherworldly strength… and he is invulnerable.
Theseus cannot just fight the Minotaur head-on: each encounter between the two poses a new challenge. It may be necessary to resort to stealth, or an ancient mechanism could be the key to escape death. The monster is blind, but his hearing and his smell are sharp. Moreover, the Minotaur can send his minions to stalk Theseus; in that case, there will be no other option but to fight.
We have always wanted that you, the players, could live and feel the experience of these terrible odds. In this perspective, a third person view has a great potential, since it constantly puts you in front of the imbalance between Theseus and the Minotaur. We have achieved this also thanks to a mix of static and dynamic cameras, which we have designed specifically for VR.
On the other hand, the third person view also has a considerable impact on the exploration of the environment. Our labyrinth is a desolate yet hostile place, sublime yet menacing, where danger lurks behind every corner. With your headset on you can roam massive halls, but you can also have the claustrophobic feeling of crawling in a ruined and damp tunnel.
All in all, we are happy of our take on Virtual Reality in third person because it is immersive, but it also proves to be dramatic. It lets us craft and tweak an experience that would just not be the same on a flat screen. But now the time approaches when you can play the game and let us know what you think. We just cannot wait!
As we designed the game, the original myth was not our only source of inspiration. We owe much to a few PlayStation masterpieces, that we are very happy to homage: Fumito Ueda's ICO, Shadow of the Colossus and even the Last Guardian. You can guess how excited we were when we managed to meet him live in Rome a couple of months ago!
Ueda-san put on the PlayStation VR and enjoyed the demo that we had at the time. If you are a PlayStation fan, you probably love his games as we do. We can only hope that Theseus finds a place in your games collection as well!