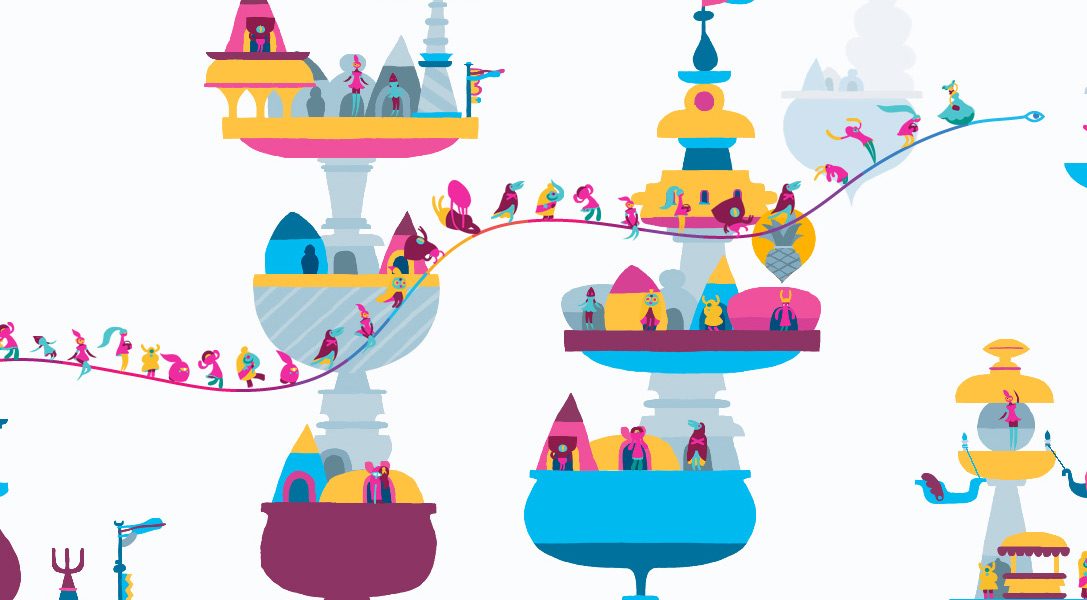 Pick up some must-play curios of yesteryear that you might have missed
There's been no shortage of triple-A blockbuster razzmatazz on PlayStation 4 of late, with the likes of Horizon Zero Dawn, Nioh, Resident Evil 7 and Mass Effect Andromeda delivering plenty of bang for your buck in the first few months of 2017.
But now, with the weather mellowing and Spring finally breaking through, what better time to catch up on some of the quieter gems that may have slipped under your radar?
With that in mind, we've pinpointed just a few of the more understated and unusual titles included in PlayStation Store's Only On PlayStation promotion, which kicked off on Wednesday. It's time to plug some gaps in your library…
1. Bound (PS4)
Almost indescribable in typical gaming terms, Bound is a refreshingly different adventure, relying on the power of dance to tell its unusual story. Don't be fooled by its serene sense of style – Bound has moments of hair-raising drama and spectacular visuals, made all the more impressive through its PlayStation VR compatibility. Try it and become a believer.
2. Siren: Blood Curse (PS3)
Before Keiichirō Toyama turned his ample imagination to Gravity Rush, the talented designer was known for scaring the snot out of players in Siren: Blood Curse.
A spine-chilling adventure in the style of the best Japanese horrors, if you thought The Ring or The Grudge were terrifying, then watch Siren: Blood Curse ask those chumps to coolly hold its beer and go to work on shredding your nerves. All four main chapters are available to buy in the sale… if you're brave enough, of course.
3. Dark Cloud (PS4)
We're going back some years now, but this PlayStation 2 action role-playing classic feels right at home on PS4 thanks to a visual bump into High Definition and trophy support. And it's not all dungeon crawling and monster bashing, either. Rather uniquely for its time, Dark Cloud also tasked you with a spot of city creation, where you must rebuild settlements and keep villagers happy.
4. CounterSpy (PS4, PS Vita, PS3)
Warring superpowers, silenced weapons and a slick secret agent make up this hugely fun platform shooter. Nestled within its retro styled visuals, CounterSpy sneaks in a deep combat system, a variety of different weapons and even a leader-board based competitive mode to keep you and your friends on their toes. And to top it all off, it's Cross-Buy, so you can get a piece of the action which will leave you shaken and stirred, no matter which system you own.
5. Flower and flOw (PS4, PS Vita, PS3)
We've grouped these two together, because they both equally deserve your time. While the BAFTA award-winning Journey got many well deserved plaudits and attention, let's give it up to the two titles which helped put developer thatgamecompany on the map.
Flower and flOw are beautiful, relaxing games that anyone can pick up and get into, transporting you to worlds that still capture people's imagination to this very day. There's very little out there like them, so sit back and enjoy the ride.
6. Vib-ribbon (PS3, PS Vita, PSP)
It's a bit of a cult classic these days, but if you've not heard of this funky rhythm action game starring a female vector line rabbit called Vibri then now's the time. Vib-ribbon lets you use your own music to generate its unique levels, creating a distinctively personalised game full of obstacles and pitfalls of your own making.
7. rain (PS3)
Originally introduced at gamescom 2012 against the gentle piano patter of Fredrick Chopin's Raindrop Prelude, rain is an atmospheric escapade that evokes the mystery and understated danger of a Studio Ghibli movie.
Ghostly creatures, puzzles and a young boy's journey to save an invisible girl create a memorable combination that's different from your standard adventure game.
8. When Vikings Attack (PS3, PS Vita)
Hilarious, colourful and an absolute blast to play, When Vikings Attack is pure joy. The concept of fending off a horde of Vikings (armed with bad teeth and questionable facial hair) using everything from telephone boxes to road signs is as fun as it looks, helped by an assortment of amusing sound effects that keeps things entertaining even if you're just watching.
There are also a variety of Cross-Play enhanced multiplayer modes where you can demolish the Vikings with up to three friends, or go head-to-head across 20 arenas.
9. Tumble VR (PS4)
Sure, you were enticed in by the likes of Batman: Arkham VR and Until Dawn: Rush of Blood, so we'll forgive you if you let this one slip by. But Tumble VR remains a PlayStation VR must-buy, literally adding a new dimension to an already addictive game.
Having the ability to look around your precarious block tower in full 3D before attempting your next shaky handed move is utterly compelling. And if that wasn't enough, there's a head-to-head two player social screen mode where you can mercilessly heckle your friend into losing their nerve as you watch their moves via the TV.
10. Hohokum (PS4, PS Vita, PS3)
Okay, guiding a strange looking kite in a psychedelic world looks a bit… unusual. But trust us, Hohokum is the sort of game that can gleefully steal hours of your time through its delightful mysteries.
Here is a title which explains very little and trusts you to work out its secrets as you swoop around bizarre characters, swirl through outlandish landmarks and do everything you can to uncover its wonderful array of surprises. Hohokum is a feast for the senses.
11. Tokyo Jungle (PS3)
You've seen what happens when the world gets taken over by giant machines in Horizon Zero Dawn – well, here's what happens when animals rule the roost. Tokyo Jungle is one of the most original survival games out there, challenging you to stay alive in a city where everything from lions to dinosaurs roam the streets.
Surprisingly poignant and savage, Tokyo Jungle is a challenging but compelling adventure… and the only game we know where you watch a super cute Pomeranian go feral. Aces.
12. Ape Escape (PS3, PS Vita, PSP)
King Kong ain't got nothing on these guys. Originally swinging onto PS one back in 1999, Japan Studio's iconic platformer puts you in the shoes of plucky young hero Spike, who's tasked with foiling super-evil white-haired monkey Specter, and his hordes of crazed time-travelling chimps.
But it's not just about rounding up slapstick simians. Look out for mini-games like Ski Kidz Racing, which puts you on the slopes in a madcap race to the finish, and Specter Boxing, which lets you take your frustrations out on another polygonal primate. Oh, and don't forget Galaxy Monkey (we're not making this up), a fast paced shoot 'em up against… wait for it… no, not monkeys… but aliens. Wonderfully weird.
13. MediEvil (PS3, PS Vita, PSP)
Before Aloy, Nathan Drake and Kratos, was a skeletal knight by the name of Sir Dan Fortesque, who defended the noble kingdom of Gallowmere. We think it's time he was reborn on your PlayStation, so why not dig up another chance to take on the dark sorcerer Zarok in this PS one classic action adventure?
This is just a small selection of the games discounted in the Only On PlayStation promotion. Check out the full list on PlayStation Store – and let us know which ones you pick up.