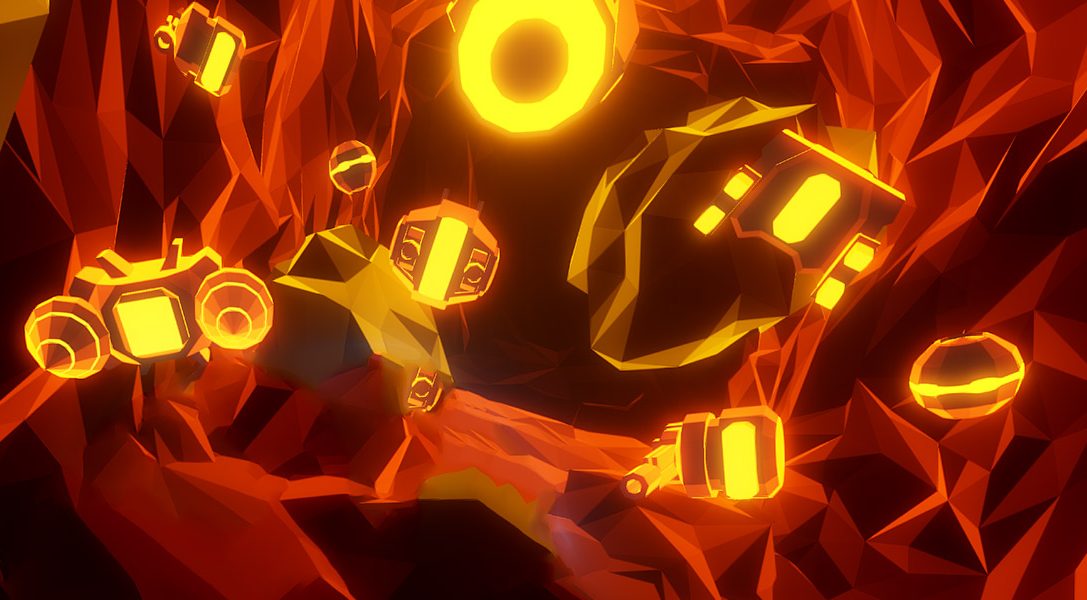 Enhanced version of studio's debut release releases 8th March
Hi Everyone! I'm Gary, lead artist at Sigtrap, and we're really excited to be releasing our debut console game Sublevel Zero Redux on PlayStation 4 on the 8th March. We invite you to strap yourself into your zero-g gunship for some intense six-degree-of-freedom (6DoF) roguelike combat!
The game itself is an homage to one of our favorite games, the classic 6DoF shooter Descent, but injects modern elements like permadeath, random level generation, looting and crafting. Lost and alone in a forgotten asteroid base, with limited resources, enemies attacking from all angles, and levels that change every time you play, you'll need every bit of your skill along with your immense arsenal to survive. Seek and destroy your enemies, steal their loot, craft exotic weapons, and unlock new items when you die!
The game visuals are inspired by retro graphics, combining a low-poly look with 8-bit-style pixel art and brought up to date with hyper-saturated neon lighting. The soundtrack likewise starts from chiptune roots and adds a modern twist to create a pulse-pounding orchestral glitch score.
Sublevel Zero Redux is an expanded, massively improved version of our debut PC game Sublevel Zero, which itself started off at a game jam in 2014. Reminiscing about classics like Descent and Forsaken, we wanted to create a modern 6DoF shooter and utilise the mechanics that made the originals so fun, while adding our own twist on the genre. It's come a long way since then…
Just after releasing the original in late 2015, we were left to fend for ourselves when our original publisher sadly went bankrupt. As a small team, it was pretty scary to suddenly be plunged into supporting the game without a publisher to help us. Fortunately with the help of Merge Games, Redux has given us a chance to enhance the game with loads of new features:
70+ new rooms
Enhanced campaign that gets harder the better you get
Two new enemies
Unlockable elite enemies to challenge hardcore players
Teleporters to help you get around
and much more!
We're hugely passionate about Sublevel Zero Redux and we can't wait to get it into the hands of a whole new set of gamers. It's the definitive version of our love letter to a sadly underrated genre, and hopefully you all have a blast with it!