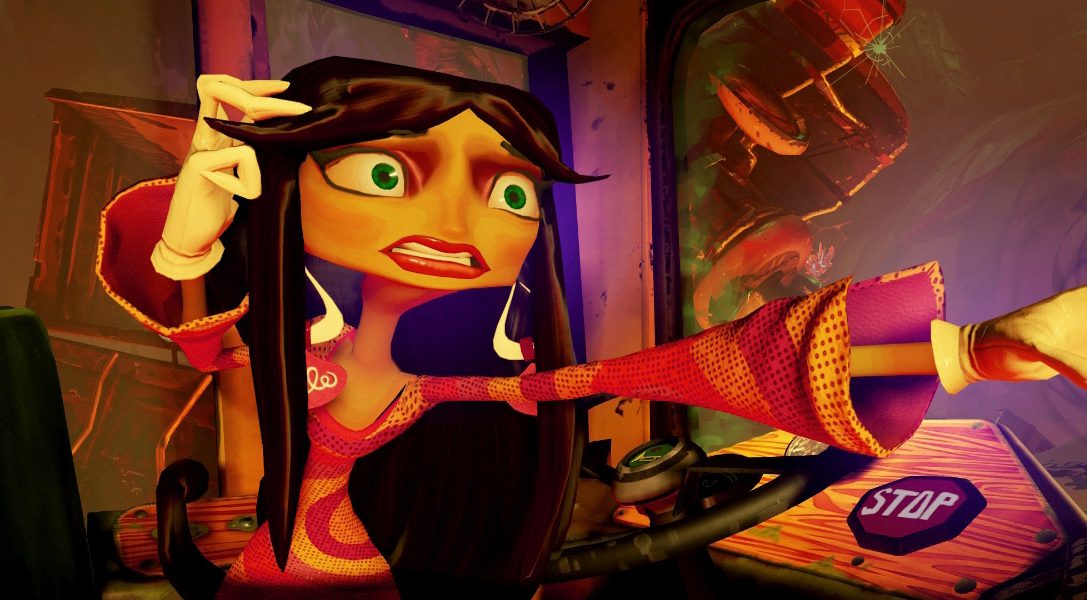 Discover why you'll never look at toilet paper in the same way again
It's appropriate that a game about mind powers is not only coming from one the industry's most inventive heads – but also that Psychonauts in the Rhombus of Ruin is a mind-bending virtual reality adventure.
Using PlayStation VR gives you the unique opportunity to enter the strange world of Psychonauts in an entirely new way… which means you're also interacting with the imagination of Double Fine supremo Tim Schafer, in an original way, too. And this virtual meeting of minds is something that's been bouncing around in Tim's head for a while.
"Games are all about transporting you into another world and making it feel real," says Tim. "And I feel like VR does that for you in a heartbeat. We thought that it would be a fun place to start with in this game."
Although it's set between the first Psychonauts title and its 2018 dated sequel, Rhombus of Ruin is a standalone adventure where you see through eyes of nimble international psychic secret agent, Raz. Using his powers, you travel from brain to brain to rescue his team from the mysterious Rhombus of Ruin. Oh, and did we mention that Raz is… well, immobilised? Wait – there's a good reason…
"Having Raz tied to a chair for the entire game was an intentional game design decision," explains Tim. "Frankly, you have to be very careful with motion in VR games so that players are comfortable. I get sick at the drop of a hat when playing VR. Literally, if my character drops his hat I'll get sick. Then when he has to pick it up, I'll get sick again.
"So we made it that you can explore the world in other ways, using Raz's psychic ability and clairvoyance to see through other people's eyes. And it gave us a chance to play with scale as well, because that's really cool to explore in VR. You can feel really big or small because it's not just your point of view changing, it's your whole way of looking at 3D space."
Fans who are used to watching the usually agile Raz bounce around psychedelic environments filled with whacko characters straight from your cheese fuelled fever dreams won't be at a loss, however.
"Not having to worry about Raz's movement meant we could build these expressive environments," says Tim. "We wanted to do right by the original characters, too, where they feel real – especially as you're getting physically closer to them than ever.
"It was important to have players feel like they're on a real adventure, not just a virtual reality demo. So we've created the game to occupy you for a while, but it's also enjoyable in repeat sessions."
And one of the things designed to help bring you back to Rhombus of Ruin? Well, it's a Tim Schafer game, so… expect Double Fine to deliver the funny.
"Experiment! Throw things at character's heads," laughs Tim. "I mean, when you play Batman: Arkham VR, the first thing you do is you pick up a picture and throw it at Alfred's head, right? In Rhombus of Ruin I just love taking a trip on a jet with a bunch of pillows and using telekinesis to shove them in people's faces."
In fact, testing the game's limits with Raz's telekinesis actually led to changes in the game's creation. "We were surprised how much players (and the development team) used their new psychic power for everything but solving the puzzles," reveals Chad Dawson, project lead.
"Poor Coach in the back of the jet, stuck in the bathroom without any toilet paper could call out repeatedly for the player to hand him a roll, but players would be busy goofing off and trying to stack the paper and pillows on Lili's head. Even when they did pick up the roll of toilet paper, they would use their Pryo ability to light it on fire, frustrating the Coach even more.
"Eventually we gave in. Tim wrote dialogue and jokes for all the funny stuff we would see people doing. Our programmers added head and eye tracking to the characters so they watch what you are up to, and our animators added 'swat the toilet paper away' animations so you can mess with them even more.
"Breaking the rules is something you would expect when you're playing as Raz, so it ended up being a feature we used throughout the whole game."
You can indulge in this delightful psychic chaos for yourself when Psychonauts in the Rhombus of Ruin hits PS4 and PS VR on 21st February.