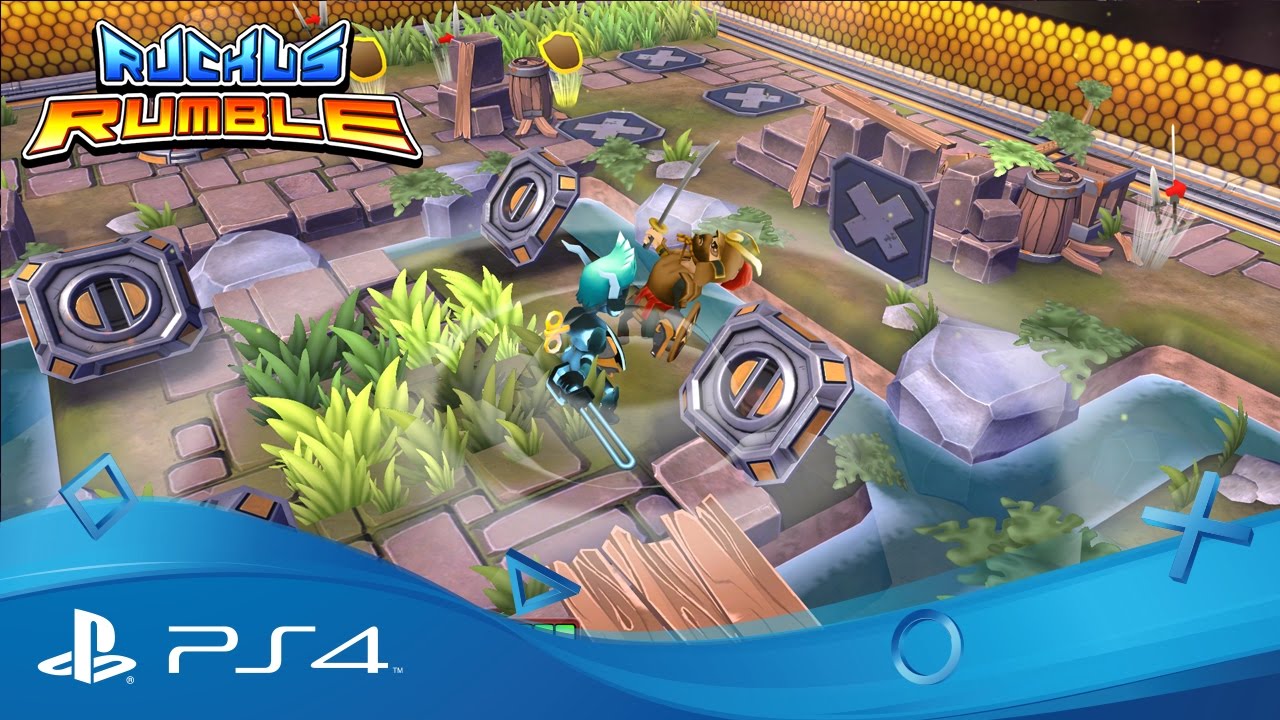 Game created by student group releases this week, supported by Sony Interactive Entertainment's academic program
This week sees the release of Ruckus Rumble on the PlayStation Network. In this local PvP brawler, 2 – 4 players engage in quick and quirky combat. With colourful visuals and playful combat this game may seem innocent enough, but honour and honesty have no place in the game's many trap-riddled battle arenas. Dirty tricks and back-stabbing are the hallmarks of Ruckus Rumble champions.
At its core Ruckus Rumble is a melee brawler in which the combined use of sword and shield is the primary way of battling opponents. However, each player's arsenal is also amplified with a set of versatile abilities. Toss fireballs around to ignite opponents and landscape alike. Slam into the ground to create a shockwave and push enemies away. Use the Hookshot to traverse the arena quickly – or pull an unsuspecting enemy into one of many deadly level hazards.
Ruckus Rumble's development originates as a game project created at game development school PlaygroundSquad in Falun, Sweden.
A combined student group of game designers, artists and programmers were given development hardware, software tools and nine weeks to create a game for the PlayStation 4.
Nine weeks may sound like a long time, but when making video games – not so much.
Linus Larsson, the original creator and lead game designer, remembers that despite its light-hearted style, the foundation of Ruckus Rumble was actually built on pragmatism. The team wanted a game that could be prototyped quickly, and then polished for as long as possible. With that in mind, the idea for a couch PvP game was born. By giving all players the same actions and abilities there would be fewer balancing issues, and instead of trying to smooth out the flurry and hectic combat rounds, the team decided to embrace the chaos.
Early on Ruckus Rumble was intended to have a far more realistic and gritty visual theme, but as the gameplay began to take shape the team discovered that realism didn't fit well with the jovial combat. In the end, most of the art assets were recreated to fit the gameplay, rather than the other way around.
At the end of the game project the students had the opportunity to present their games to representatives of Sony, thanks to the PlayStation First initiative. PlayStation First supports universities and technical colleges with knowledge, know-how and PlayStation hardware, and in this case with PlaygroundSquad and Ruckus Rumble it even went further – the game is to be released on PlayStation Network. You'll be able to play it yourself on 18th January!
So invite some friends round and get ready to rumble!
For more about PlayStation First, look here.