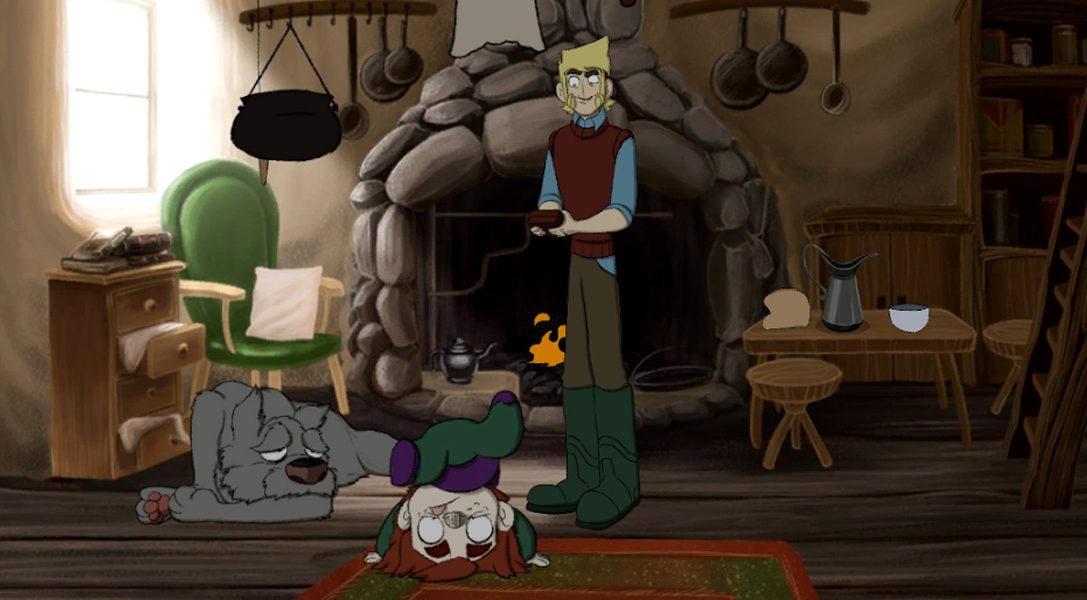 It took 2000 animation frames, two animators and three months to complete a single scene
Hi! Kate Clavin from Pewter Games here. I'm the character designer, one of the voice actors and part of the animation team on The Little Acre, which is coming to PlayStation 4 tomorrow!
The Little Acre is a traditional point and click adventure game with a bit of twist, featuring hand drawn animated art and two magical worlds. You play as Aidan and his daughter Lily, whose life in rural 1950's Ireland is turned upside down by the disappearance of a loved one and the discovery of a mysterious world populated by bizarre creatures. We're so excited for people to finally join Aidan and Lily on their adventures.
Everything you see in The Little Acre was hand drawn and animated by myself and the amazing art team at Pewter Games. Inspired by the work of legendary movie animator Don Bluth (All Dogs Go to Heaven, The Secret of Nimh), we've spent the last four years attempting to give every character, environment, movement and gesture as much life and personality as possible.
Animation starts way before you put your pen to the screen. Looking around our studio when we were hard at work on The Little Acre must have been quite a sight. Many of our animators had mirrors set up on their desks so they could film themselves acting out gestures and making weird facial expressions, using what they saw to inform their drawings.
If someone had wandered in off the street, the animation team would have looked very strange pulling funny faces and dancing around the office!
While I love every character in The Little Acre, Lily is my favourite. She's Aidan's daughter, a tough, loveable little scamp with a sword and fairy wings. A lot of her naughtiness is based on what I felt like as a little girl, like everything was an adventure. When the character was first thought up by the team, Lily was a boy. I'm so glad we changed our minds.
I even got to provide the voice for Lily in the game. Now that was an amazing experience! I put a lot of myself into the character.
Hand animating a game is so much work, which I guess is why so few teams are crazy enough to do it. For example, one scene from the start of The Little Acre, set in Aidan and Lily's kitchen, took two people about three months to complete and features around 2000 frames of animation. That's 2000 individually sketched, revised and then finalised drawings. Just for one scene! My wrist was pretty broken after that one.
We also made life a bit harder for ourselves by using two art styles and perspectives, one for the real world and another for the strange new world visited by Aidan and Lily (inspired by Hayao Miyazaki's Studio Ghibli movies). It looks and feels completely different, something we felt was important to convey travelling to another universe. But it also meant we needed to make and animate two versions of each the main characters. It was pretty intensive, but we think the game is better off for it.
The whole process of making The Little Acre has been such a joy. I've learned so much about art and animation from the people I've worked with and when you're with a good team, it makes any work pleasurable. It was so inspiring and I'm so excited to work with them again. We hope you love playing The Little Acre as much as we loved making it.
Images taken from The Little Acre digital art book, available for free to everyone at launch.