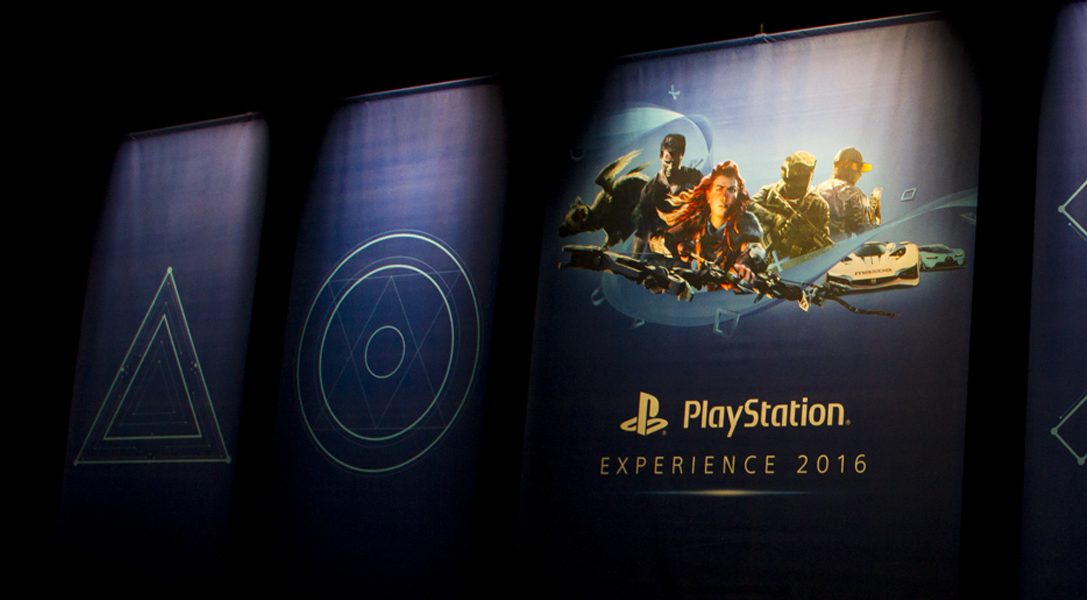 Hands-on impressions from a variety of dazzling PS4 titles available on the PSX showfloor
Any of us watching the PlayStation Experience conference left fearing whiplash for the speed of which we were catapulted through a dazzling array of upcoming game experiences. And the rollercoaster ride didn't finish there. Even as the arena lights illuminated the roaring crowd at show's end, curtains on its outer shell pulled back to reveal two enormous hangars. A venue capable of fitting in a couple of 747s was crammed instead with game booths.
Even with a total of 17 hours available across the weekend event it was impossible to sample everything. But we tried. With the conference, a trio of panels and the Capcom Cup eating up our time on Saturday, Sunday lay open. With muscles stretched and comfortable sneakers donned, we readied our assault on the showfloor. We choose variety and easy access over two hour queues and single digit game counts (I'm still gutted at missing out on a 7 minute deep dive into Persona 5's dungeons and battling behemoth-sized beasties with a PS VR Aim controller in Farpoint).
Game on.
Star Wars: X-wing VR Mission
Developer: DICE/Criterion Games
What is it? Burnout creator marries its arcade thrills to one of cinema's epic sci-fi sagas
DICE was obviously aware the draw Star Wars had on exhibitors as well as attendees. While other booths kept demo pods blocked off until the official show opening at 10am, Battlefront representatives goodnaturedly gave a nod in silent okay to the eager few who hoped to squeeze in five minutes in a galaxy far, far away before they had to man their own stands.
Game owners with PSVR will be mirroring my wide-eyed stare coming out of the new update which released this week. Criterion's arcade shooter experience is one of the must-share showcases of PlayStation VR. Expect appreciative expletives to fly out your mouth faster than TIE fighters out of a Death Star.
Sonic Mania
Developer: Headcannon/PagodaWest Games
What is it? Side-scrolling platformer with remixed classic levels and all-new stages
Fellow Sonic fans, here are the crucial facts you know you need: this fan love letter to the glory days of the franchise, blessed by Sega, feels exactly the way a Sonic title of that era should. And it plays exactly as you'd imagine a direct sequel to Sonic 3 (& Knuckles) would. One (re-)run through Green Hill Zone with updated visual and gameplay tweaks was enough to convince me this isn't going to be a fumbled revival.
Just Shapes & Beats
Developer: Berzerk Studio
What is it? Brazenly hardcore action-rhythm multiplayer bullet-hell
With a soundbar strapped to the bottom of the display and cranked up to organ-bruising levels, this hardcore rhythm action multiplayer title made enough noise to challenge the bigger stands. Nestled in the corner of the hall but drawing plenty of attention, the game's name succinctly describes its look and style. Just Shapes & Beasts dares four players to survive multiple waves of colourful blink-and-you'll-miss-them attacks: rapid-fire energy beams, boss punches and kung-fu fighter cutouts which flash on screen in time with the licenced music of the current stage. This'll be only time you'll witness The Immortals version of Mortal Kombat backed by visuals seemingly extracted from a demented Dulux advertiser's fever dream.
Future Unfolding
Developer: Spaces of Play
What is it? Mysterious adventure set in a wildlife-filled forest
From the heady heights of beam dodging beats to a psychedelic saunter through a forest by just walking to an adjoining booth. This top-down adventure pushes you to explore through multicoloured foliage and communicate with wildlife on your way. With colourful art splashes and chilled music it initially feels like a languid trip, but there are hints of darker paths to be uncovered with a longer playthrough.
Refactor
Developer: NextGen Pants, Inc
What is it? Tetris meets Metroid
The best simple sell of the show: "Tetris meets Metroid". Control a double-jumping, air-dashing, enemy stomping cube through a trap-laden multi-roomed laboratory. Discovering access terminals allows you to reposition activated rooms via a grid map, linking up connecting doors to gain entry to newer areas. Resequencing rooms can see their gravity alter and thereby create newer challenges and secrets for even previously explored sections.
Celeste
Developer: Matt Makes Games
What is it? You versus the mountain in a hardcore puzzle platformer
This hardcore puzzle platformer swallowed the majority of my limited time, proving to be one of the most addictive games of the show. Cunningly crafted by the creators of Towerfall, each screen of Celeste is its own survival mini-epic, as you jump and clamber across icicles, platforms and dodge collapsing rock falls and spikes.
Muscle exhaustion limits how long you can grip cliffs, while an air dash ability can only be replenished through collectables, requiring precision platforming. It's brutal. Addictive. And that's just normal mode. Switch difficulty and platform numbers drop drastically in favour of air dash-prolonging, yet-unexplained portal rips, while you're continually pursued by a gradually multiplying alternate dimension doppelgänger. You can try out the classic version here.
PaRappa The Rapper
Developer: Japan Studio
What is it? Action rhythm remaster of a PlayStation icon
With the whole game unlocked in PSX's media lounge, there really was only one choice of stage to reacquaint myself with Masaya Matsuura's rapping dog. Stage 5: Full Tank. For those unaware, it's a bass-heavy rap up an increasingly-agitated toilet queue made up of previously beaten rap masters. It plays as a 'best of' the previous four stages, but with retailored lyrics to hint at everyone's dodgy bowels (sample: "in the rain or in the snow/I got the funky flow/but now I really gotta go") The in-game graphics are as smooth and sharp as any current day PS4 title.
Crash Bandicoot N.Sane Trilogy
Developer: Vicarious Visions
What is it? Three platforming classics in one remastered package
Muscle memory's a fine thing. Playing Crash Bandicoot's opening level repeatedly back in 1996 meant I left my fingers to their button tapping and let my eye savour the updated visuals of this PS4 remaster plus. New-gen Crash and his enemies closer to a Pixar-quality production than the low jagged polygons of yesteryear. Sumptuous. With a trio of titles in the package (and features exclusive to the PS4 versions) this'll please old-school platformer fans and family-friendly audiences.
Starblood Arena
Developer: WhiteMoon Dreams
What is it? PSVR multiplayer sci-fi shooter
L.A-based development studio WhiteMoon Dreams debuted its PlayStation VR title at the event, and had playable demo pods set up for those curious to try its sci-fi arena-based spaceship shooter. There's a wonderfully colourful cartoonish hue to the cool collection of initial pilots on offer, a variety of roguish combatants, each with a ship offering unique built-in abilities. I tested out a free-for-all match against bots and was pleasantly surprised by the intricate map design – a vast cavern honeycombed with multiple smaller tunnels filled with sharp corners and health packs that looped back round into the main arena.
Boundless
Developer: Wonderstruck
What is it? Procedurally-generated, multi-world, explore and build adventure
Wonderstruck's procedurally-generated world builder multiplayer title has come along beautifully since it was first announced last year. Multiple worlds fill the skies above, and reaching each is through player-created portals, the size of which to activate is dependant on the distance you need to travel. Each player can permanently acquire a plot of land, gradually terraforming the world through individual – or collaborative – builds. Once settled you can create, hunt or even set up shop to sell wares to other travellers. It's a lovely looking title built upon some intriguing tech.
Pyre
Developer: Supergiant Games
What is it? Elegant party-based RPG from the Bastion/Transistor team
Supergiant Games' party-based RPG is the kind of title you'll unconsciously and vigorously swear at for its inherent loveliness (at least, I did. Repeatedly). Mesmerizing animation, enchanting character design and a rich colour palette evokes Studio Ghibli. Music – penned by returning composer Darren Korb – is whimsical yet equally majestic.
I loved the little touches, such as hovering your cursor over highlighted words during dialogue to get liner notes on the world lore and inhabitants. The title's centrepiece however is the combat; while calling it a fantasy version of NBA Jam would be far too simplistic, the 3 on 3 battler generated the same fervour on the PSX stand. Even a brief couple of matches gave hints to deeper strategies, and the studio's excising of the combat into an additional local multiplayer mode is a masterstroke.
Aaero
Developer: Mad Fellows
What is it? Sci-fi action rhythm shooter hybrid
Sci-fi shooter meets rhythm action! Pilot a ship through futuristic environments whilst trying to keep it aligned with a continuous, if ever-shifting, beam of light. Aim true and you'll add to the soundscape of the level's music track and increase your score multiplier. Gameplay will switch at certain points to targeting multiple enemies or bosses before they can attack. Headphones recommended.
Strafe
Developer: Pixel Titans
What is it? Energetic old-school FPS with a high kill count
Old-school sci-fi FPS with labyrinth maps filled with hordes of unfriendly folk eager to make a killing. The only way to dissuade them? A well-aimed gunshot. Fast-paced and unashamedly gorey, Strafe recalls the swiftness and single-mindedness of some of the genre's classics with deliberately low polygon-count to make it feel reminiscent of earlier eras.
Eitr
Developer: Eneme Entertainment
What is it? Isometric Dark Souls-esque dungeon crawler
My K/D ratio on Eitr was embarrassingly lopsided in favour of my own deaths, but that's to be expected in this beautiful Dark Souls-esque isometric dungeon crawler. The pace is slow, considered, weighing up traps and potential enemies as you spot them in gloom of the dank hallways. I got over-eager testing weapon combos and was downed quickly. Eneme Entertainment offer an olive branch by letting you retain collectables even in death. Much needed in these early stages.
Absolver
Developer: Sloclap
What is it? Dark Souls knows kung fu
Back in 1997 Square-Enix released Bushido Blade, a samurai battler with realistic body damage, for PSone. It always surprised me no one capitalised on the idea since. A thought obviously shared by development studio Slocap, who introduced me to one of the best surprises of the show.
On the surface level this is another Dark Souls-esque experience, asking you to explore an enemy-filled world of crumbling ruins. But the combat mechanics on offer are a range of engrossingly deep and realistic martial art moves. Gradually unlock and customize your attack chains. Switch stances on the fly with a button press. My time with the PvP, best of three matches proved engrossing with plenty of bait and switch.
What Remains of Edith Finch
Developer: Giant Sparrow
What is it? A slow-burn reveal of a horrific family history
Giant Sparrow, the studio behind The Unfinished Swan, returns with a collection of short interactive stories all linked by two constants. One, each story deals with a family member of the Finch family – from the 1900s up to present day – and two, each story ends with that member's death. It's a fascinating if deeply unsettling premise, as I learnt when I quickly reached the last few fatal moments of a younger Finch during my demo. That a present day voiceover dictated the eventual circumstances that I was inexorably leading myself made the eventuality even more horrifying.
Gang Beasts
Developer: Boneloaf Games
What is it? Multiplayer party punch-up
Some lightheartedness was needed after all the past life heaviness, so I finished my sweep of the showfloor with a rowdy crowd egging on the four players involved in a horrifically hilarious tussle in Gang Beasts. Simple gelatinous figures – Big Hero 6's Betamax by way of classic kids show character Morph – attempt to knock each other out in danger-filled arenas. Over the next few minutes I watched one fighter tossed into the path of an incoming train, and another headbutted off the rails of an oil rig platform they were so desperately trying to cling on to. Think Powerstone with plasticine figures. Think your next party night mainstay.