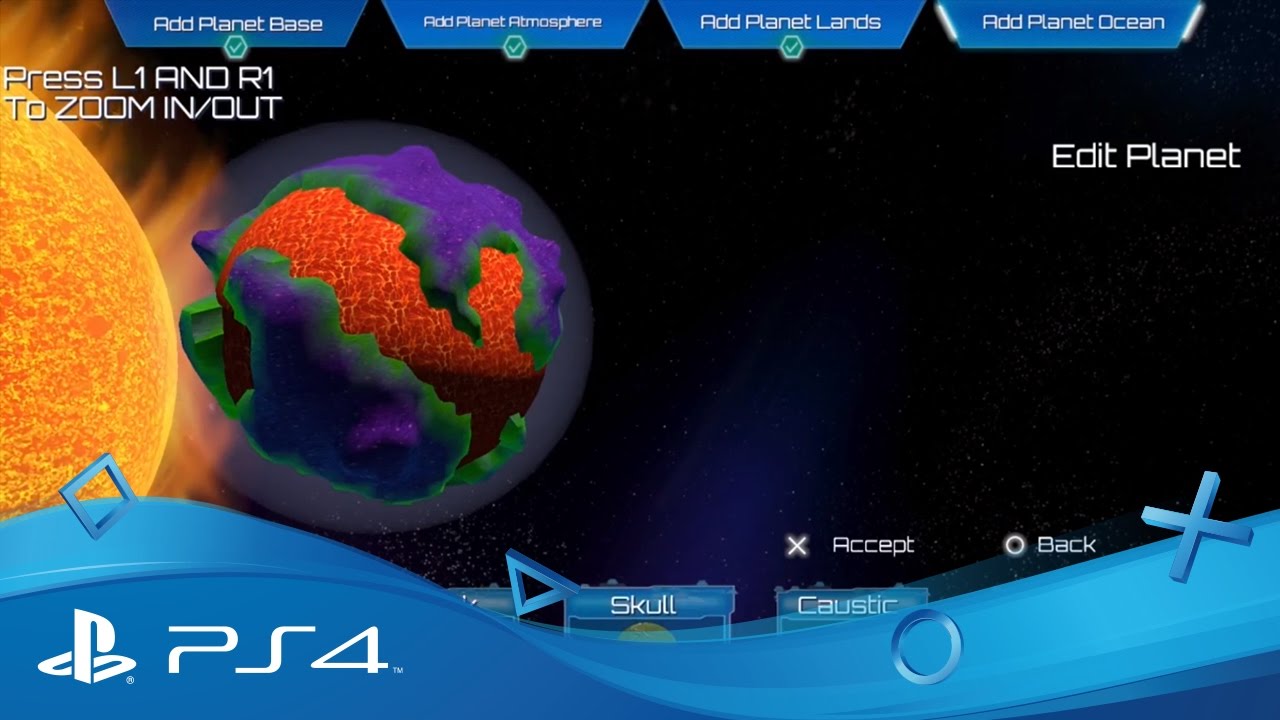 Will you honour your creative or destructive instincts first?
For a while now, we've been teasing that Space Overlords will be hitting PlayStation platforms in December, and today we can unveil that the game will release in just over a week – Space Overlords will arrive on PS4 and PS Vita on 6th December 2016!
If you haven't yet heard about Space Overlords, I'll give you a quick rundown:
Customise planets to a tee
Create your own galaxy
Share your creations with the world
Download and explore other community-created galaxies
Choose from one of six entirely varied Space Overlords and decimate entire planets
I don't blame you if you've already decided to purchase Space Overlords after reading those quick-fire pointers! As if that wasn't already a huge enough game for you to get your teeth into, I haven't even mentioned the single player campaigns (yes, 'campaigns' with an 's'!) and the local multiplayer modes!
For a game this huge, its pocket-money price is almost a steal – and what's more, Space Overlords supports Cross-Buy! If you purchase the game on either PS4 or PS Vita, you'll automatically receive the other version at no extra cost.
But I'm getting ahead of myself. Let's move back and speak a little about some of Space Overlords' most exciting features.
Galaxy creation
Do you remember creating your own worlds and sharing them with the community when you played LittleBigPlanet? Well, Space Overlords offers a similar sense of achievement, even if our game's tone is a little more doom-mongering than that of LittleBigPlanet's.
Space Overlords allows you to name your own galaxy (yeah, I can't wait to see what perfectly lovely and not at all rude names the community comes up with either), and populate it with multiple planets. From forest, to desert, to slick sci-fi synthetic material, you can choose your planet's base, and then populate it with a plethora of buildings, civilisations, cities and much more.
Of course, once you're done crafting your galaxy, you can share your creation with the Space Overlords community for anyone to download and play. I recommend excitedly ringing up your friends and telling them how great your new galaxy is and how they should totally go and play on it. I promise they won't be annoyed at all! (We hold no responsibility for angry friends) Once you've landed on a planet, you're tasked with destroying literally everything you've built. I'm sure there's a deep psychological meaning in that past sentence, but I'm not going to spell it out.
Single player campaigns
Despite the huge galaxy creation system being established enough to grant a game release of its own, it is by no means everything Space Overlords has to offer!
While gameplay is a huge focus for Space Overlords, so is storytelling. Of course, I wouldn't want to spoil the narrative for you all, but it's as large in scale as you'd expect – a tale of vengeance spanning multiple galaxies.
You choose from six different playable Space Overlords, that all possess their own game-changing abilities, and set off on your epic journey, battling through brilliantly hand-crafted worlds. Each planet is a 360 degree level of its own, providing a unique perspective for you to battle from. With just the swing of an arm or a single step, your hulking Space Overlord can lay waste to entire civilisations.
Multiplayer
Space Overlords also contains multiple modes for up to four-players. Our game sees the return of classic couch co-op, allowing you and up to three other friends to crowd round the TV and crush planets together.
Who hasn't dreamed of doing that with their friends, right? Oh. Nobody? Okay, I'll keep quiet.
And with that, I've covered, in short, just about everything Space Overlords has to offer. I hope that you'll enjoy the game and will be bringing havoc to planets for months to come! If you've decided to pick up the game, be sure to let us know what you think, by speaking to us on Twitter and Facebook!
Space Overlords will release worldwide for the PS4 and PS Vita on 6th December 2016. In addition, we are hoping to release a PS3 version of Space Overlords in the new year!