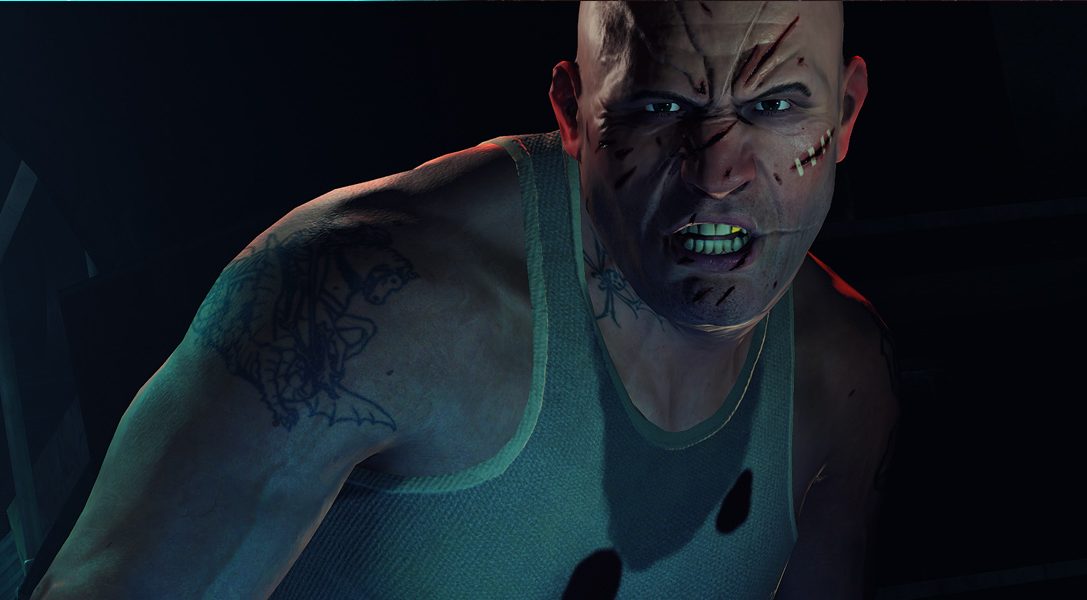 VR experiences so good, they even impressed those behind Hollywood's biggest blockbusters
I'm Simon Hermitage and I am the lead designer on PlayStation VR Worlds. As the game is just about to be released, it's a great time to reflect on the team's incredible development journey.
Nearly three years ago we were introduced to an early PlayStation VR prototype and challenged to investigate building an experience that would showcase and introduce PSVR to the world. We believed that PSVR should launch with a collection of experiences giving a glimpse into VR's future, showcasing the opportunities and establishing best practices for both players and other developers. Below I thought I'd share some of the project's key moments with you.
Feeling extreme emotion in The Deep
We immediately engaged in a series of rapid prototypes with the added requirement of creating a demo for Project Morpheus' (PSVR) announcement at GDC 2014… that gave us 3 – 4 months!
Presence, scale and evoking real emotions became strong themes from our early prototyping. An early concept for 'The Deep' seemed to encapsulate some of the questions we had around VR. It also gave us an opportunity to immerse players in the awe and spectacle of being underwater whilst evoking strong emotions through the terror of being attacked by a great white shark.
At GDC the feedback from players was amazing, their physical reactions and extreme emotions indicated how deeply present players felt. A huge complement to our model, rigging and animation teams came when the team from Industrial Light & Magic got to play the demo and declared it the best real-time shark they'd seen. As a result of the success at GDC we continued to develop 'The Deep' into 'Ocean Descent', enhancing it visually and developing it into a full narrative adventure.
Achieving exhilaration with VR Luge
Or next challenge came around E3 2015. This time we wanted to take a familiar genre – racing – but introduce something that be unique to VR. We wanted the sense of speed, competition and exhilaration and an experience that would translate distinctively in VR. The world of street Luge appealed as it would map realistically to simple player input (head tilting) and offer an amazing sense of exhilaration as you hurtled downhill past vehicles and obstacles.
Starting from the ground up allowed us to look at the conventions usually found in racing titles and adapt them to VR. For example vehicle collisions are often dealt with through 3rd person cutaways. We found these broke immersion and were particularly uncomfortable when playing in VR. To avoid throwing players out of the experience and becoming frustrated, we added penalties and let players pass through vehicles rather than colliding with them.
At E3 we brought a sense of theatrics as we got players to lie down on a bean bag, bringing them closer to the avatars in game position. The highlight of E3 was seeing US TV host Conan O'Brien playing VR Luge and creating a sketch for his popular TV show.
Cracking immersion in the London Heist
A year later at GDC 2015, we wanted to create a truly immersive gameplay experience by giving the ability to pick up and interact with objects, just as you would in the real world.
Utilizing the two PlayStation Move controllers allowed us to give players hands in a virtual world. Suddenly we found simply interacting with objects – even the most mundane tasks such as opening drawers – became thrilling. The demo centered on a desk to maximize the object interaction. Adding the setting of a gangster diamond heist gave it added tension and an excuse to give players the ability to pick up a gun. The ability to pick up and hold a gun with one hand and physically load a clip with the other was simple but also a transformational VR moment.
At GDC we witnessed a lot of physical reaction from players, picking up clips, inspecting objects, ducking for cover, even physically dropping the controllers on to the floor believing the virtual desk was really front of them!
The reception for the London Heist had been fantastic but for E3 2015 we wanted to truly center the player in the middle of an action sequence. The Getaway demo allowed us to build on the interactions from the heist and add the action and drama of a car chase. The high point of E3 for the team had to be getting the privilege to demo the Getaway to Steven Spielberg who stated that the Getaway was 'the most immersive experience I have ever played'… you don't get a much better endorsement.
Announcing PlayStation VR Worlds to the world

Finally at E3 2016, we supported our GDC 2016 announcement of PlayStation VR with demos of the final two experiences. These were Danger Ball; a futuristic sports game played just with the headset and our most hardcore game, and Scavengers Odyssey, a Dual Shock 4-controlled sci-fi adventure where you play an alien treasure hunter in a unique craft that can leap onto the walls and blast alien bugs apart with its massive guns.
From there we went on to wrap up the title. It's been a fascinating, exhilarating ride. With the game mastered and ready to launch alongside PlayStation VR this week, we're all excited to finally get you all playing. We hope you enjoy it.