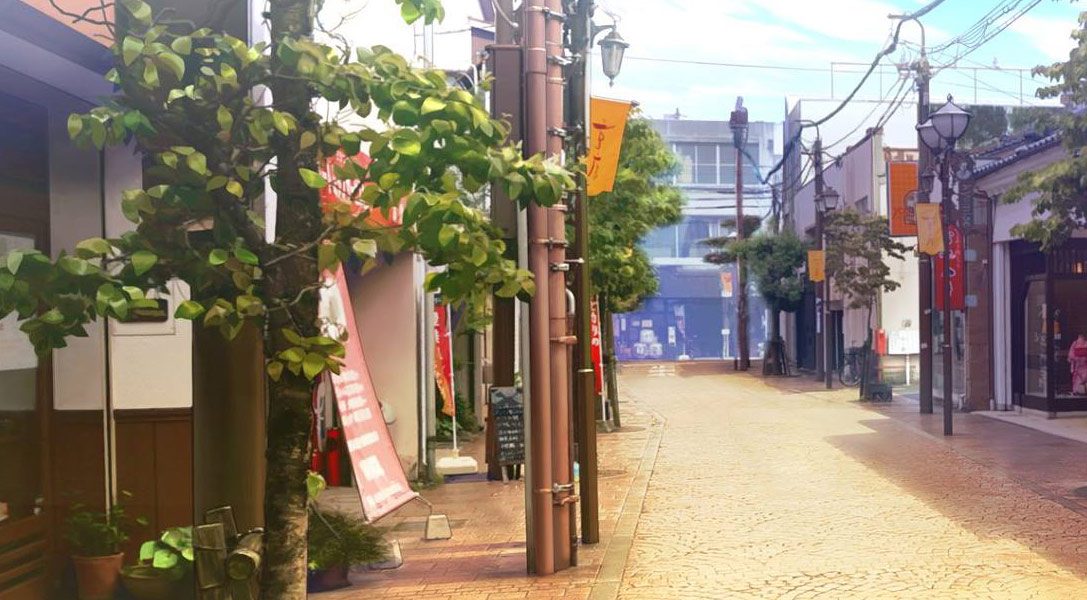 PQube brings Kadokawa's handsome adventure to PlayStation Store on 28th October
Imagine if you had an old pen-pal who mysteriously stopped writing to you while you were in high school. Imagine if you find her final letter, 15 years later, telling you she killed someone and then offered a final farewell.
So begins Root Letter – a mystery visual novel which sends you to your pen pal's home town in a bid to find out what happened to her.
The backbone of Root Letter's investigation is the letters your old pen-friend sent to you all those years back. In them, she describes her old friends and her old haunts – details which you must now use to uncover the truth about her disappearance.
Of course, 15 years on, her school friends are all adults – and they're not about to give up the truth easily…
Real world, rural and suburban setting
Root Letter is set in the real-world town of Matsue, in the beautiful prefecture of Shimane – and great pains have been taken to ensure it represents the reality of the town as closely as possible.
The prefecture of Shimane and Kadokawa Games worked very closely together to make sure that Root Letter has an incredible sense of place. Shimane is a mysterious, traditional, and romantic town. The in-game reproduction of its landmarks, streets, restaurants, and buildings are nothing short of stunning.
This was important as it's the hometown of Kadokawa Games President, Yoshimi Yasuda, who wanted the game to accurately reflect the region.
Kadokawa felt that so many games set in Japan focus on urban areas – specifically Tokyo. It was important for gamers to get a real feel for a new, very different kind of location in Japan, and also to feel as though they have come to know the place well from the time spent there.
It's all about feelings of nostalgia
Lost loves, hometown memories, and old friends – feelings of nostalgia are very powerful as you get into your 30s and 40s. Kadokawa Games employed the services of renowned character designer Minoboshi Taro, placed Noriko Hidaka (of Ranma fame) in the lead voice actress role (the game offers Japanese voice acting and English language subtitles), and lastly composer Takashi Nitta for the haunting soundtrack.
All these combine wonderfully to create a mood, an atmosphere of nostalgia and longing, and the romance of times gone by.
At the same time, the story plays around with this feeling, subverts it, and makes it dangerous.
Old friends – old grudges – a darkness that stirs underneath the peaceful suburban setting. All of this is for you to uncover – armed with only a series of 15 year-old letters and reminiscences. It makes for a game with an atmosphere like no other: at once whimsical, magical, but also tragic and sinister.
The investigative visual novel on PS4
Critics have been drawing comparisons to the likes of Danganronpa and the Ace Attorney series, and there are certainly similarities. While a visual novel on one hand, Root Letter is much more interactive than many VNs.
You'll need to navigate your way around the town, interrogate people, search for clues in the environment, and then build up a case with indisputable facts and snippets of evidence to help uncover the truth from seven reluctant witnesses.
Eventually, you'll be able to face off against individuals and make them crack under pressure. Present the right evidence at the right time and catch out their lies.
Visual novels have long been the poor relation of games and increasingly PlayStation is playing host to the very best that the genre has to offer, with Danganronpa, Steins;Gate and the Zero Escape series. Root Letter is the latest, and most gorgeous new addition to this massively underappreciated genre.
The game will release both physically and digitally on both PS4 and PS Vita on 28 October.