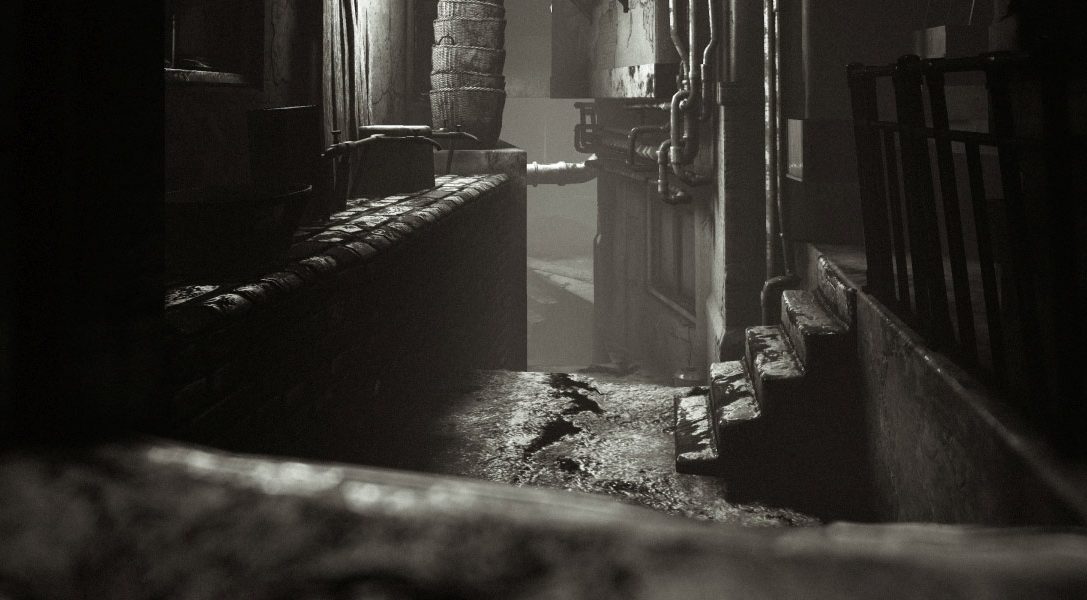 We sample a strange, sick world with our first steps into first-person horror.
The PlayStation.Blog team can't wait for 13 October. With the launch of PlayStation VR, we're entering a new era of gaming — one that places players directly into the worlds that developers so lovingly create. To prepare for this amazing next chapter in PlayStation history, we all donned that PlayStation VR headset and sampled a bevy of upcoming PlayStation VR titles.
Sampling Here They Lie is a tall order — it means embracing the fear and uncertainty of stepping into a strange, terrifying world quite unlike our own. Developed by industry veterans with a wide range of expertise, Here They Lie drops players into a bleak city with the only hope being the soft voice and bright dress of a woman named Dana. What did we think of this visually immense first-person horror? Read on.
As an aficionado of all things that go bump in the night, I can't help but feel that Tangentlemen crafted Here They Lie specifically for my own macabre enjoyment. It's unquestionably one of my favourite PS VR launch titles, partly because it combines so many horror elements I cherish: surreal cityscapes, weird internet urban legends, H.P. Lovecraft. From a game perspective, Here They Lie is a riveting tour through a desolate, eerie city populated by mysterious entities. I felt like I was trapped in a strange fever dream or, as the game's senior art director put it in our interview, a "digital hallucination." The game's use of PS VR's 3D audio capabilities meant that I encountered trails of sonic breadcrumbs, creepy audio cues that lead me, hesitantly, to the next scare. This is one to watch if you've got PS VR on day one.
–Sid Shuman
Here They Lie has a brilliant understanding of its own atmosphere. Meticulously decorated and hauntingly dressed, the world of Here They Lie is both terrifying and beautiful. A strange, sick city with a glimmer of hope taking shape in a woman named "Dana." With PS VR, the dream-like effects — a rush of strange papers, the ghostly tapping of a typewriter — take on a new degree of realism totally unfelt on a traditional display. The developers at Tangentlemen are taking bold steps in this space, and you can feel it in their footprints.
–Ryan Clements
I really don't like scary things. Movies, games, campfire stories… it's all a bit much for me. That said, horror VR is an experience quite unlike the ones afforded by more traditional media. Especially with PlayStation VR's Social Screen feature, I see Here They Lie (and, by extension, VR horror titles in general) as a perfect experience to share with my significant other. I'll play for 15 minutes or so, probably get freaked out, my girlfriend will laugh at me, then I'll make her play and see how she fares. I might not be much of a horror connoisseur, but virtual reality and PS VR's Social Screen could be just what I need to finally delve into a genre I otherwise tend to shy away from.
–Justin Massongill