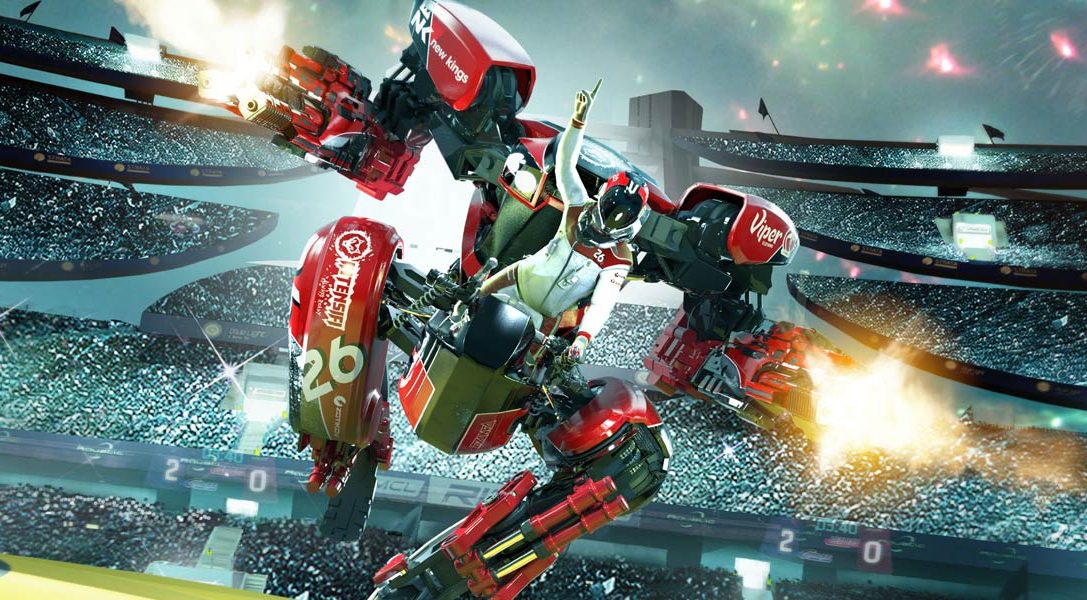 An invigorating cocktail of the week's most intoxicating gaming news - our shout!
And so it begins… yes, as the summer draws to a close the great gaming goliaths begin stoking their furnaces for gaming's busiest season. With the launch of PlayStation VR mere weeks away and dozens of great titles dropping over the coming months, we can hardly contain our excitement.
Before the big hitters start landing though, let us take a moment to look back at the big and the small announcements that landed this week.
This week's biggest new trailers
Uncharted 4 – New Devon Multiplayer Map
The newest multiplayer map for Uncharted 4: A Thief's End transports players to Henry Avery's ruined utopian civilization of Libertalia – get your first look here.
RIGS Mechanized Combat League – Campaign Reveal
This week Guerrilla Cambridge unveiled the sprawling single-player component to their PS VR launch title RIGS and explained how it works side by side with the multiplayer experience.
Blackwood Crossing – Announce Trailer
Boasting stunning art direction, atmosphere and voice acting the debut title from Brighton-based indie studio PaperSeven is most definitely one to watch.
EVE: Valkyrie – Carrier Assault
Get a closer look at some of EVE: Valkyrie's more daring missions as you watch a team of pilot work together to bring down a carrier class deep space vessel.
Tweets of the week:
https://twitter.com/ColinCampbellx/status/769209509709385733
The Tomorrow Children will launch globally on Sept.6/7. An evening with Dylan in a Russian restaurant in Tokyo :D pic.twitter.com/5AOhGFIqPG

— Shuhei Yoshida (@yosp) August 31, 2016
This is how you make a 10 points flawless jumping in #BoundPS4 by @YashaSetsu pic.twitter.com/jUTeIGCgn7

— Plastic (@plasticdemo) August 31, 2016
Around the world of PlayStation:
Uncharted 4: A Thief's End Madagascar time lapse
Lead environment artist Anthony Vaccaro shared a stunning time lapse video showing how the vast and stunning Madagascan environments from Uncharted 4 came to life, layer-by-layer.

Gaming tattoos are so hot right now
Vice magazine this week caught up with a group of hardcore gamers to find out how increasingly video games are becoming part of our personal identities. Take a look.
This week's PlayStation Store 'leftfield' pick:
Indie puzzlers rarely come in as charming or pleasantly relaxing manner as Hue. While the objective is simple – to find your missing mother – the mechanics by which you explore the world hum with a hidden depth. As the name suggests the key is colour and there's endless secrets to be uncovered as you move through the world altering the colour of everything around you.
PS Plus members can pick it up at a special discounted launch price until mid-September, so don't hesitate.
The pick of PlayStation Blog:
Catch up on everything from EVE: Valkyrie week
As part of a series of special PlayStation.Blog takeovers, we've been championing sci-fi space shooter EVE Valkyrie this week. We've published bags of features and content all through the week and you can catch up on anything you missed here.
New video goes behind the scenes with the Batman: Arkham VR team at Rocksteady
Crime fighter by night and content producer by day our very-own superhero at large Corey Brotherson caught up with the team at Rocksteady to learn more about bringing Batman to virtual reality. Check it out.
Overwatch free weekend starts 9th September
Blizzard's blockbuster hero shooter will be throwing open its arenas to anyone who thinks they're tough enough on the 9th September. All the heroes, all the maps, everything is free to try for the whole weekend. Find out more.
And the rest of the headlines:
What we're currently playing:
Fred – "I made the mistake of booting up Playdead's sublime Limbo follow-up Inside just before bed the other night. Cue harrowing nightmares of murderous fish-girls."
Corey – "Had a hankering for some troll bashing, so hopped into Dragon's Crown and starting slicing some fools. My character of choice? Well, after all this EVE: Valkyrie coverage this week, I'll give you one guess…"
Rhys – "In between Vortex Cube farming, causing peril to freighter ships and being a general galactic scoundrel in No Man's Sky, I jumped back into the Factions multiplayer of The Last of Us Remastered. I'd forgotten how nail-bitingly tense it is; in my opinion, one of the most underrated multiplayer games ever."
Matt – "Alienation got a sweet bevy of updates and some new DLC last week, so I've jumped back in and having conquered the chaos of the Ark Ship I am now the proud owner of not one but two 12-core legendaries. Praise be to RN Jesus!"