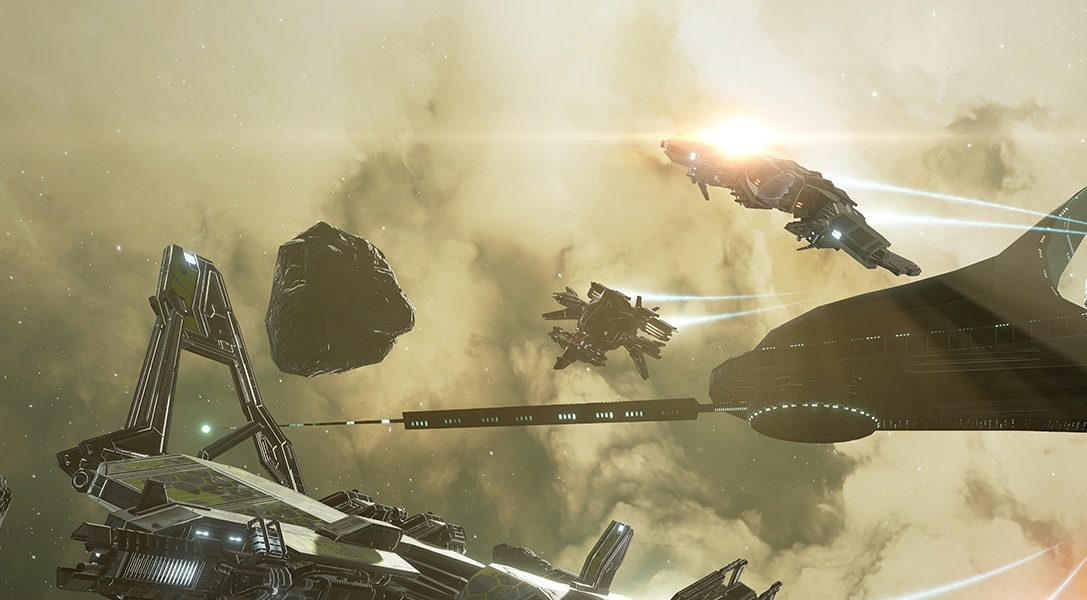 Jet into the laser-filled lore of CCP Games' upcoming PlayStation VR shooter
It's not all just shooting and surviving in the intricate sci-fi universe of EVE: Valkyrie – with over 15 ships, a variety of interstellar maps and Hollywood voice talent, there's much more to discover. Find out how CCP Games breathed life into a world where you're an immortal space fighter pilot…
Fans of EVE Online will recognise the ships and structures from a range of familiar races and alliances in the massively multiplayer online roleplaying game, including the Gallente Navy, Sarum Family, Caldari State, Minmatar Republic and Guristas Pirates.
The Valkyrie are clones created from the recovered DNA of fallen pilots, and Rán Kavik – voiced by Katee Sackhoff of Battlestar Galactica and Riddick fame – is their fearsome leader. Her nemesis, Jirai 'Fatal' Laitanen, commands his own pirate faction named Schism.

The Phoenix, which is docked at the Shipyear, is over 3,000m long – 300 times longer than the Banshee support class ship. While the Titans are the largest ships in the game, measuring between 13-18km long, and roughly the length of a map in Valkyrie. You'd have to align 1,476 Wraiths end to end to match the colossal Gallente Erebus Titan.
The first ship in the game, the Wraith, is capable of flying at supersonic speeds of up to 1,342 mph, (almost on par with Concord) but can be outrun by the Spectre's Micro Warp Drive, which exceeds Mach 10 at 11,184 mph. There's no wonder why it's the most popular ship to fly into battle, even amongst veterans.

At 10km long, Station 27 at the Crossroads is one of the tallest structures in EVE: Valkyrie. Be sure to check it out as you can actually fly along the whole structure from end to end.
The Necropolis map is a graveyard of ships destroyed during the battle at Esmes III, while the Shipyard map used to be a Caldari facility until it was assimilated by the Gurista pirate clan. And the Cathedral map features a huge structure at its centre that is used for religious gatherings.