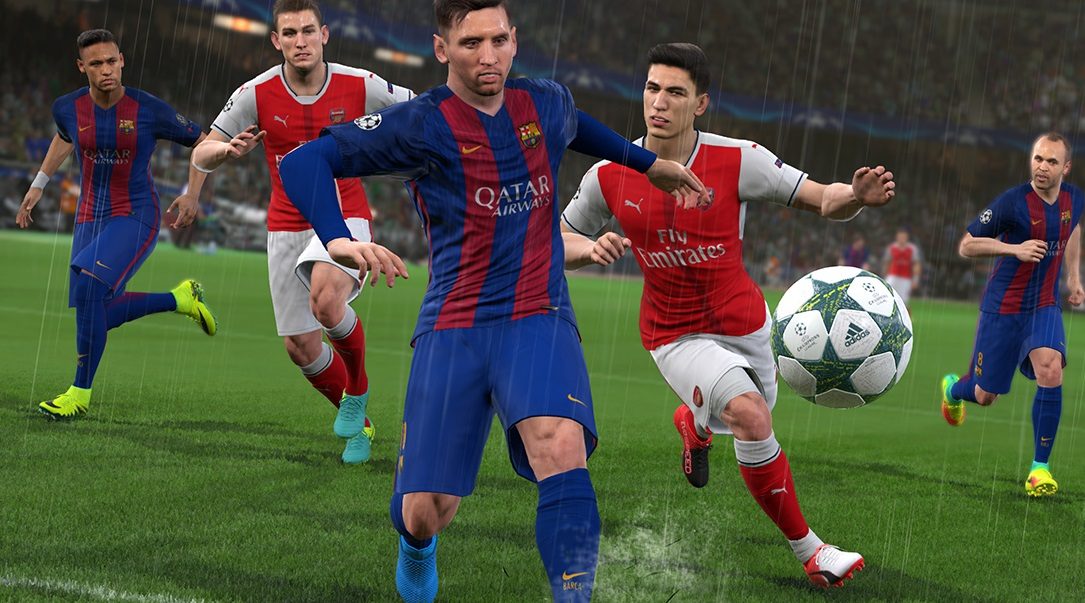 All the news, trailers, announcements and everything else from the world of PlayStation.
It's that time of year again; as the rest of Europe basks in a heatwave and London is covered in its usual grey clouds (we're not bitter, honest), the PlayStation Store Summer Sale gets underway and brings a ray of sunshine to all of our gaming lives.
Of course, the gaming industry doesn't take summer holidays and there's been plenty of news this week, so read on for our round-up of what's been happening – then jump into the comments section below and let us know what you've been playing…
This week's biggest trailers
No Man's Sky – Survive
The last video in our four-part Guide to the Galaxy series showcases the near infinite ways to perish in the cold/hot/poisonous/sharp-toothed depths of space. No Man's Sky is so close we can almost taste the space dust… are you as excited as we are? Find out more on how to survive here
PES 2017 teams up with FC Barcelona
Messi, Neymar, Suarez and the rest of the FC Barcelona team are set to star in PES 2017, along with the incredible Camp Nou stadium. This trailer showcases the stunning detail they've been recreated in – and the insane footwork you can hope to pull off in-game.
Injustice 2 – Wonder Woman reveal
If you're going to mess with Wonder Woman, you'd better have some pretty explosive super powers hidden under your cape; the Amazonian goddess is coming to Injustice 2 along with fan-favourite Blue Beetle. See them slug it out in this new trailer:
Tweets of the week
Adorable. https://t.co/xiLn2ohG6x

— Neil Druckmann (@Neil_Druckmann) July 26, 2016
Want a preview of #ABZU's beautiful music? Listen to @awintory & @GiantSquidology here https://t.co/RZ4g2XvxQk pic.twitter.com/CLM1H32zqC

— ABZÛ (@AbzuGame) July 26, 2016
LUDENS, the icon of Kojima Productions, making figures' in progress.
Watch logo movie:https://t.co/UrMxTwV48P pic.twitter.com/088NnuFJza

— HIDEO_KOJIMA (@HIDEO_KOJIMA_EN) July 27, 2016
Around the world of PlayStation
This week's PlayStation Store 'leftfield' pick:
If you're looking for a big old slice of nostalgia with a hefty side order of absolute mayhem this week, Retro City Rampage DX has you more than covered. With nods to more classic games than I could count (Paperboy and the original Grand Theft Auto were standouts though), this is fantastic 8-bit fun – and what's more, it's incredible value as Cross-Buy gives you access to the PS4, PS Vita and PS3 versions for only one purchase.
The pick of PlayStation Blog:
The rest of the headlines:
What we're currently playing:
With Fred away on holiday this week, it's been down to the three stooges to hold the fort…
Corey: "All the Rogue One excitement of late has made me turn to LEGO Star Wars: The Force Awakens. Turns out I'm kind of a big deal in the Resistance…"
Matt: "I picked up the Resident Evil Origins double pack last month and with my TV now fixed I can finally jump in to REmake. The good: for a 14-year-old game, it looks and plays fantastic. The bad: all of Barry's classic one liners from the original RE have been rewritten. The ugly: his new one liners might be even cheesier!"
Rhys: "I know I'm getting a bit repetitive here, but I can't stop playing Rainbow Six Siege – and new maps are coming soon, so I can't see this changing for a while".