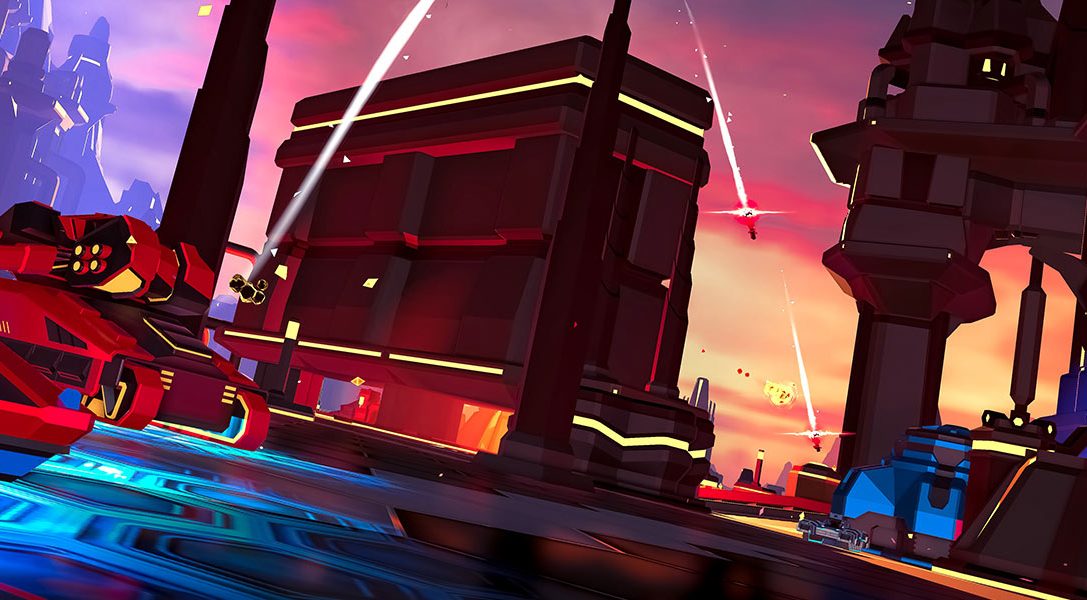 Rebellion breaks down how their PS VR launch title has improved since its unveiling
Nearly a year ago to the day I jumped into this very blog to announce Battlezone for PlayStation Morpheus, as PlayStation VR was called back then. What we took to E3 2015 was an exciting proof-of-concept on hardware that didn't even have an official name!
Fast forward a year later and Battlezone is back at E3, and it's come so far. The developments are too long to list, but here are some of the ways the game has changed since that very first reveal.
The visuals: Clarity, diversity

So here's a fun fact – did you know the film Tron was heavily influenced by the original 1980 Battlezone? We've had quite a few chuckles with all the comparisons players have made with that iconic Disney film, but yes, Battlezone shares the beautiful conceit of delivering a jaw-dropping cyber world. VR within VR if you will.
Getting technical for a second, the visuals have evolved significantly. They're still faceted and retain this wonderfully distinctive polygonal style, but our engine team and artists have now had an extra year with the PlayStation VR hardware and absolutely gone to town on the fidelity, the clarity, and the visual effects.
This is the best and scariest thing about working in VR. There's no benchmark to work to, you have to strike out in the dark and find new ways to deliver breathtaking art in VR.
The cockpit: Delivering state of the art

When we first revealed the game the cockpit was deliberately quite compact and basic. It did a great job of grounding the player but at the same time we knew we wanted something that felt state of the art. Something tangible, spacious, simultaneously larger and more impressive but still increasing the player's field of view rather than restricting it. There are now all sorts of amazing details, lots of additional displays and most importantly, it houses the game's HUD in a way that feels natural and seamless.
This is almost the most important part of the game – making you, the gamer, want to live and breathe in the cockpit of a badass tank!
The controller: Power in your hands!

We've watched a lot – probably thousands – of people play Battlezone at shows, and they all look down at their hands and feet as soon as they put the headset on. Obviously they can't see their body, which made us ask ourselves, "Why don't we show them their controller?".
So we decided to map the Dualshock 4 controller into the cockpit itself. Tilt it, turn it, flip it, it'll follow your exact movement in the cockpit – we've even overlaid a button map during the tutorial so you know which button does what.
It's a subtle change but one that gets a surprising amount of smiles on the show floor, and makes everything more welcoming for first time PSVR players too.
Honed gameplay and a full-blooded campaign

Far from the one level demo we had at E3 2015, Battlezone now sports a complete campaign blending random and procedurally generated content to deliver a mode you'll want to come back to (we've already covered this in a little bit more detail here if you want to know more).
Our latest E3 build sports new weapons that now exhibit proper ballistics, and a super-powered EMP weapon that brings down all the enemies on screen in one beautiful wave of destruction! It comes in handy too because the demo can get very intense at times!
We're not quite ready to show everything yet, but we promise there will be more environments, more tanks to drive, more special items and weapons to unleash, and more enemies to obliterate.
I'll just leave you on this nice little trivia piece – the new flying "Hopper" enemies were added in to encourage players to scan vertically, not just horizontally, but what most people won't know is that they were inspired by the comic book and Rebellion IP, Rogue Trooper!
One to keep handy for the pub quizzes, that.
Enjoy the rest of E3 and I hope you get to try Battlezone soon if you haven't already!