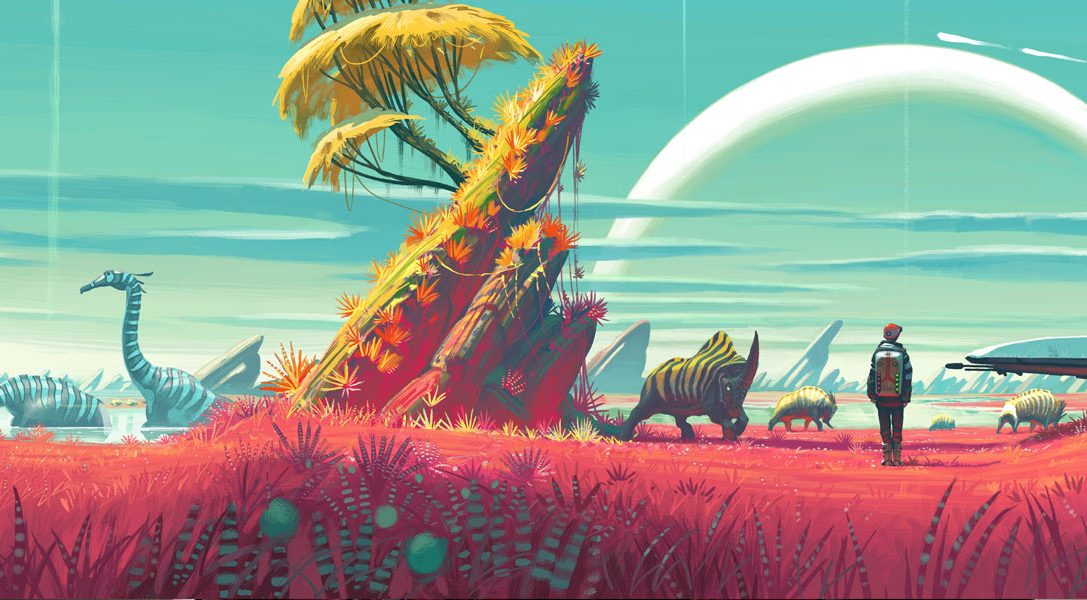 Plus, your first look at the upcoming Limited Edition Custom PS4 Faceplate
Hello! Sean Murray here, a programmer working on No Man's Sky, the infinite science-fiction adventure coming soon to PS4.
Our game is procedurally generated – created by the PlayStation 4 – but we always want it to have a unique recognisable style, to look like a science fiction book cover come to life.
This is only possible because of our super-talented art team. When we talk about No Man's Sky, we like to talk about the maths involved in creating the visuals, but really it's our artists that give the game its beautiful style.
We wanted to try and explain how it works with a quick video, because it's very different to any other game I've worked on. We recently let a recording crew loose in the Hello Games offices, and not only did they film us hard at work on the game, but our team also helped to answer a few of the questions many of you have been asking over the years. Hopefully you like it!
Once you're finished watching, you might be interested in some new footage we recently had to show on PlayStation channels where I gave Anthony Carboni, friend of the studio and fellow sci-fi geek, a tour of some of some new features and also let him have a quick play. Be warned – the body count is high!
Before I go, I also wanted to share something really cool – a Limited Edition Custom Faceplate for PS4 that's coming to SIEE regions.*
We think it looks great, and will be excited to hear what you guys think too! It'll be available the same week as the game.

Thanks as always for the support and interest in the game. It means the world to us. See you again very soon!
Find out more information on No Man's Sky at playstation.com.
*No Man's Sky Limited Edition Custom Faceplate available in UK & Ireland, France, Spain, Portugal, Italy, Cyprus, Denmark, Sweden, The Netherlands, Belgium, Luxemburg, South Africa, Turkey, Russia, Poland, Czech Republic, Hungary, Slovakia, Croatia, Romania, Bulgaria, Saudi Arabia and the Gulf region. Check with local retailers for cost and availability in your area