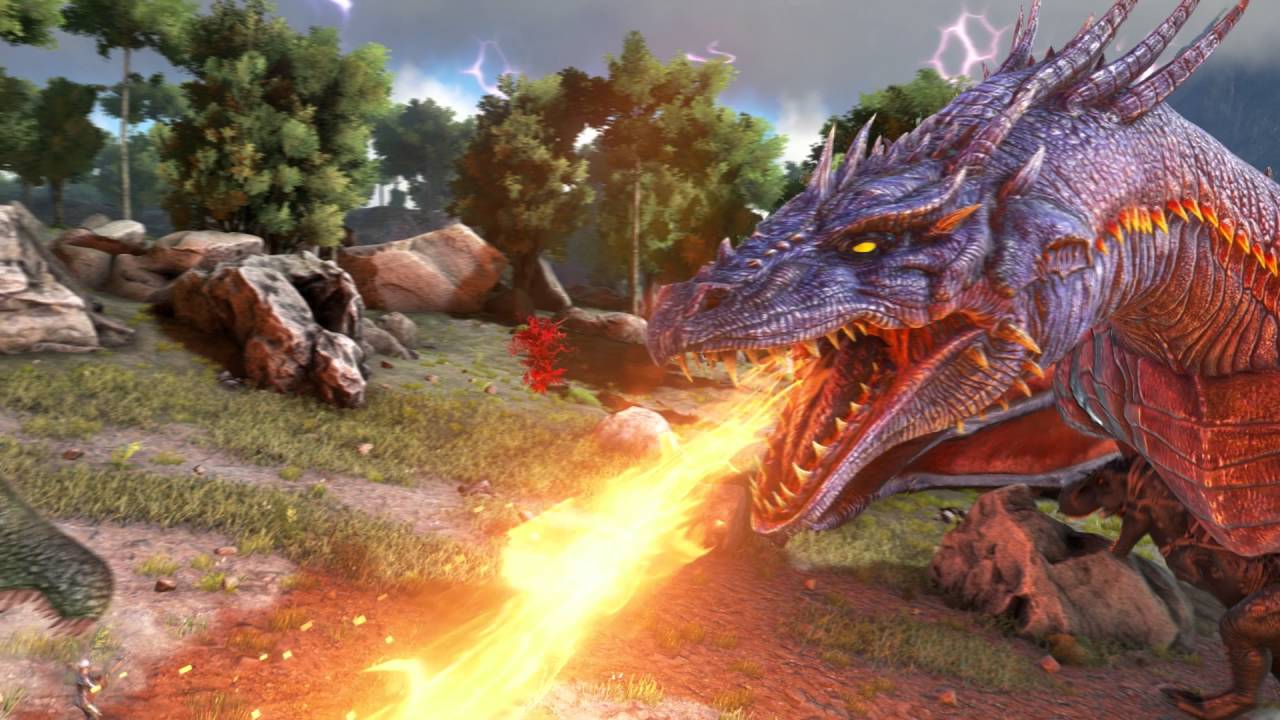 Studio Wildcard's multiplayer hit launches on 19th July
It's only been a month since the release of ARK: Survival of the Fittest as a stand-alone game on PC, and already thousands and thousands of people are playing it. Complete with cash prizes, invitational tournaments, and of course, dinosaurs as far as the eye can see, SoTF was built from the ground up to be full of competitive action. And we're bringing it all to PlayStation 4 players on 19th July!
Spawning almost naked with a group of hostile opponents, it's do-or-die in what we're calling a Multiplayer Online Survival Arena (the big hats keep telling me to push the acronym until it becomes a thing ;)) where you use your wits, your cunning, a little bit of brute force, a hatchet, an anvil, some arrows, a triceratops, a few guns, an explosive or two, a couple of stegosaurus, a sniper rifle, and in dire cases, your own poop, to be the last tribe standing when the final curtain is drawn.

Tame dinosaurs, craft armour, forge weapons, harvest resources, build bases, make friends, and slaughter some Bobs (ARK's term for newbs), in what is frankly the deepest combat arena that's ever hit consoles. The breadth and depth of strategy, and potential avenues for victory are enormous, and we're working insanely hard to make sure that no matter what approach you take, if you're clever, you can come out on top.
The PS4 has actually given us an interesting opportunity to bring a different kind of ARK– and a unique type of game– to the platform. Nobody has yet brought a Multiplayer Online Survival Arena (MOSA) to console, and we thought it was kind of a shame that the space was being neglected.

One of the fantastic things about multiplayer console gaming is the huge pool of players all playing on the same hardware, which make things like matchmaking and competitive gameplay far more fun. This allows us to make a lot of optimisations for these players not just in terms of performance, but also in terms of gameplay; there's no question of whether a user will be playing on lower settings for better fps or to remove some essential gameplay element, and there's very little concern about cheating, because of the awesome security of the platform.
In addition to the fact that it's untackled ground, we're really looking forward to some of the unique elements of console gameplay; splitscreen, local LAN play, and we're even looking at introducing bots which you can play against offline to challenge yourself, or to practice, or maybe just to see the world that ARK takes place in. Whichever way you want to approach the game, online or offline, with friends, or against bitter rivals, it should all lead up to one thing:
The Survivor League.

That's right, we're bringing the Survivor League to PS4 as well, and that means cash prizes for the best of the best every single month. In addition to these prizes, you'll also qualify yourself for our invitationals, and for future events that we are planning. We want players to be able to get some return on the investment that they make by playing our game every day.
The Survivor League will track the top players in every available game mode and automatically display their rankings on our official site, so the world can see that you are in fact the cream of the crop. www.survivetheark.com/survivorleague
We look forward to seeing you in the arena on PS4 starting on 19th July – may the best tribe survive!