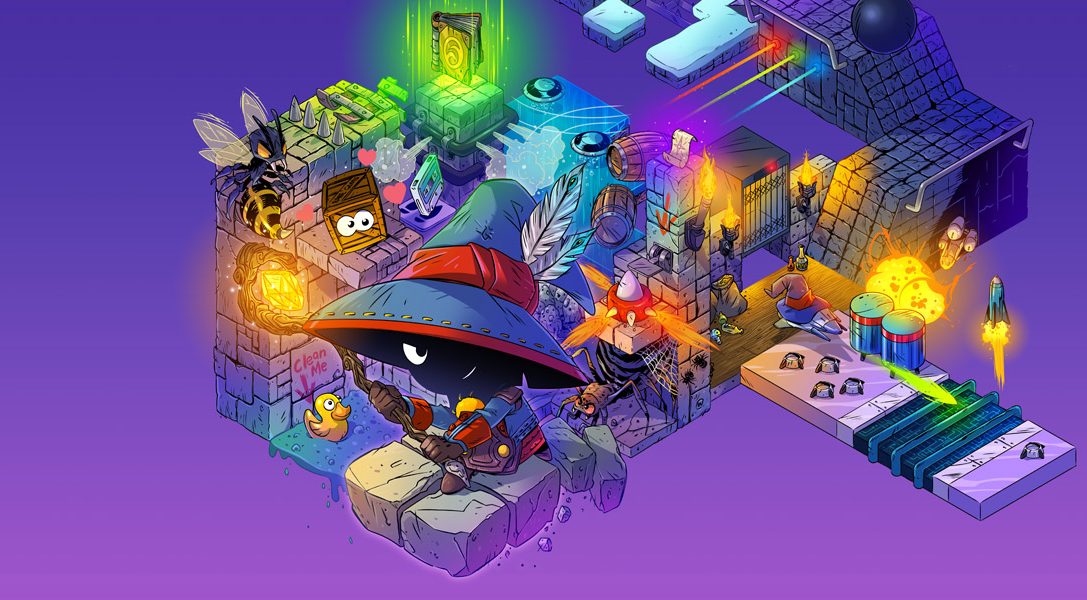 Creator Gareth Noyce's love-letter to the classics of the 1980s
Hello there! I'm Gareth Noyce, the developer of Lumo, an isometric arcade adventure game that's coming soon to PlayStation 4 and PlayStation Vita.
"Isometric arcade adventure game? What's that, then?!" Well, I'm glad you asked! Back in the mid '80s – when computers made beeping sounds and colour TVs were wheeled into your home from the back of a Radio Rentals lorry (i.e. moving vehicle) – 3D was a bit tricky, so clever programmers used to fake it using isometric projection. You'd explore their worlds, room by room, completing the odd puzzle along the way, and engage in some proto-platforming gameplay. Simple stuff by today's standards, but massively popular and often stunning to look at back then. In fact, the isometric craze spawned some stone cold classics – games that are fondly remembered to this day: Knight Lore, Head Over Heels, Amaurote, Chimera, Solstice & Equinox, to name just a few!

One of these games – Head Over Heels – was the first game that I ever owned. It had a massive effect on 10-year-old me, so much so that I used to scribble down ideas for new rooms on paper! In a sense, it started me down the path of becoming a game developer, so when the opportunity to make my own game came around – spurred on by Ste Pickford, co-developer of some of the best isometric games ever made (a few of which are in that list up there) – it seemed like too good an idea to pass up!
If only I'd kept those scribbled room ideas from when I was a kid, though…

Lumo (Finnish for 'enchantment') isn't a remake of those classic 8-bit games – instead, it's my attempt to answer, 'what would those games be like today?' We can do things with physics, light and sound that just weren't possible back then, not to mention being able to auto save (!), so Lumo smooths off some of those old-school edges and brings the genre bang up-to-date.
It's a much bigger game than its predecessors, clocking in at nearly 450 rooms split across four different zones, including secret paths, tons of hidden rooms, ducks to rescue, coins to collect & spend, and six mini-games to find and unlock!

It's not just about getting from start to-finish – instead, it's going to reward your exploration skills. Try and jump out of rooms and bend the game mechanics. Who knows, maybe you'll be the first person to find all the cassettes and complete the mini-games? If you do, be sure to try it against the clock in Old School Mode, Lumo's Time Trial set-up.
I've had so much fun making Lumo over the last two years that it's turned into a bit of a love letter to gaming in the '80s, capturing the feelings I had as a wide-eyed 10-year-old falling in love with his first computer game.

Retro-gamers will chuckle at some of the references to '80s magazines and developers that I've snuck in – keep your eyes open! – while players new to these games will be able to experience a fresh, modern take on a genre that's just as fun today as it was 30 years ago. (But if you decide to scribble down your own ideas for new rooms, please take a photo of them and upload them to the cloud. You never know when they'll come in handy!)
Lumo will be available (with Cross-Buy) for PlayStation 4 and PlayStation Vita on 22nd April 2016.