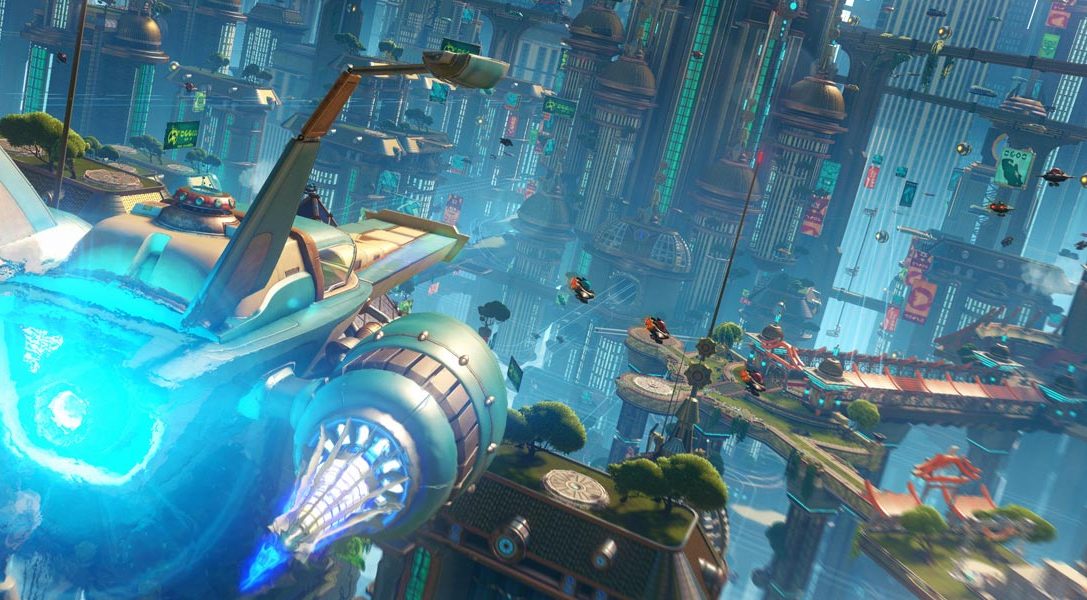 Just a few weeks to go until the twin PlayStation heroes return to action
It seems incredible that we are just three weeks away from PlayStation's greatest heroes making their debut on PlayStation 4.
We've joked that Ratchet & Clank PS4 is the game based on the film based on the game…. and that's actually pretty accurate! The film and game are designed as complementary pieces. They tell the same origin story of Ratchet & Clank battling Chairman Drek, with the same major beats and character arcs. The film focuses a touch more on character development and the game is a bit more focused on the action that happens between the scenes. Our goal was to take advantage of what each medium does best.

But the game has a major departure from the film: the game is narrated by Captain Copernicus L. Qwark. So you get Qwark's skewed self-serving version of events to set up a different way to experience the story. He gets all the big details right, but the little asides are all him. As you watch our new trailer for the game (and play the game next month!) – you'll have to ask yourself: Can Qwark be trusted?
We're hoping when you fire up Ratchet & Clank, you'll feel the rush you felt the first time you played an R&C game. But we're going beyond that nostalgia with a gorgeous Ratchet & Clank that holds up to modern standards, and is a fitting debut for the franchise on PS4. We wanted to tell the ultimate version of Ratchet & Clank's origin story, completely synced up with the feature film.

The game will be available on PlayStation 4 from 15th April, and the major motion picture from Gramercy Films follows shortly thereafter.
For fans of the series, we also have a pretty sweet pre-order bonus. You'll gain access to one of my favourite Ratchet & Clank weapons of all time, the Bouncer, if you pre-order the game on the PlayStation Store or at a participating retailer.
We're looking forward to seeing you in the Solana Galaxy in just a few weeks. As always for the latest news, follow Insomniac Games on Twitter and Facebook as well as the Ratchet Movie on Twitter and Facebook