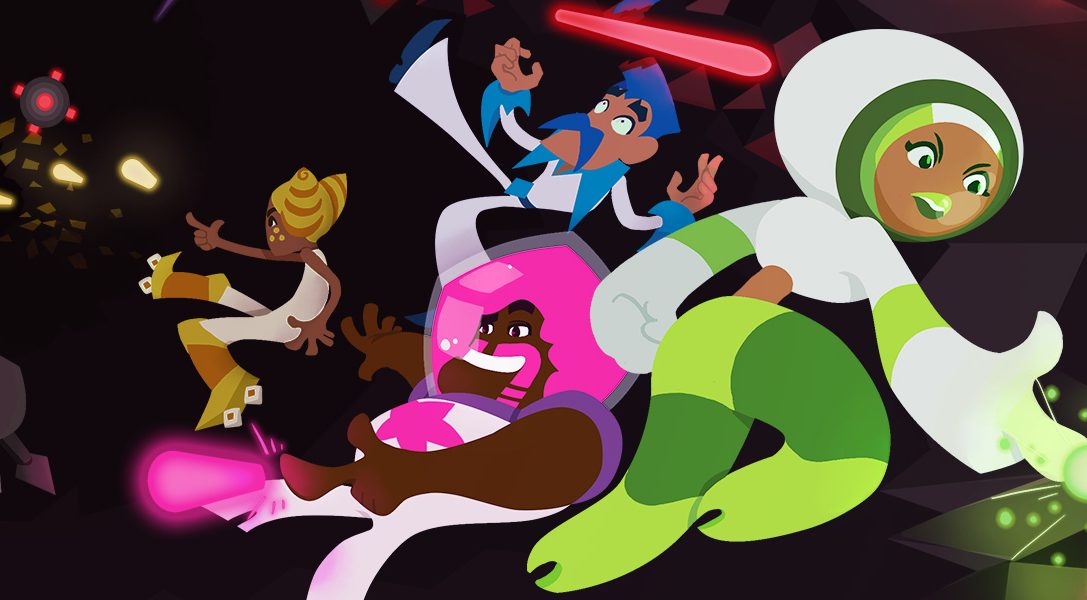 '70s inspired arcade madness from the team at Out Of Bounds
Calling all dance commanders across the space and time continuum! My name is Alexander Birke and I run the indie studio Out Of Bounds. Together with my publisher Excalibur Games I have been looking forward to announce the groovy procedural twin-stick laser dodging bullet hellish disco infused hot podge that I call Laser Disco Defenders.
On a stage, in a galaxy far far away…
The Intergalactic music contest is in full swing to decide who will win the mighty Mirror Moon. Whoever holds it can project their music across the galaxy and affect billions so a lot is at stake. Unfortunately the evil Lord Monotone has stolen it and is using it to wreak havoc on countless unsuspecting civilizations across the cosmos. Your task is to help the Disco Defenders fight their way to Monotone and get the Mirror Moon out of the grasp of his cold steel hands.
The game is inspired by the science fiction and music of the late '70s. After the success of Star Wars a super nova of cheap hilarious knock offs came out and even disco music, the pulse of the decade, started to use space themes and sound effects.
Dodge lasers, stay alive!
Every shot fired bounces around the level indefinitely and also hurts you. To start with this is easy but as you progress it quickly becomes a challenge to just avoid your own shots when dodging your way towards the portal to the next level.
Murder on the procedural dance floor
Not knowing what the next level will look and play like is a great way to keep a gaming experience fresh and that's why I have chosen this approach for Laser Disco Defenders. The game will feature both an endless score based mode and a story mode where you have to survive a certain amount of caves before you can take back the Mirror Moon from Lord Monotone.
Dude, that's some nice rags!
Disco is all about bringing the most outrageous outfit to the dance floor. Choose what accessory, outfit and shoes to wear into the game. Each item changes how you play and even looks different for each character.
I hope you are as excited for this game as I am to make it. I have wanted to make my own games for a long time and having one of them now coming out on a console is something I'm looking very much forward to. Hit me up on twitter and visit the dev blog if you want to follow me on this groovy journey. And if you have an idea for a cool outfit or have any questions let me know in the comments.