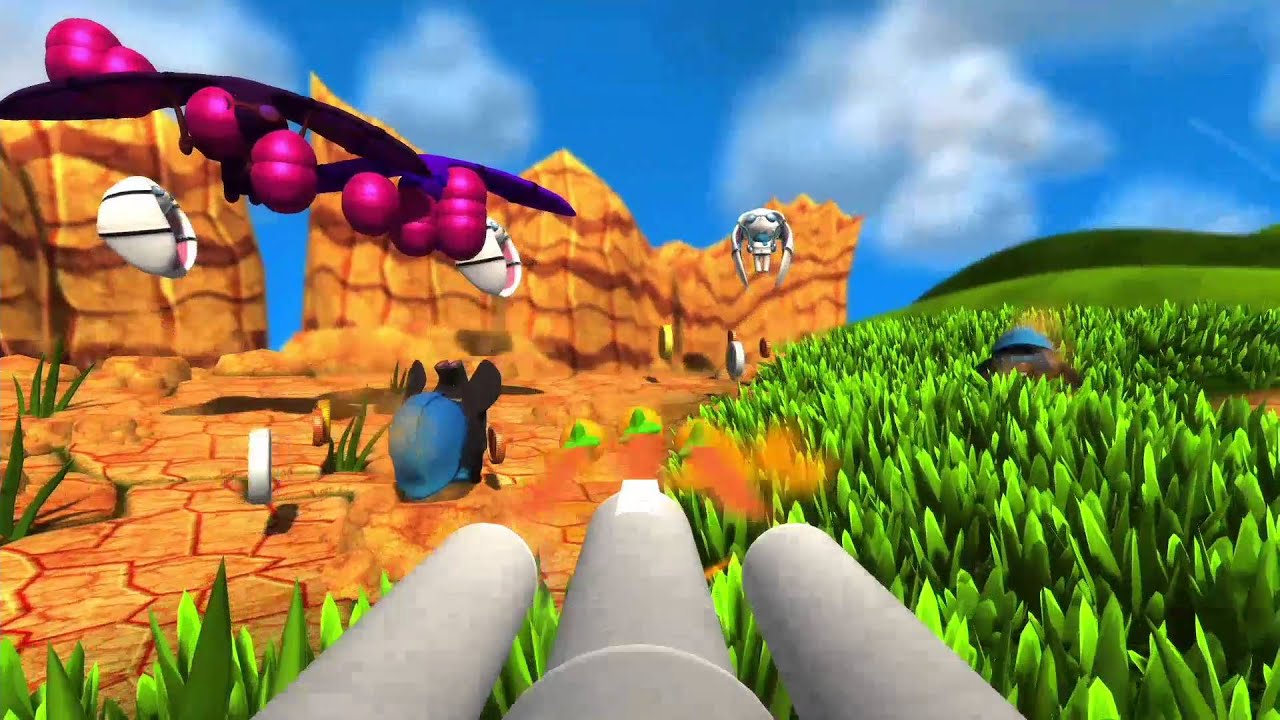 Defend your burrow against enemy onslaught in Nnooo's colourful action game
Dust down your Carrot Rifle and polish your watermelon machinegun – Blast 'Em Bunnies is coming to PlayStation 4 and PS Vita on 9th March!
Blast 'Em Bunnies pits you the player as a cute, cartoon bunny called Bang Bang, who must defend your rabbit burrow against an onslaught of evil bunnies. These bunnies have captured your offspring and one of them, the evil Throatslitter, is holding them hostage.
Grab your carrot rifle, watermelon machine gun, turnip mortar or runner bean laser and take them down! Spend those coins you shoot on new weapons, upgrades and ammo including sticky raspberries, heat seeking chili seeds, shredding leek lasers or bouncing, splitting, exploding pumpkin bombs! How long can you survive!?
This is our first HD console release and we've strived to craft a fun, friendly and frenetic first person shooter for all the family. Simply pick up your controller and get blasting bunnies! We've been beavering away for a while now making Blast 'Em Bunnies awesome for PlayStation owners by supporting Cross-Buy, Cross-Save and optional motion controls allowing you to point and shoot! We are also, currently experimenting with possible future PlayStation VR add-on content!
The game features four different weapons to purchase and upgrade and 16 different bullet types to combine with your chosen weapon for maximum tactical effect. By shooting coins you can save up to purchase each weapon, upgrade, ammo or health upgrade allowing you to survive longer against the ferocious evil bunnies! Should you save up for the Runner Bean Laser or go straight for new heat seeking Parsnip ammo? Tough decisions abound!
With over 50 medals to be unlocked and missions which refresh either on completion or daily you'll always be faced with a challenge. If you're looking for harder difficulties and modes you can take on Survival mode in Easy, Normal, Hard and Very Hard (where you need to survive for as long as you can) or try out Slaughter mode in Normal, Super or Ultra difficulties (where you must survive for 2 minutes with weaker weapons and health depending on difficulty).
Each battle takes place in an arena with bunnies spawning to try to bring you down. Runners, Walkers, Burrowers, Grenadiers, Blockers and Bosses all conspire to defeat you. While the Throatslitter macabrely tries to dispatch your young from a distance and the Golden Bunny evades your bullets lest you unleash Frenzy Mode!
You can also customise your experience with purchasable add on content from the PlayStation Store. There are five new arena and matching skin packs which cover Ninjas, Zombies, Urban Army, Clowns and Luchadores.

Add on content can be purchased individually or in bundles with bundles giving a deeper discount on pricing. Be sure to check out the PlayStation Store closer to release for all of the great additional content!
We are so excited to finally be releasing our first PlayStation 4 game and love all of the great graphical additions we have brought to it. We are eager to answer any questions you have about the game so just pop them in the comments and we'll get right on it!