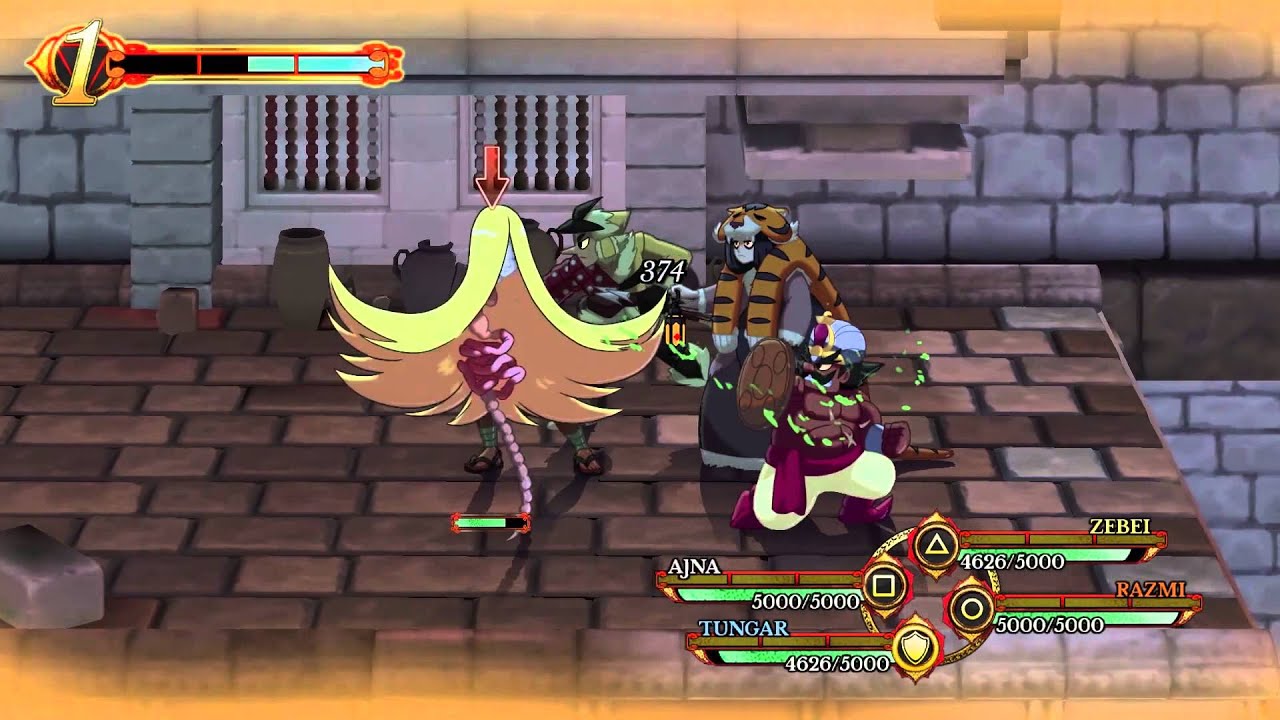 Get a taste of what Skullgirls' dev Lab Zero Games are cooking up next
Earlier this month, Lab Zero and 505 Games launched a crowdfunding campaign for our new RPG, Indivisible.
In what might be a first for crowdfunding campaigns, we released a polished and fun playable prototype, giving potential backers a taste of what we have in store for the final game.
And now we're excited to announce that we'll be releasing the Indivisible playable prototype on PlayStation 4!
So what is Indivisible? Well, it's a platformer/RPG, inspired by the PSone/PSP classic Valkyrie Profile.
You'll control Ajna, a girl from a small village that discovers she has the mysterious ability to absorb certain people into her, and then manifest them to fight alongside her in battle.
You can have up to four characters in your party at a time, and in battle each character is assigned to one of your controller's face buttons. Tapping a button makes the character in that position attack, and anyone can attack at any time as long as they have an action available. And each character has multiple attack variants and a super, allowing you to create a variety of powerful combos suited to the battle at hand.
In the prototype, you'll have access to three characters other than Ajna: the archer Zebei, Razmi the shaman, and Tungar the warrior.
As you advance through the full game, you'll encounter and recruit a large and diverse range of other characters, some of which we've revealed so far! We're targeting 27 total playable Incarnations in the final game, so there will be a lot of ways to customize your party.
As Ajna absorbs new characters, not only will she be able to change up her party and learn new and more effective combos, she'll also be able to manifest new weapons and abilities to help her explore the game's environments.
There's a lot more to Indivisible than characters and combat, and you can read about it all on the campaign page. For example, did you know that Ajna has a dimension growing inside her? And that all her Incarnations live there, and that she can upgrade weapons her weapons and armor there?
Indivisible will, of course, boast the feature-quality art and animation that Lab Zero is known for, and Ajna's journey will be set to a lush soundtrack by legendary Secret of Mana composer, Hiroki Kikuta!
Check out the game's battle theme here!
Our YouTube channel not only has the rest of the music available to stream, but also a number of videos from our art, gaming and design streams so you can see and learn more about how we make our games!
About the prototype

The playable prototype is meant to be a small taste of what the final game might feel like. Think of it as the first tutorial dungeon from a completed game – the general sense of how the game plays is there, but right now only the most fundamental mechanics have been introduced.
A first playthrough will probably take you 30-45 minutes, but there's even a New Game+ mode and a secret boss for you to discover!
We anticipate that the final game will be around 20-30 hours without sidequests, so we have a lot of new battle mechanics, characters, and much more planned for the final version of Indivisible!
Crossover characters
In addition to the playable Incarnations we have planned for the final game, we're excited to announce that we've teamed up with some of the indie scene's best to bring the following characters to Indivisible:
Annie from Skullgirls
Calibretto from Battle Chasers
The Drifter from Hyper Light Drifter
Juan from Guacamelee
Lea from Curses N' Chaos
Shovel Knight from… Shovel Knight
Zackasaurus from Super Time Force Ultra
Each of these crossovers will join Ajna as a playable party member, and we're extremely excited to work with these amazing characters and adapt their abilities and personalities into Indivisible's battle system!
And thanks to the wonderful folks at Autumn, Airship Syndicate, Heart Machine, DrinkBox, Tribute, Yacht Club and Capybara for believing in Lab Zero and giving us these awesome opportunities!
We've revealed a few of our adaptations of these awesome characters in our style, with more to come soon!
Free Theme and Avatars
Finally, if Indivisible is funded, we'll release a beautiful, free Indivisible PS4 theme and free Indivisible character avatars on PlayStation Store! This is just our way of saying thanks for your support.
So there you have it: Indivisible!
Play the prototype, back the campaign if you enjoyed it, and feel free to let us know what you think about it on Facebook, Twitter or the comments section right below and I'll do my best to answer everything!
Thanks for your time, and I hope you enjoy the prototype!