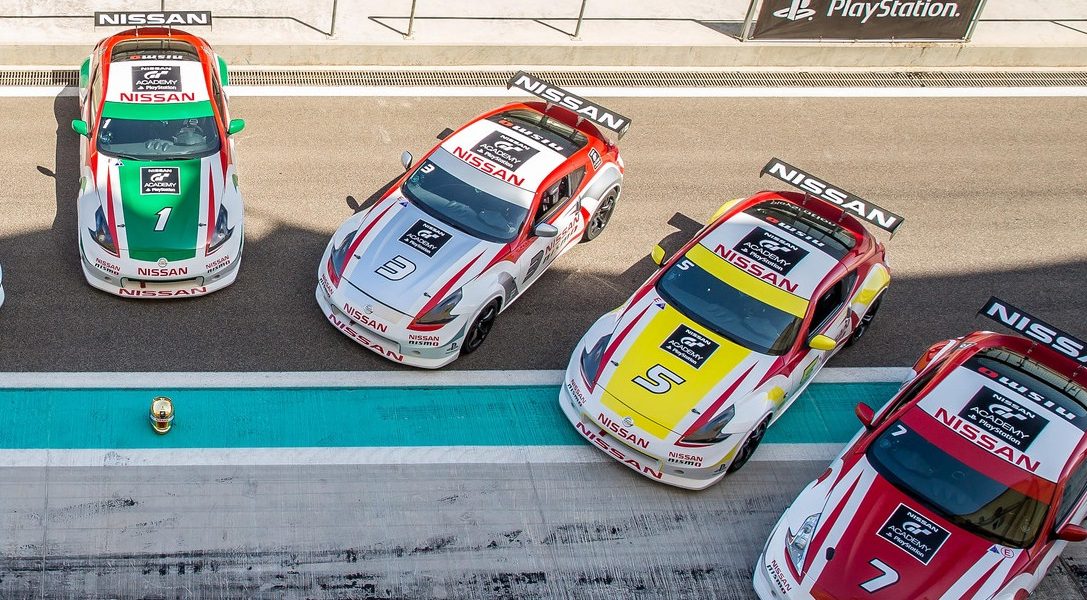 Romain Sarazin emerges victorious at European event
Yesterday marked the close of the seventh GT Academy European Race Camp, and with it another Gran Turismo player sets off in pursuit of their dream job, becoming a professional racing driver.
Romain Sarazin, a 22-year-old student from France, emerged victorious after eight days, a number of fascinating challenges and a thrilling eight-lap race – the first ever for all the competitors.
There are many twists and turns ahead for Romain, but he is faced with a unique opportunity to change his life forever, developing the talent and skills honed over many years on Gran Turismo to earn the right to suit up and step onto some of the finest race tracks in the world as a NISMO Athlete.
The last week out here in Abu Dhabi has flown by as competitors have gone head to head in 40+ degree heat. There have been blood, sweat and tears, crashes and the smell of burnt rubber as one by one drivers have been eliminated.
It hasn't all been hard work, though. The move to Abu Dhabi have given them a once-in-a-lifetime chance to get a sneak peek at the lifestyle that the racing elite get to experience…with luxury hotels, trips in to the desert, some spectacular locations and, more importantly, access to some stunning Nissan sports cars.
As race camp entered its final stages, drivers took to Gran Turismo to finalise the grid positions for the final race, the one that would decide who was going to go home to face a very different future. Things got a little heated during the GT qualifying, and you'll have to tune in to the TV show to see how it developed, but fortunately the real world race on the final day was a lot cleaner.
After a tough race, Romain emerged the worthy winner and the new GT Academy Champion. In the next few weeks he'll take the first steps on his journey to the podium, heading to the UK where he'll be put through his paces physically and mentally as he is entered into the fast track Driver Development Programme that has propelled previous GT Academy winners like Jann Mardenborough, Lucas Ordoñez and Gaëtan Paletou from the podium at Race Camp to the podiums of some of the most famous races in motorsport.
Heading out on the track he'll compete in local races in order to qualify for his international race licence. We'll continue to follow his progress throughout the entire journey from bedroom gamer to international racing driver.
It has been a very special Race Camp, and you can see plenty of the action on our social channels and on Gran-Turismo.com. Next year you'll be able to see it all on the TV show that will be broadcast across Europe. Well worth a watch.