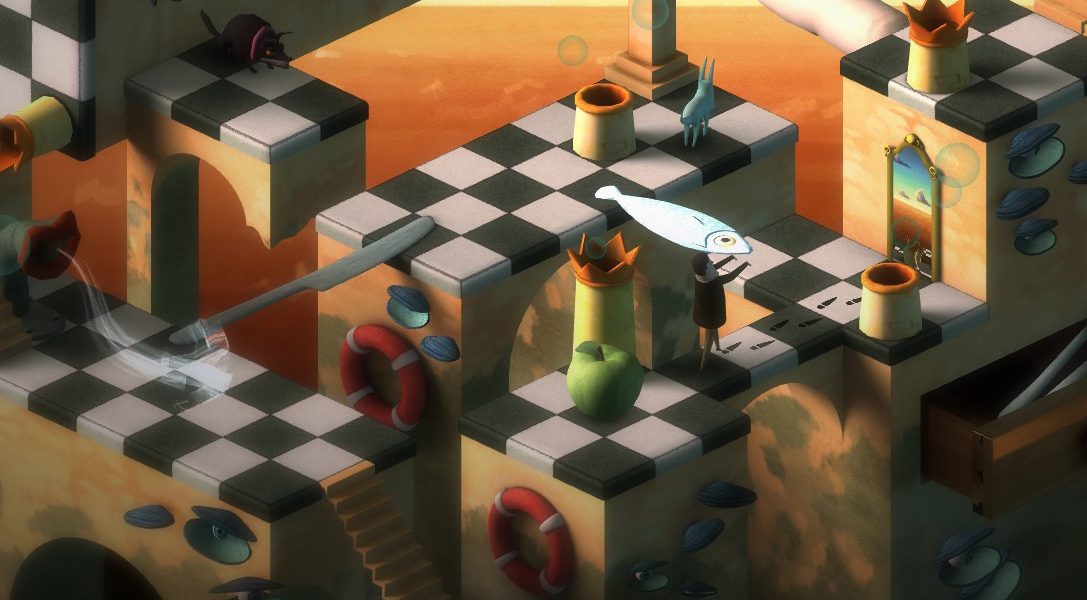 Bedtime Digital Games look to Salvador Dali and M. C. Escher for inspiration
Hey there, PlayStation! Greta Salmon here from LOOT Interactive with some very exciting news! Back to Bed, the challenging and whimsical surrealist puzzle game from Danish developer, Bedtime Digital Games, is exclusively coming to PS4, PS3 and PS Vita!
So you may be asking yourself, what is the quirky, gravity-defy, mind-bending puzzle game starring a narcoleptic sleepwalker and a green man-faced dog all about? Inspired by surrealist masters, M.C. Escher, Salvador Dali, and René Magritte, it is a filling feast for your eyes and gaming appetite.
You take on the role of Subob – the dog-like manifestation of sleepwalker Bob's subconscious – who must guide him through increasingly challenging dream-like puzzle levels with the goal of ushering the sound asleep Bob back to bed.
But that is just the tip of the iceberg. Back to Bed is so much more than just a unique, fun, and challenging game, it is the product of hard work, determination, and out-of-this-world imagination. As Jonas and Klaus from Bedtime Digital Games can attest, creating Back to Bed has been quite a journey from its humble beginnings, starting as a college student project, to a visually-stunning PlayStation title!
At The Danish Academy for Digital Interactive Entertainment, Bedtime Digital Games presented an idea, one that was outside of the box and blurred the lines between the real and unreal. Jonas and Klaus were determined to blend the old world style of surrealistic art with the current generation gaming technologies to produce a visual masterpiece with hours of engaging gameplay.
After settling on the idea of sleepwalking, they began diligently researching and learning as much as they possibly could about dreams and how people perceive them. With nothing more than a small student group and an idea, the group pressed onward exploring different game mechanics, implementing the Unity Game engine, and experimenting with an art style seldom seen in current generation video games. The result was nothing short of brilliant, awe-striking, and unique.
Back to Bed will be available on PS4, PS3 and PS Vita very soon and we can't wait to hear what you think of Bob, the sleepwalker, Subob, the subconscious man-faced dog, as they embark on their greatest adventure.
Talk to us about #B2BGame in the comments here or on Twitter!